What Are Your Values? Essay Sample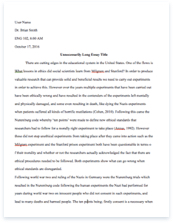 The whole doc is available only for registered users
OPEN DOC
Download Essay
A limited time offer!
Get a custom sample essay written according to your requirements urgent 3h delivery guaranteed
Order Now
What Are Your Values? Essay Sample
Each and every one of us has personal values. Every individual's personal values are different from one another. One value can be important to one person and not important to other. Personal values are one of the most important characteristics of an individual. These values define who we actually are, what we believe in and where we come from. Personal values are the reflection of our identity. It determines what we desire from life, what we think is important to us, what are our priorities and what things are bad for us and needed to be avoided.
Personal values are usually shaped by the environment which we live in and can be changed over time. There are many factors such as culture, religion, family, friends and the society we live in that help us to shape our values. Independence, gender equality, education, integrity, and truthfulness are my top five personal values which are really important to me. These values have helped me to determine what I always wanted to be and who I am now.
The most important value to me is independence. Independence is the core value behind being successful, happy, boosting our confidence and help us make the decision that is right for us. I feel that people should be independent from all the pressures and external forces especially women in our society. I grew up in a culture where women are taught to be dependent on their husbands. In some places women are not able to go outside and work because their families think that a man should only be the earning hand in the family.
Women can get whatever they want from their fathers and husbands. They should be the one to fulfil ladies needs in the family. According to me everyone deserve independence regardless of their gender. Independence enhances our self-value and self-esteem. Having proper independence can help many women to get rid of the abusive relationships they have because then they will be able to survive on their own. The source of this value for me would be my personal experiences because as I stated before that I belong to a culture where some people don't value independence as much as they need to because of the way they have been raised. I have seen many women with lack of independence and suffering abusive relationships because of this. I would consider this value as instrumental value.
The second most important value to me is gender equality which correlates with independence value on some level. I feel people should be treated equally everywhere regardless of their gender. I grew up in a society where women are restricted from doing many things which are completely normal for men to do. In some places women are not allowed to go to school, wear certain type of clothes and taught to talk in a certain way otherwise they are seen as shame on the society. On the other hand, men are encouraged to go to school, wear whatever they like and talk however they want to; nobody question them for anything even if they are doing wrong.
To me it is really important to have gender equality because when men and women are being treated equally only then women can have complete freedom in the society. Gender equality is an important value to me because as being a female I have also experienced gender discrimination by society back home. I was told many times to not do the stuff just because I was a girl and it will seem inappropriate to society which was completely normal when a guy did the same thing. The source of this value for me would be based on my personal experiences and I would consider this value as instrumental value.