What is a neonatal nurse? Essay Sample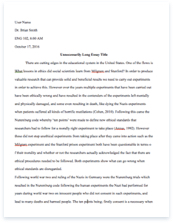 The whole doc is available only for registered users
OPEN DOC
Download Essay
A limited time offer!
Get a custom sample essay written according to your requirements urgent 3h delivery guaranteed
Order Now
What is a neonatal nurse? Essay Sample
A neonatal nurse is a nurse that specializes in working with newborn infants born with an assortment of issues ranging from being born premature, birth defects, surgical issues, infections, etc. I chose to follow this career field because I love caring for babies, I grew up in my aunt's daycare. So, I grew up around babies all my life and when I became of age I would help her care for them and I just fell in love. Being a neonatal nurse is something I knew I wanted to do when my little sister was born three months early. After having to spend days in the NICU with her, I knew since I love babies this would be the perfect job for me, to nurse them back to health.
Choosing this major is impractical without going to college and obtaining a degree in nursing, which includes a lot of years of schooling. Nobody looks at that though, everyone just thinks about the money you're going to make in the long run. I grew up learning that if your job profession makes a lot of money then you're going to live a happy successful life, but that's not what living a happy successful life means at all. A happy successful life is doing something you love to do every day and not doing it just for the money. I don't want to be those people that come to work dreading, hating their job and only doing it for the income. I want to be that person that's excited and anxious to go to work at any time of the day because as a nurse your hours must be flexible, you never know when you're going to be called into work.
There will always be a need for a nurse, a neonatal nurse at that since babies are being born every day and you never know what their circumstance could be when they are brought into this world. Neonatal nurses play a huge role in a baby's life until they no longer need the assistance of a hospital to support them. The media portrays nurse as the doctors' maid and do errands doctors tell them to do as you see in movies and tv shows today, such as Greys Anatomy and House. Shows like these tend to show doctors doing all the work which, in reality, nurses are a huge part of the doctor's work. Nurses are the ones with the patients all day, which is another reason I want to be a neonatal nurse, you get to know your patients and their families. Nurses do all the test trying to figure out what's wrong with the patient then reporting it to the doctors so they can diagnose the patients and tell them what steps are going to be taken to make them well. When you heard or see stories on the news, they often highlight the physicians than the nurse who played a big role in it too. If the media saw what nurses really do and gave them more credit for their work, people would have a lot more respect for nurses out there.
Choosing a major is something that you should carefully and wisely think about, all the aspects of it. Doing something that's in your best interest, fits your personality, skills, and values, and the lifestyle you want to live. When I chose to be a neonatal nurse, I did tons of research on it before deciding it's something I want to do for the rest of my life. Also knowing it will affect my everyday life and what I do. I enjoy helping people and knowing I can make a difference in their life is like a dream come true. Nursing is a passion of mine that I plan to follow and pursuit.