What is gender Essay Sample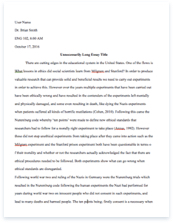 The whole doc is available only for registered users
OPEN DOC
Get Full Essay
Get access to this section to get all help you need with your essay and educational issues.
Get Access
What is gender Essay Sample
According to research done by Aidan Arrowsmith, 'gender usually refers to socially/culturally constructed (invented) characteristics which are then attributed to the different biological sexes. If sex is 'female and male'; then gender is 'femininity and masculinity'. (http://www. adamranson. freeserve. co. uk/critical%20concepts. htm). Gender is sociologically constructed. Vivian de Klerk and Finlayson both speak about the role that language plays in the construction of gender identities.
In this discussion, I will begin by focusing on the extent to which language plays a role in the construction of gender identities. I will also continue by discussing the other factors which play a role in constructing gender identities, namely urbanisation, social expectations, primary socialisation, religion and the way in which both, de Klerk and Finlayson have conducted their research- data capturing methods. From the time we are taught to speak, we are told that girls do not swear and that it is accepted for boys to use faul language.
Finlayson says that using expletives makes men to feel that they are in control, that they have power (72). According to society, women that use slang are said to be women with no morals and standards. I grew up in a predominantly coloured area, where everyone goes against what society expects from them. Women no longer care about what society expects of them, the use expletives comes naturally to them. People are now going against the norms of society.
Before, men who used expletives were said to be men with no social class, they had no status and so they resorted to using expletives as a way of gaining power. This has all changed, the stereotypes are being broken down not all men swear and there are some women that swear. 'Not everyone has accepted the norms or feels comfortable following conventional rules, and the surprisingly high number of girls' claiming to use expletives demonstrates this'. (Vivian de Klerk, 1997:72). Finlayson speaks about hlonipha, a Xhosa tradition where married women have to speak in a certain way.
There are certain words that they cannot use because it is said to be disrespecting their in-laws. When a woman gets married, she is taught a whole new way of speaking, men are not expected to change they way they speak- I feel that respect is a two way thing, you have to give to receive. However, this is all changing now, times are moving on. This change is due to urbanisation. Urbanisation is when people move from rural areas to urban areas. Women are now becoming career orientated and they are breaking away from the stereotypes. Lifestyles today in the urban areas of South Africa make it virtually impossible for women to retain the custom of ukuhlonipha umzi wabo 'the custom of respecting the homestead" (Finlayson, 1995:91).
Finlayson implys that all career orientated women 'dump' their beliefs when they move into urban areas, this is not true though, there are many women who- despite where they live- they still respect their beliefs. When they go back home to their rural areas, they still participate in their rural beliefs and although they speak normally to other people, they still respect their husbands and their in-laws. It is this civilisation which has caused customs to go. The children here do not hlonipha because they speak a foreign language', (Finlayson 1985:90), many of the older generation are blaming urbanisation and modernisation for the fact that people no longer respect their traditions. However, I don't agree with that. Where I live, there are a couple of people who still slaughter animals for traditional values, they even invite the neighbourhood to enjoy their feast with them. This shows that although urbanisation does effect cultural beliefs, there are still the few that preserve it.
I agree with Dowling when she says that there are other factors involved, 'As a custom however, hlonipha will persist because of its historical authority and legitimacy. Research that has been conducted in both the Ciskei and the Transkei indicates that for many people its survival is desireable and important, however there are other considerations involving factors such as political change, imported values and syncretism, the implications and effects of which are as they not entirely predictable'. (Dowling, 1988:58)
Urbanisation on its own cannot be solely blamed for the fact that women are no longer respecting their husbands as they should be. Society expects us to behave in a certain way. Women are expected to respect their husband and to sit at home looking after the children. Women that use expletives are seen to be uncivilized, they have no morals and standards. This is no longer true, women swear as much as men do and there are some very well-respected women that I know who use expletives. People no longer care what society wants and a lot of people are rebelling against this.
Roles are changing, men are no longer swearing- this is their way of rebelling against society. Similarly, women were not allowed to choose their beliefs, they had to do what the men said and if this was not done they were punished. "Previously, women who did not uphold this tradition were ridiculed and ostracised", (Finlayson, 1995:91). Although this is still done in rural areas, women in urban areas are now taking a stand. Cultural beliefs are also taking a 'backseat' because of society.
People in urban areas are not really practising their traditional rituals, because they are afraid of the ridicule that they will come across. If you see someone slaughtering an animal and you do not understand what is going on, instead of finding out what is going on, people jump to their own conclusions and end up ridiculing what is happening. Women are now allowed the freedon of choice, thanks to the media. African countries are now watching programmes about people in the western world and are trying to portray these images.
Women are now demanding respect and men are now forced to share in the responsibilities of being a family- women no longer have to stay home looking after the children, cooking and cleaning- there are some men that are now staying home allowing their wives to go and work, while they look after the children. Children are taught from young how they are expected to behave. They are brought up in accordance with what their family believes. I feel that if your family taught you respect and morals, it will forever be implanted in your mind. Moving to urban areas should not influence your beliefs.
Parents are no longer teaching their children as they have no time because of their demanding jobs, this I feel, is the reason that so many children do not know where they come from and they do not have an interest in their cultures. Similarly, if parents had time to teach their children what is expected of them, what their morals and values are- the use of expletives will decrease. Children swear for recognition or because they were told not to do it- if their parents told them why they should not swear then maybe they would understand.
Children learn from their parents, "Children use hlonipa because it is the first form of speech which they hear from their mothers", (Zungu, 1985:85). One has to question the methods that de Klerk and Finlayson have used to conduct their research. De Klerk randomely selected teenagers who were predominantly white and with English being their mother tongue, to do a questionnaire on slang and expletives. I feel that she should have selected people from various age groups, racial groups and social groups. This would have given her a wider view, which would have been more accurate.
Views change when people grow older, as they are wiser and understand the world better. I also believe that children from rural areas should also have been included because the way they are brought up differently from children in urban areas, in this way there would be a wider range of answers. Most people lie in questionnaires, just so they can get over and done with it- I feel tha another method should have been used, for example, actually observing the way people behave and interviewing them. Finlayson asked women in urban areas a few questions to determine whether women still adhere to their traditional beliefs.
This is not effective, as women in rural areas should have been asked. If research had been conducted properly, with a variety of people being questioned, then Finlayson and de Klerk would have gained a wider variety of responses, thus making their articles more accurate. In conclusion, the way you decide to speak is up to you. Times have changed, people have changed. Language does play a role in the way that gender identities are constructed, but to a certain extent.
We are all expected to speak and act a certain way, it is what society expects of us. Lakoff says, women's language is marked by powerlessness in the forms of 'superpoliteness', qualifiers, exaggerations, and tag questions. These impuissant conversational forms provide 'diangostic evidence' for the inequality between men and women. " (Lakoff, 1975:4) Whether we move to urban areas, become modernised, or conform to the way society wants us to behave is up to us. People choose how they want society to perceive them. I believe that if men want women to respect them, they have got to do the same. Respect is a two-way thing, to gain respect you also need to respect in return.