What is Temperament? Essay Sample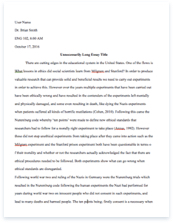 The whole doc is available only for registered users
OPEN DOC
Pages:
Word count: 364
Category: energy
Get Full Essay
Get access to this section to get all help you need with your essay and educational issues.
Get Access
What is Temperament? Essay Sample
Temperament is a person's characteristic mood, sensitivity to stimulation, and energy level. These mood related personality characteristics constitute early building blocks for an individual's later personality.
Describe one way in which temperament has been studied.
In 1984 Arnold Buss and Robert Plomin studied monozygotic (MZ) and dizygotic (DZ) twins in relation to temperament. They used three dimensions of behaviour which were emotionality, activity, and sociability. The term emotionality means how easily a person becomes very upset. The more upset a person becomes the harder it is for them to calm down. Activity is how much energy a person puts into their activity. A person with high activity levels will, for example, talk rapidly and move around a lot. By sociability we mean how much a person wants to be with others. Someone scoring high on sociability will prefer to spend time as they seem to need the interaction.
The scores of each of the twins were compared by Buss and Plomin. The wanted to see if, for example, a child who scored high on sociability had a twin who also scored high on sociability. If this was the case then there was strong correlation between the scores for this pair of twins. If temperament is genetic, then MZ twins should have higher correlation of scores than DZ twins. Results showed that there were much higher correlations between scores for MZ twins than scores for DZ twins. Buss and Plomin concluded from these results that temperament has a genetic basis and is innate.
However there are difficulties in this research which may have affected the results and therefore the conclusions drawn from them. Identical twins spend a lot of time together and are usually treated in a similar way, for example, they are usually dressed in identical clothes, attend the same school, etc. Fraternal twins, however, are the same age but may be different sex, size, or appearance. Their experiences differ more, and it may be this which causes he lower correlation in scores for DZ twins, rather than the fact that they share only half of their genes in common. This possibility weakens the evidence for genetic argument.