What is the Most Important Factors for Change in the Fashion Industry at Present Essay Sample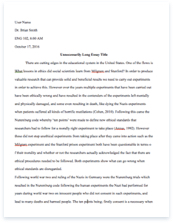 The whole doc is available only for registered users
OPEN DOC
Download Essay
Get Full Essay
Get access to this section to get all the help you need with your essay and educational goals.
Get Access
What is the Most Important Factors for Change in the Fashion Industry at Present Essay Sample
Fashion industry is one of the profitable industries in the world and, as predicted, in future.  Changing economic relations and fashion trends, cheap production and the rise of the Third World Countries are the main driven forces in this arena. Globalization of markets, economic integration, and removal of barriers to trade increase opportunities for international fashion marketing.
Recent years, the fashion industry and fashion marketing have been influenced by global economic changes. It concerns the type of production and raw materials, new technology, a new system of global manufacture and the rise of national economies. The main industry demands are "visibility & agility" (Retail Apparel and Footwear, 2003). These factors have a great influence on fashion marketing and strategic planning. On the international scale, fashion marketing is faced with differences in consumer tastes and needs, economic levels, market structures, ways of doing business, laws and regulations.
The most important factors for change in the fashion industry include changing life style of consumers and demand patterns. Such phenomenon as cultural globalization receives the development from technological revolution and economic globalization which together create a stream of the cultural blessings. Modern consumers are driven by world fashion trends rather then national fashion. "Volatile consumer purchasing patterns" (Retail Apparel and Footwear, 2003) require fast response of companies in order to meet changing requirement and remain competitive.
Television and internet shopping are the main channels of marketing in globalize world. These channels help the fashion industry to build a strong relationship with its customers worldwide. The development and management of customer relationships has, in recent years, become a central focus of fashion marketing policy and conceptualization as it has been realized that they are valuable assets of a firm. Moreover, the transaction costs of managing the supply chain reduces by use of standardized and effective information-gathering, processing and dissemination systems and network externalities generate more opportunities to expand and develop business. These benefits provide the attraction for established 'bricks and mortar' companies to develop online selling operations.
Online fashion marketing helps to involve broad segments of consumers with different demographic, psychographic, geographical behavioral characteristics. Also, it allows the fashion industry to provide clients with all necessary information immediately including catalogues, products for sale, information about installation services and customer support. Internet-based catalogs are updated immediately to reflect changes in pricing or product availability. Online marketing helps the fashion industry to improve the service that merchants provide to customers, while simultaneously reducing the costs of providing this service. The advantage of online marketing is a direct response from customers and their direct participation in improvements "Fashion marketers rely mostly on their retail partners to generate traffic. Word of mouth is huge, so the viral element is key to any important initiative" (McHale et al, 2002).
Cultural perception and changing social values influence fashion market. "Adherence to fashion trends can thus form an index of social affluence and an indicator of social mobility" (Fashion and Variation, 2006). Modern culture is defined by changes in fashion. All changes as a result of global advances in technology are the defining features of modernity. The role of fashion and taste are central to human understanding of the social dynamics of modern consumer cultures. Fashion operates as a form of play binding modern society together and allowing balance between the opposing forces of the individual and society.
Changes in the fashion industry and fashion marketing are stipulated by demographic changes. Critics suppose that "one possible reason for the expanding success of TV and Web shopping is that direct shopping has tuned into the needs of the baby boomer generation.  Web shopping is providing very private niche shopping experiences from exotic fetish underwear to Italian silk ties to oversized footwear" (Thomas, 2006). Fashion marketing management is aimed to assist in this process developing an effective and efficient approach to marketing in other nations. This requires an understanding of all of the differences that must be accommodated. «In order to survive in the 21st century apparel stores need to be aware that alienating the 40 to 64 year old will be a big mistake.  This age group will, by the year 2010 be the largest demographic group" (Thomas, 2006). Chinese consumer market is a promising field for the fashion industry. China is on the top of the list having the highest population in the world. The average rate of population growth in China is a lower than in India and Indonesia, nevertheless, it is expected that in 2025 the population in China will be about 1,476.0 ml (2004 World Population Data Sheet, 2005).
Concurrently, the integration of the world economy has increased significantly. Economic integration stood at 10 percent at the beginning of the twentieth century; today, it is approximately 50 percent. Within the past decade, there have been several remarkable changes in the world economy. The fashion industry stands a better chance of achieving success when plans and strategies are based on the new realities of the changed world economy: capital movements have replaced trade as the driving force of the world economy. Production has become "uncoupled" from employment 9Praiwan, 2005).
Current economic trends suggest decrease in prices and changes in supply patterns. Economic growth in China influences world economy and the fashion industry trends. "The textile industry would be set to suffer from severe competition, spurred by low-cost countries, in particular China, India, Pakistan and Bangladesh' (Praiwan, 2005). Some degree of competitive liberalization is beginning to take effect and the hard line being taken by China is clearly demonstrative of their commitment to stimulating competition. Governments and firms are beginning to toe the line and are starting to realize that deregulation and competition are going to continue apace and must therefore be catered for and adapted to.
The main changes in fashion marketing and international trade are closely connected with economic boom in China, because bargaining power of suppliers is crucial in the fashion industry. "China's textile industry output value is expected to reach six trillion yuan (750 billion U.S. dollars) by 2010, according to the industry's development program for the next five years" (Textile industry expects 6% growth till 2010, 2006). Following M. Porter, if switching costs are high, then customers will have an economic disincentive to switch and hence will tend to stay with the existing supplier. For substitution of service within an industry, switching costs are usually very low (Porter, 1985). Cheap textile and raw materials influence price level of consumer goods and the textile industry in Europe and America. For the fashion industry, the essence of marketing is to surpass the competition at the task of creating perceived value for customers. "The development program for 2006 to 2010 forecasts China's fibre output to grow by eight percent annually, rising from 16.29 million tons in 2005 to 24 million tons in 2010" (Textile industry expects 6% growth till 2010, 2006).
A continuum of resource sustainability is composed of world's resources and capabilities characterized by their durability and imitation. These resources and capabilities are distinctive competencies because they provide a sustainable competitive advantage in the fashion industry. "On the demand side, retailers must focus their attention on developing better strategies for eliminating costs, time and uncertainty from increasingly sophisticated global supply channels" (Retail Apparel and Footwear, 2003).
Global consumer trends suggest a shift from individualistic approach in fashion to mass marketing (Agins, 1999). The main peculiarities of fashion mass marketing is that a marker loses control as product turned over to distribution channels intermediaries. In fashion marketing, advertising is used for cumulative effect over time to build image, awareness, loyalty and benefit recall. Purchase action is differed.
A major reason for increasing adoption of mass marketing is the recognition that businesses are affected by the "environment" in which they operate. Fashion marketing comes into regular contact with customers, suppliers, government agencies. Decisions made by fashion companies are likely to affect one or more of these "stakeholder groups". This strategy becomes both a 'filter' in terms of pulling relevant information into the company and a filter in terms of converting that information into usable competitive knowledge. This means that the international the fashion industry focuses resources on core skills rather than trying to develop knowledge and skills in a broad range of categories.
        Regardless of the nature of change, the fashion industry innovates and develops its products and systems in response to the factors mentioned above. This requires a clear commitment to reinvesting profits in both research and development and business development projects including foreign investment, new equipment, staff training, organizational restructuring and marketing.
        It is possible to conclude that the most important factors for change in the fashion industry include the traditional objective of profit maximization and changing economic patterns, new technology (Internet and on-line shopping) and demographical changes, new economic relations cased but globalization process and integration. Fashion marketing policies are based on demand patterns and volatile consumer preferences, bargaining power of suppliers and current economic changes.
References
Agins, T. 1999. The End of Fashion: The Mass Marketing of the Clothing Business. William Morrow & Company.
Average population growth rate – 2000-2005. Retrieved from: http://globalis.gvu.unu.edu/indicator.cfm?Country=ER&IndicatorID=134#rowER
Fashion and Variation, 2006. Retrieved from http://www.apparelsearch.com/Definitions/Fashion/FASHION_definition.htm
McHale, T., Hespos, T., Porres, E. Fashion Marketing Requires Latest Trends. retrieved from http://www.imediaconnection.com/content/1916.asp
Porter M.E. 1985. Competitive Advantage. New York, Free Press.
Praiwan, Y. Growth Against all Odds. Retrieved from http://www.bangkokpost.net/yearend2005/page27.html
Retail Apparel & Footwear. 2003. Retrieved from www.apllogistics.com/images/APLL_Retail_Industry.pdf
Textile industry expects 6% growth till 2010. 2006. Retrieved from http://english.sina.com/business/1/2006/0628/81976.html
Thomas, P. W. 2006. Fashion Technology Fashion History. Retrieved from http://www.fashion-era.com/fashiontechnology.htm