What is Your Interpretation of McEwans Portrayal Of Jed Parry in Chapters 7,8 and 10 Essay Sample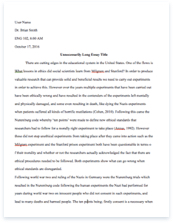 The whole doc is available only for registered users
OPEN DOC
Download Essay
Get Full Essay
Get access to this section to get all the help you need with your essay and educational goals.
Get Access
What is Your Interpretation of McEwans Portrayal Of Jed Parry in Chapters 7,8 and 10 Essay Sample
I think one of the most interesting aspects of 'Enduring Love' is subtly and gradually learning more about McEwan's characters as we watch them progress throughout the novel. All the main characters under go dramatic personality changes and the way in which we perceive them constantly shifts as we get a clearer picture of who they really are or who they have become and it is because of this I believe the novel to be heavily character driven. No character displays these qualities more than Jed Parry, which is natural as throughout the novel we observe him progressing through his mental illness so his character more than anyone's is always altering in the eyes of the reader and a lot of the time we never really no what to think of him.
In these three chapters we see Parry's character accelerate and slowly he becomes more volatile and in chapter 10 quite explosive, which differs from what we see of him in chapter 7. From the start of the novel Jed is accepted by the reader as quite harmless and to me sometimes verging on comical in his harassment of Joe, it is only until these later chapters he begins to become unstable rather than his prior affable 'weirdness'. At the start of chapter 7 he maintains this manor, however as it continues, for me it is the first time his almost farcical, but strange love for Joe really makes him sound as if he is not all there and that it could progress into something a bit more unpredictable and dangerous.
When we first meet Parry in this chapter he appears more like a lost boy than an Indian brave that Joe has previously described him as, you also realise that Jed is young enough to be Joe's son and the fact that Joe mentions this makes him appear even more innocent at this moment. Joe describes him as looking 'smaller, all knobs and bones' and often we imagine Parry as a shy teenager confessing his love: 'He wouldn't meet my eye as I came up or rather his eyes made a nervous pass across my face, and then turned down' and when he shakes Joes hand Jed 'exerted no pressure'. We almost feel sympathy or even empathy for this guy, but as Parry continues you gradually become irritated with him as Joe himself does. His dialogue becomes increasingly ridiculous and his statements, which frequently imply he knows Joe ('then you make that face') just help us create this image of 'crazy Jed' and he is always trying to 'open Joe up' to their love.
Chapter 8 is similar and is only a slight progression to the Jed we have seen previously. Now for the first time in the novel Jed is confirmed as a stalker: 'I saw Parry waiting for me outside the apartment building, right by the entrance'. Parry further harasses Joe by dictating to Joe through the answer machine and says things like 'Joe, Gods love will seek you out,' and 'I know your there, I can see you. I know your listening…' to me these statements almost be interpreted as sounding like a psychotic killer from a horror film and could be quite frightening. Contrastingly when Joe rings the police we are given a view other than Joe's, which settles the reader. The voice on the end of the line is almost pure reason even more so then Clarrisa's occasional bluntness and snaps the reader back in to thinking Parry is harmless, that is until chapter 10.
In this chapter Jed Parry explodes with rage when Joe ignores him and attempts to lose him in the street. This huge out burst of emotion and anger should seem bizarre to the reader, but by this point, you don't understand, rather accept what he does. Parry is displaying a frightening amount of emotion for a person he does not know and also a tendency to violently mood-swing. In places Joe describes Jed's words as 'such a hoarse screaming that I couldn't look away,' and says that 'his rage was compelling'. By the end of the chapter it occurred to me that this character should really be taken seriously. It is still quite early in the novel and already he is stood in the middle of a busy road screaming blue murder as if he was this man's enraged drunken partner.