What Kinds of Prejudice are Revealed in "To Kill a Mockingbird"? Essay Sample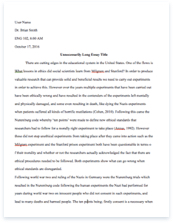 The whole doc is available only for registered users
OPEN DOC
Download Essay
A limited time offer!
Get a custom sample essay written according to your requirements urgent 3h delivery guaranteed
Order Now
What Kinds of Prejudice are Revealed in "To Kill a Mockingbird"? Essay Sample
In a book by Harper Lee we learn about how much prejudice is going on in situations that we don't even know about. The book he wrote "to kill a mockingbird" is about a little town in America called Maycomb, where everyone is prejudice in one way or another, with a few exceptions. The book tells us the different types of prejudice that is experienced in Maycomb and how most people turn a blind eye to it.
The prejudice that occurs in Maycomb is mainly caused by the differences of people. First of all the community is split up into two parts, the black community and the white community. Most of the white people would look down on the black people. The black people weren't allowed to stay amongst the white people, they were to stay separate. They were not even allowed an education. Even the few majority who could read and write, were deprived of having a good job.
Black people were never respected, as we read on to find out in the court case. We heard how Mr. Gilmer (the Yule's lawyer) would call Tom Robinson "boy". He did this out of disrespect to show that Tom Robinson wasn't above him.
Another example where racism is in action, is how aunt Alexandra doesn't like racial issues talked about in front of Calpurnia. She says "don't talk like that in front of them" and when Atticus ask her "like what" she replies by saying "like that in front of Calpurnia. You said Braxton Underwood despises Negroes, right in front of her".
In the court we also witness how there is an inequality, as black jury's are not accepted to take part in court cases, which gains an unfair advantage. So when a black person is taken to court they are automatically assumed guilty because of their skin colour. This situation would be very difficult to be helped, but if it was to be improved, it would have to start with racism in the legal system.
Education is another big factor in Maycomb, because we learn that when Scout starts her new school the teacher, Miss Caroline tells her that she should stop reading with her father, she says "now tell your father not to teach you anymore. It's best to begin reading with a fresh mind. You tell him I'll take over from here and try to undo the damage". This showed how Miss Caroline would treat Scout different as she knew how to read. This also showed how insecure Miss Caroline felt about teaching.
Even Miss Maudie was a victim of prejudice, she was accused of not being a true Christian, by the foot-washing Baptist, but everyone in Maycomb knows Miss Maudie is the most sincere and thoughtful person in Maycomb. The foot-washing Baptist said that "Miss Maudie and her flowers were going to hell". They thought that Miss Maudie spent too much time in God's outdoors and not enough time inside reading the bible. Miss Maudie then grinned and told Jem "thing is, foot-washers think women are a sin by definition.
The legal system in Maycomb was also unfair, as women were not allowed to be jurors. It was as if they didn't trust them or they thought that men would do a better job.
We learn how Aunt Alexandra would not socialize with the poorer people and how she had pride because of being better off, than most people. At one point we see that she doesn't want Scout socializing with the Cunninghams, As she thought her way of life was best. She tries to persuade Scout from keeping away from them, but Scout disagrees and thinks its wrong.
There was indeed a caste system in Maycomb, it seemed to work this way; the older citizens, the present generation of people who lived side by side for years and years, the rich people, the poor people and the black people.
As a result the town remained the same for a hundred years, an island in a patchwork sea of cottonfields and timbaland. Although Maycomb was ignored during the war between the states, reconstruction rule and economic ruin forced the town to grow. It grew inward. New people rarely settled there, the same families married the same families until everyone looked almost alike.
This town was definitely a victim of prejudice, the town had a mixture of different types. The one though which suffered the most, was the racism issue.