What makes New York Different from Atlanta, GA Essay Sample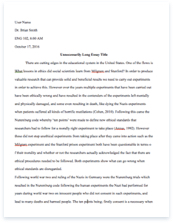 The whole doc is available only for registered users
OPEN DOC
Pages:
Word count: 594
Category: city
Download Essay
A limited time offer!
Get a custom sample essay written according to your requirements urgent 3h delivery guaranteed
Order Now
What makes New York Different from Atlanta, GA Essay Sample
New York City and Atlanta, Georgia, are two renowned places in the United States. They are both remarkable for their history and present, have impressive architecture and flavor, and are major tourist attractions for people from all over the world. At the same time, they are vastly different as their historical background and current status causes them to demonstrate serious differences.
New York City is certainly larger in size. It is a mega polis of global significance, attracting business people and tourists from all over the globe. A major financial centre, it has Wall Street to which the attention of all world financiers is chained every day, and the New York Stock Exchange that is the focus of US business activity. While Atlanta is certainly not a small town and has its share of sky-scrapers and an impressive downtown, it certainly lacks the scope of New York City, both in wealth and size.
Similarly, New York City has more to offer in terms of entertainment and cultural development and heritage. The Metropolitan Museum of Art is most certainly on the top five list of museums of the world, and Atlanta's High Museum of Art is no rival, despite its relatively strong collection. Atlanta, in turn, has capitalised on its role in the American history as one of the major centers of the South, once in the midst of the events of the Civil War.  The Atlanta History Center, the Atlanta Cyclorama and Civil War Museum, and the Margaret Mitchell House and Museum display before visitors the events of the war that shaped the history of the nation. New York City, a major center of the North, also has a lot to show to the visitor interested in history, in addition to a dazzling choice of art galleries, music halls, clubs, theatres, and other entertainment options. The famous Broadway, the symbol of musicals and theatres, is in New York, adding to the vast scope of entertainment possibilities.
What a tourist will find more attractive about Atlanta is certainly the Southern hospitality. Praised in literature and folk sayings, this is indeed a quality of the community that uses its time to open up more to strangers.  Indeed, the lifestyle is more relaxed in Atlanta, Georgia, and people in the street are in fact more likely to pay attention to what you are saying. Less focused on career achievement, the inhabitants of Atlanta do not race to the same degree as New Yorkers who are often combining walk along the streets with talking on the cell phone due to lack of time.
There is also a climate difference, as Atlanta, nicknamed "Hotlanta", with temperatures often approaching 90 degrees Fahrenheit in the summer months, can certainly be trying for someone used to colder weather. In this respect, most people will probably find the climate in New York City more acceptable, although the stone "jungle" of the Big Apple's streets can also be scorching in the summertime. Atlanta, though, has the advantage of being in general a cleaner city, offering its citizens a more organised look, unlike New York alternating superb luxurious neighbourhoods with dirty and neglected streets, even in its most upscale part of Manhattan.
 Thus, the cities are very different in scope and nature. While Atlanta is a typical Southern American city with its problems and attractions, the "Big Apple" is a global place with corresponding business and entertainment facilities. Anyone can find in both cities something to one's taste, with all their differences in appearance and atmosphere.