"Where are you going, Where have you been" by Joyce Carol Oates Essay Sample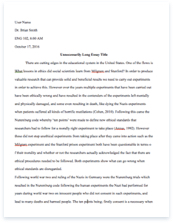 The whole doc is available only for registered users
OPEN DOC
Download Essay
A limited time offer!
Get a custom sample essay written according to your requirements urgent 3h delivery guaranteed
Order Now
"Where are you going, Where have you been" by Joyce Carol Oates Essay Sample
"Where are you going, Where have you been" is a famous story that was written by Joyce Carol Oates. In this story, Connie is fifteen years old girl and the main character. She seems to have always lived in her sister's shadow, June, who was apparently better all-around. Connie seems to be the more attractive of the two due to which she felt that her attractive personality would succumb to pleasure in the arms of a random boy. One day, she decided to stay home as opposed to going to a barbecue with her family. At that time, Arnold Friend, the antagonist in Oates' story drives up to Connie's house. Connie is a character that represents the nature of epiphany in literature. Through Connie, we learn how a character can have a highly significant impact on an important work of literature and the person reading the story. Connie's naïve understanding of the world and her immaturity led to her downfall in "Where are you Going, Where Have You Been?" In this classic tale, Connie is very young and naïve and it certainly doesn't help matters that she has negative influences in her life. Her own mother was a negative influence who corrupted her and led her to the path of the dark side, which would lead to her downfall. Considering the circumstance that "her mother had been pretty once too, if you could believe those old snapshots in the album, but now her looks were gone and that was why she was always after Connie." (Oates, 312)
It has been demonstrated that Connie reminded her mother of herself when she was young, which made her own mother dislike her and favor the younger daughter, June. The story consists of two primary focus scenes: the world in which Connie flourishes in and the day that everything in Connie's world changes. The beginning of the story introduces the reader to the protagonist who is young Connie and the central point of the story. Connie is described by Oats as being a very pretty fifteen-year-old girl, who is definitely recognized as the embodiment of a typical American teenager. Her world is loaded with that of the typical American teenager such as fun, friends, rock and roll imagination and fantasy. She spends most of her summer meeting boys, going into town and hanging out with friends and listening to the music that she likes. Like most fifteen year old girls she values her friends and is interested in boys and having fun, "would lean together and whisper and laugh secretly" (Oates 313)
Much like many teenagers, Connie apparently is living two lives: one that she shows to her family and another that is projected to her friends and peers. "Everything about her had two sides to it, one for home and one for anywhere that was not home" (Oates 313). She seems to be at persistent chaos with her family, and does not seem to have any sort of emotional connection with them. She continuously lies and deceives her sister June and her mother concerning her social activities such as her friends and where she goes at night. She has a very poor relationship with her father and this relationship is virtually non-existent because he doesn't provide any sort of emotional support and he is always working.
Connie is embarrassed by her family and doesn't want her friends to be anywhere around them. June is employed at Connie's school "and if that weren't bad enough – with her in the same building" (Oates 312), Connie also thinks that her sister is unattractive and not fun to hang out with. She appears to be shallow and vein and physical attractiveness is important to her as she is also very concerned with her own beauty and appearance. Connie is very immature and naïve and has trouble dealing with the real world, which is why she lives in a fantasy world much of the time. She spends a great deal of her time thinking and daydreaming about meeting boys. Her mother persistently attempts to get her out of her imaginary fantasies, instructing her "her mind was all filled with trashy daydreams" (Oates 312). Her vision of the world is what she views behind the rose colored glasses of her childhood. Her connection with boys; both existent and imagined, were "sweet, gentle, the way it was in movies and promised in songs" (Oates 315).
In her mind their faces were blended together, "dissolved into a single face that was not really a face" (Oates 314), producing them not real people capable of doing anything but creations who she could control, creations that prolonged her fantasy world. She never had any thoughts dealing with the world that beyond her doorstep until the day it came for her. Overall, Connie is an important character who has a very important flash moment in the story, "Where Are You Going, Where Have You Been" by Joyce Carol Oates. As the story unfolds, her immaturity and nativity develops into her downfall. Connie seemed to be very dynamic at the moment when she decides to finally step outside the door of her house. She entirely separated herself from her person in addition to everything that she had come to trust in this world.
She leaves a very large part of herself in the house as she "watched herself . . . as if she were safe back somewhere . . . watching this body and this head" (Oates 326). Even her heart "was nothing that was hers, [which] belonged to her" (Oates 325). When she evidently crosses over into his arms, she is no longer the same Connie that we got to know in the beginning of the story. Her misapprehensions have been gone and only the unforeseeable lies ahead of her. Like many young people even in today's society, Connie is young, immature, naïve and makes her share of bad decisions. Through the downfall of Connie hopefully young people can learn to think carefully and realize that they are not indestructible. Even when a person is very young, bad decisions can affect the rest of their life.