Where Is Route 66? Essay Sample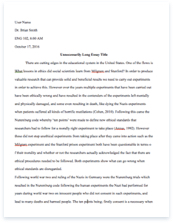 Pages: 8
Word count: 2,049
Rewriting Possibility: 99%

(excellent)

Category: war
Get Full Essay
Get access to this section to get all help you need with your essay and educational issues.
Get Access
Introduction of TOPIC
Deep within the Great American Songbook is the song "Get Your Kicks (On Route 66)." It is an upbeat song, with a blues or jazz feel, played since its creation in 1946. First performed by Bobby Troup, it was rerecorded almost immediately by Nat King Cole. In her informative site Route 66: The Main Stream of America, Tiffany Camey states "this song's catchy lyrics, and quick beat reflected the spirit of the Baby Booming era after World War II." The road stretches from Chicago, Illinois to Los Angeles, California: 2,451 miles total. The historic road was decommissioned in 1985 after years of decline at the hands of the Interstate Highway System (IHS). This United States Route however, is not the only sufferer of the IHS. The out-of-the-way towns that the Routes were built to service have also fallen into disrepair, unless they have grown to encompass a nearby Interstate. The Interstate Highway System has thus caused rural America to decline in favor of densely populated metropolises, killing authentic pioneer spirit these rustic towns embodied. These cities and townships located along U.S. Routes such as 12, 24, and 40 have almost disappeared, despite some being founded over 150 years ago.
If these towns are lost, the history of pioneers moving through the new West, attempting to tame the land, crafting settlements through rugged landscapes with an unforgiving climate would be lost with them. The history of the land would be strip-mined. The aforementioned historic Routes were provisioned under President Wilson's Federal Road Act of 1916. Early as this seems, Henry Ford's Model T had been available since 1909. In seven years of driving on a national level, Ford's Model T, designed specifically for "washboard" and dirt roads, had left what roads had existed in serious disrepair especially after heavy rainfall (Frontenac, Weingroff). So, the federal government saw fit to set aside money to build proper roadways. By 1920, three million miles of roadway stretched across the country, but only 360,000 were suitable for automobiles (Camey). Thus, in 1921, the U.S. passed the Federal Highway Act, with Cyrus Avery elected president of the Associated Highways Association of America.
Avery would go on to be known as the "Father of Route 66." His presidency over the AHAA was compounded with becoming Oklahoma's state highway commissioner, as well as the commissioner of every other large highway committee or association. By 1925, Avery road selection for the national highway network had begun with a simple mission: "to make traveling easier." Making travel easier would be a nationwide issue until the Great Depression, when almost no one could afford to travel. But in the 1920s, highway commissioners used a simple system for naming existing and future roads, which can still be used today to identify direction and importance: Roads with even numbers run East-West, odd numbers go North-South, shield signs indicate interstates, main highways are numbered under 100, and most prominent roads end with a zero – any number of these features can be seen on an I-70 sign. Currently, a colored shield indicates an Interstate Highway, while a black and white shield points to interstate routes. On November 11, 1926, officials met in North Carolina to sign off on the routes in all 48 existing states.
By this time 800 of Route 66's approximately 2400 miles had already been paved, but would not be entirely finished until 1937 (Camey). This made no difference to Americans wanting to move westward. Route 66 may only have had its foundation laid in some parts, but the price of Ford's Model T dropped to $290 (Vaughan), which is around $3,800 according to the US Inflation Calculator. One year after Route 66 had finished paving, President Roosevelt passed the Federal-Aid Highway Act in 1938, resulted in the creation of Toll Roads and Free Roads (Weingroff). While not fighting in Europe and the Pacific, Roosevelt was still perpetuating New Deal economics, particularly on roadways. Another Federal-Aid Highway act was passed in 1944 to keep standards set in the 1938 Act, and to introduce a 65,000-km "National System of Interstate Highways" without providing funding or any sort of federal commitment. One year later, World War II had ended, starting the baby boomer generation.
Most praise for this was documented along the densely populated seaboards of the Pacific and Atlantic; yet, many soldiers were happy to go back to the rural towns where they left from, hopefully to make them better by opening a shop or restaurant if a job wasn't available through various factories or mills. In the years between World War II and The Korean War, small towns were under constant construction, almost in a second wave of boomtowns. The most efficient way to build these towns was along pre-existing U.S. Rou
tes constructed through the Great Depression and World War II. Travel was simplified by higher speed
limits and constant matinence compared to non U.S Routes. This trend continued for eight years until 1954, when President Eisenhower passed a new Federal-Aid Highway Act (Weingroff) in order to speedily mobilize troops and defend the entire United States in the event of disaster or attack by Communist powers (Interstate Highway System) – explaining why Hawaii and Alaska have Interstates today. Eisenhower was able to devote much of his attention to the interstate highways after an Armistice between North and South Korea in 1953.
He thought that the Highway Act of 1954 would not be enough for his grand plan. He formed the Clay Committee, which would investigate numerous options concerning the financing of his national interstate highway network. Though Clay Committee bills failed in Congress, Congress passed the Federal Highway Act of 1956, providing for "a 66,000-km national system of interstate and defense highways to be built over 13 years (Weingroff)." Eisenhower was determined to have over 41,000 miles of highways, at a two lane minimum in either direction paved by the end of 1969 (Siasoco). Less than three months later, the Highway Financing Act of 1956 passed in Congress, almost unanimously in both houses, helping to fund almost all of Eisenhower's National Highway Defense System. This bill passed on July 29th of 1956. On August 13th, the first officially recognized contract for an Interstate Highway was for Route 66 in Missouri (Interstate Highway System). Initially, this had little effect on existing U.S. Routes since they were merely renamed or given new interchanges to accommodate the streamlining idea.
Only foundations for new highways were being laid, making the small towns in America as viable as any big city. In the 1950s and 1960s, my hometown of Buckner, Missouri was moving and shaking on a Friday night. Going down Main Street provided all the fun you could look for, what with country folks from Sibley and Levasy coming into town to visit the Red Dog Bar or stop by the Drug Store for a malted. However, as time progressed, more and more highway was being laid, siphoning traffic and attention from older Routes. President Eisenhower was zealous in his goals, and the Interstate Highway System would not be entirely completed until October 14 of 1992. The cost was also a bit more than the 25 billion originally thought. Total cost was figured at 114 billion dollars. But after it was declared complete, the Interstate Highway System was named as a part of the National Highway System by The National Highway System Designation Act of 1995. President Clinton chose to use a great deal of existing two lane highways to supplement the Interstates (it was declared in 1995 that 98 % of the NHS already existed) (Slater). In the years of construction and since its "completion," many Americans have come to relish the Interstates. During the 1970s and 80s, people could drive to work at 55 mph instead of an oppressive limit of no more than 40 or 45 mph on U.S. routes in densely populated areas.
After 1987, the limits in many areas was increased to 65 or 70 mph following the repeal of a federal law (Interstate Highway System), letting people come to work in the city from the suburbs with less than an hour's commute in either direction usually. It is reported that about 90% of Americans live within five miles of an Interstate Highway (Slater). This did not then, and does not now bode well for rural U.S. Routes. Routes are hardly ever considered for new developments or locations of major chain stores anymore. Looking at the Kansas City, Missouri Metropolitan Area and all it entails, we hold more than our fair share of chain stores. National names like Wal-Mart, AMC Theatres, Price Chopper, Aldi, K-Mart, and Target are some companies with stores in Kansas City. But finding any of these requires Interstate 70 as a frame of reference. Wal-Mart has four locations between mile markers 10 and 28. Mile mark 10 houses one of the largest Wal-Mart Supercenters in the country, mile marker 15A puts you on highway 291, and then the Wal-Mart and Sam's Club is five minutes away in horrific traffic. The Blue Springs and Oak Grove Wal-Mart Supercenters are at markers 21 and 28, respectively.
The cities cropping up all around interstates are far more likely to get an economic boost in the form of a Wal-Mart or McDonalds than any town more than five miles away from an interstate. I've seen this firsthand. Buckner, Missouri, a mere eight miles north of Interstate 70 in Grain Valley, is now a town you blink through on your way home from work – using the local High School as a frame of reference. And you really only traverse Route 24 through Buckner if you live farther east down Route 24, or you live in Grain Valley. Otherwise, Route 24 West takes you into Independence to put you onto 291 North into Liberty, Missouri. And if you need to get to I-70, Highway 7 moves south and inserts drivers directly onto the interstate. If things continue in the way they have over the past fifty years, Buckner may be decommissioned, just as Route 66 was in 1985. On New Years of 1985, my father moved into the house I grew up in. Since that time, much about the inside of our house has changed, due to remodeling, but little has outside of our house.
The neighbors I remember from childhood are mostly still living in the same houses, all with the same floor plan as our house. The grocery store and restaurant on the edge of town have changed hands many times, but always serving the same purpose for the same people. New developments finished construction immediately before the housing bubble burst, so the town has new homes with no one to live in. All in all, the town has not changed much. But that is part of where its value comes from. Buckner remains an antique town, preserved in amber, for future generations to see. Buckner is still the largest town and is growing the quickest within its cluster of Levasy, Wellington, and Napoleon. All of which are located on Route 24. Meanwhile, eight miles down the road, Grain Valley, Missouri is exploding, by occupying land directly adjacent to Interstate 70 and 40 Highway. The City of Grain Valley was incorporated seventy years after the Township of Buckner, and currently has a population more than four times that of Buckner at just fewer than 13,000, growing at a rate of 149% compared to Buckner's 12.9% (City of Grain Valley). Only eight miles' difference.
Bibliography
Camey, Tiffiney. Route 66: The Main Stream of America. Route 66: The Main Stream of America. Tiffiney Camey, 11 May 2011. Web. 20 Oct. 2012. <http://xroads.virginia.edu/~ug02/carney/music.html>. "General Information." Welcome to the City of Grain Valley Missouri. City of Grain Valley, n.d. Web. 23 Oct. 2012. <http://www.cityofgrainvalley.org/generalinformation.aspx>. Siasoco, Ricco V. "Red White And Blue Highways – The Story of the U.S. Interstate." Infoplease. Pearson Education, 2007. Web. 23 Oct. 2012. <http://www.infoplease.com/spot/interstate1.html>. Slater, Rodney E. "The National Highway System: A Commitment to America's Future." Public Roads. United States Department of Transportation – Federal Highway Administration, 8 Apr. 2011. Web. 22 Oct. 2012. <http://www.fhwa.dot.gov/publications/publicroads/96spring/p96sp2.cfm>.