Why Don't We Listen Better? Essay Sample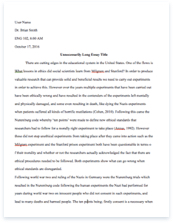 Pages: 3
Word count: 670
Rewriting Possibility: 99%

(excellent)

Category: communication
Get Full Essay
Get access to this section to get all help you need with your essay and educational issues.
Get Access
Introduction of TOPIC
Summary
The strength of our relationships with others depends on how we communicate with them. More often than not our messages get misinterpreted by different people in the wrong way. Dr. James Petersen in his book addresses this issue of miscommunication. He tells us different tips and techniques as he brings his forty years experience as a counseling expert in this book. (Peterson, 2007)
According to Peterson (2007), we communicate through three parts of our body namely, our brain, our stomach and our heart. The brain is the area where we formulate the words, and how to use them. The stomach is the place where we decide what emotion to portray. Lastly, heart is the place we organize and put this all together and speak. A good communicator balances all these three areas, while a bad communicator uses too much of the brain, heart or stomach. (Peterson, 2007)
To become a better communicator, Dr. James gives us specific techniques through which we can improve our communication. His best technique is perhaps the talker-listener card, through which both the parties (the talker and the listener) understand their role in the communication, and interact with each other in a better manner. Dr. James suggests that the goal of the talker is to share his feelings and thoughts without accusing, attacking, judging or labeling.
In contrast,
the goal of the listener is to understand and clarify the message if there is some confusion without
agreeing or disagreeing, advising or defending the talker. Dr. James has listed down the roles of each of the parties on a card, and shaped it into a tent that faces the respective party. This way the role of each party is in front of him/her and they are able to have a better communication. (Peterson, 2007)
Dr. James believes that listening significantly affects the whole communication process. He therefore offers specific tips on how to become a good listener too. A large part of the book deals with improving listening through asking good questions, making eye contact, body language, giving feedback, etc. He also offers suggestions on how to communicate in stressful and difficult situations.
Reflecting on the book
After reading this book I realized that I was a very bad listener. I've incorporated many tips from this book to become a better listener. His common sense techniques make them easier to incorporate them in our everyday lives. The most profound thing that I learnt was the flat brain theory. This theory explains why it is hard to listen to the message when people are trying to communicate when emotions are involved.
Another concept that I liked in the book was of the talker-listener card.  I believe that understanding this card has improved my communication significantly. By utilizing the techniques in the book, I've been able to control my anger in hot situations, and get a feeling of being 'heard' even in situations where I don't agree with the situation.
The best thing that I like about this book is that there are numerous examples in it that help me in understanding the concept. Furthermore, it has been written in short sections which make it easier to go back and read a passage again for reference. The only criticism I've for this book is that it is not intended for experts in the field of counseling. It is in fact a good and easy reference for normal people from all walks of life to improve their relationships through better communication.
Reference
Petersen, J. C. (2007). Why Don't We Listen Better? Communicating & Connecting in Relationships (First ed.). Topeka, KS: Petersen Publicatio