Why I Want to be an Intern for Hillary Clinton Essay Sample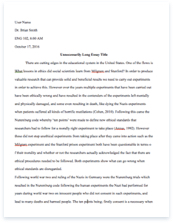 Pages: 2
Word count: 328
Rewriting Possibility: 99%

(excellent)

Category: clinton
Get Full Essay
Get access to this section to get all help you need with your essay and educational issues.
Get Access
Introduction of TOPIC
            Politics in general is the same wherever you are in the world. And coming from a family with a fluctuating political status, it has always been my passion to be within a political atmosphere modesty aside that I have intense political ambitions for myself in the future. Nevertheless, Asian politics, particularly in Thailand, has given me enough background and training to be at par with other potential interns.
            My interest in becoming an intern for Senator Hillary Clinton's presidential candidacy for me is a great step in terms of my preparation for Thai politics. I have strong faith in the American government especially with Hillary Clinton's agenda and platforms for a better America. As a proof, the United States is one of the world's superpowers and has been considered the most powerful nation in the 20th century.
            I believe that the knowledge, skills and experiences that I will gain from this internship may serve as s solid foundation for politics and leadership in Thailand aside from the fact that I am also attracted to be part of the United States electoral process come 2008. With my tough and concentrated practice in Thai politics, I am confident that I would be able to contribute sincerely much to Hillary Clinton's candidacy for the 2008 Presidential Elections based on my qualifications attached herewith for your perusal and approval.
            Finally, I have been a loyal and dedicated follower of Hillary Clinton's footsteps in terms of her political career. Now that she is a Presidential candidate, I am even more eager to support her undertakings because I trust her capacities and capabilities especially her brilliance as a politician. The approaches and strategies I will learn if I chosen as an intern will be priceless and will truly help me in leading and maneuvering my country, the beautiful Thailand.