William Blake Essay Sample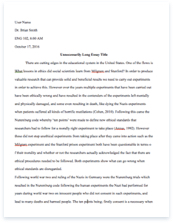 The whole doc is available only for registered users
OPEN DOC
Pages:
Word count: 456
Category: blake
Download Essay
A limited time offer!
Get a custom sample essay written according to your requirements urgent 3h delivery guaranteed
Order Now
William Blake Essay Sample
INTRODUCTION
Piping down the valleys wild,
   Piping songs of pleasant glee,
On a cloud I saw a child,
   And he laughing said to me:
'Pipe a song about a Lamb!'
   So I piped with merry cheer.
'Piper, pipe that song again.'
   So I piped: he wept to hear.
'Drop thy pipe, thy happy pipe;
   Sing thy songs of happy cheer!'
So I sung the same again,
   While he wept with joy to hear.
'Piper, sit thee down and write
   In a book, that all may read.'
So he vanished from my sight;
   And I plucked a hollow reed,
And I made a rural pen,
   And I stained the water clear,
And I wrote my happy songs
   Every child may joy to hear.
                                                           William Blake (1757-1827)
Assignment:
Read William Blake's "Introduction" to Songs of Innocence (above) and write a 300- to 400-word response paper explaining how the rhythmic effects of the poem contribute to its meaning. 
William Blake's "Introduction" to Songs of Innocence features rhythmic effects which contribute to the poem's meaning.
Blake writes about a child "On a cloud" which requests the piper to "Pipe a song about a Lamb", "Sing thy songs", and "sit thee down and write / In a book, that all may read ".
Upon reading the poem for the first time the content and rhyme seem extremely simple and straightforward.  The poem contains a 'time meter' which gives the poem a juvenile and sing- song monotony.  A time meter is the same type of rhythm that is found in nursery rhymes.
Upon further examination it is clear that Blake is actually writing about creation.  Specifically the role of creator that an author fills.  That a poet must retain a bit of child-like imagination through which he receives his inspiration.  This child-like state is mirrored through the immature insistent tempo of the poem.  The  rhythmic effect appeals to the child's ear still within each adult.
However, once inspired he must escape from the dream to write.  His inspiration must "vanish[ed]" like the child to allow the author to make a  " a rural pen" and  write "happy songs".  He must fall to be ability to share what he has written.  Which parallels the biblical stories of Jesus.  "Introduction" by Blake is a stealthy poem that uses the appearance and sound of a nursery rhyme to incorporate ideas of creation and the inevitable loss of innocence in writing and life.