William Penn Essay Sample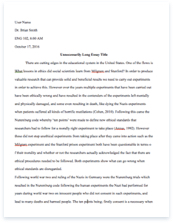 The whole doc is available only for registered users
OPEN DOC
Pages:
Word count: 1717
Category: person
Download Essay
A limited time offer!
Get a custom sample essay written according to your requirements urgent 3h delivery guaranteed
Order Now
William Penn Essay Sample
Many men were instrumental in the founding of the United States of America.  Among them, one stands out as a beacon of the highest ideals of humanity: William Penn.  Although Penn's life both began and end in England, it was his many years in the land that would become the United States of America that are most significant in illustrating his character and fortitude as both strong and admirable.  It is for his work as a humanitarian and his wealth of contributions to the American colonies that William Penn is deserving of inclusion in the American Heroes Hall of Fame.
Jim Powell, a Senior Fellow at the Cato Institute, begins an in-depth accounting of the life of William Penn by saying, "William Penn was the first great hero of American liberty."  Powell recounts that Penn created a society in America, in a place called Pennsylvania or Penn's Woods, that was perhaps the most diverse of its day.  Among Penn's beliefs that were widely considered controversial were his purposefully peaceful relations with the Indians native to the land and his assertion that women have equal rights to men.  As his highest ideal, Penn helped to craft a society aimed at providing equal rights and limiting persecution to members of all religions.
In the context of the 17th and 18th centuries, tolerance was not a foreign concept, but neither was it an evenly applied concept.  Religions often persecuted members of other religions; men were valued above and attained rights far greater than women; and the provision of equality among differing races was a largely unexplored concept in the New World.  Because William Penn put aside the common beliefs and practices of the age in which he lived, he was often considered a rebel and radical.  History now looks upon his actions and convictions as courageous and forward thinking.  In recognition of that courage, it is entirely appropriate to include Penn in the American Heroes Hall of Fame, giving proper recognition where it is due.
William Penn was born into a family that followed the principles of the Anglican Church, or Church of England.  His father, an Admiral in the British Navy, was a strong supporter of the Crown, and so it was especially shocking that Penn chose to break from his family's beliefs so abruptly in his decision to join the Society of Friends, better known as the Quakers.  The Quakers espoused the principles of pacifism and rarely acknowledged the customs of a society steeped in class tradition, including bowing and removing head coverings.  As a result, the group as a whole endured widespread persecution sanctioned by the Crown.  (Wikipedia)  Penn, himself, was imprisoned several times for his radical writings and public speeches.  Following the example of other Quakers, Penn chose to leave the country of his birth in order to seek freedom for himself and others of his faith in the New World.
In order to satisfy a loan made by Penn's father to the Crown, King Charles II granted to him a large tract of land west and south of New Jersey.  It was there that a number of Quakers settled, among others of diverse religious backgrounds.  Penn drafted historically significant documents laying out a listing of the principles that would govern the settlers in Pennsylvania.  This writing would largely become a basis for the United States Constitution, written nearly one hundred years later.  In the "Frame of Government of Pennsylvania", penned in 1682, Penn laid out a carefully crafted form of government that provided for regular elections, representatives elected to set terms, and for the regular conduct of the business of the land.  Most notable, perhaps, in this document, is its foundation.  Whereas many leaders set out to appoint the first round of leaders to serve, the Frame of Government of Pennsylvania specifically lays out provisions for the original selection of leaders, namely "the freemen of the said province shall…chuse out of themselves seventy-two persons of most note for their wisdom, virtue and ability."  (Penn)
Written on the same day, Penn also laid out the rights of the citizens of Pennsylvania in the form of laws that were agreed to while he was still in England.  Most notable among the rights laid out were that of property ownership, against taxation, due processes in court, rights of prisoners and the execution of legal registrations including births, deaths and marriages.  Because the ideals of Penn lay in religious tolerance, he also wrote
"That all persons living in this province, who confess and acknowledge the one Almighty and eternal God, to be the Creator, Upholder and Ruler of the world; and that hold themselves obliged in conscience to live peaceably and justly in civil society, shall, in no ways, be molested or prejudiced for their religious persuasion, or practice, in matters of faith and worship, nor shall they be compelled, at any time, to frequent or maintain any religious worship, place or ministry whatever." (Penn)
Although William Penn is the most notable of all Pennsylvanians, he was only able to enjoy the colony of his founding for a scant three years, from 1682 to 1684.  (Wikipedia)  After that time, he returned to England to conduct necessary business, returning to America only fifteen years later.  He was able, on that later trip, to spend only just under another three years, before returning to England to fight for the fortune a trusted advisor had squandered.  It is his work during that last trip to America, however, that solidifies Penn's place in the annals of history and makes him deserving of induction into the American Heroes Hall of Fame.  During that time, Penn advanced the idea that the colonies of the New World should form a federation for mutual safety and sustainability.  Although such a federation would take decades longer to achieve, it is notable that Penn was so vocal about promoting its creation.
Bill Samuel, in history of the life of William Penn, notes an interesting quote by another Founding Father, Thomas Jefferson: that Penn was "the greatest law-giver the world has produced."  Samuel writes that Penn sought to create a criminal justice system that provided fair treatment to all, and instead of providing simply punishment, also made attempts to reform those convicted of crimes.  It was perhaps Penn's own experience with the penal system in England that gave him such compassion for criminals in America.  That compassion is a strong hallmark of Penn's great character and of the necessity of viewing him as a true hero, in his desires to provide the best possible society for all that inhabited it.
Penn's impact on the New World extended beyond his aid in the settlement of Pennsylvania and his legal writings that provided a framework for future documents that would become the basis of the United States.  Called by some a visionary, Penn was also the father of the city of Philadelphia, a city whose name was chosen to mean "Brotherly Love".  In a writing on Penn's life maintained by an organization of Quakers called the Philadelphia Yearly Meeting, it is explained that many consider him to be "the first city planner in the new world."  Penn designed the city that would later serve as the nation's capital for some time not just in concept but also in reality.  He chose to lay out the land in a grid-like pattern, organizing streets, public buildings, and town squares in an orderly fashion so as to promote societal welfare.  Because Penn's childhood conditioning was various disasters in the maze-like layout of London, he was especially concerned about avoiding such occurrences in the New World.  (Philadelphia Yearly Meeting)
A true statesman is judged not only by his microcosmic impact but also by his affect on society as a larger concept.  William Penn cared not just about furthering the ideals of the Society of Friends, or about establishing a firm foundation for the colony of Pennsylvania.  Penn also cared deeply about the future of European society, and it was that passion that drove him to write a document called the "Present and Future Peace of Europe" in 1693.  This document, according to the Philadelphia Yearly Meeting, is "considered a prototype of the United Nations."  It truly speaks to Penn's ability to perceptively know the issues that would affect many future generations that he was able to construct this document in a time when very little cooperation could be seen between countries that often considered themselves competitors instead of compadres.  It is somewhat ironic that the charter that created the United Nations was signed on October 24th, which is William Penn's birthday.  Each day, on the anniversary of his birth, UN Day is celebrated in the United States, bringing a full circle to two concepts that his system of beliefs perhaps contributed to the founding.
Many patriots of the early United States are well deserving of inclusion in the American Heroes Hall of Fame.  It would be surprising, however, to find many others who have contributed so richly not only to American society but also to the greater good of the world as a whole.  From his religious tolerance to his desire to provide true equality among the masses, Penn proved himself a humanitarian.  From his succinct and perceptive writings to his ability to sum up the voice of the people, Penn proved himself to be an expert in communication.  And from his expertise in the development of both a governmental structure and the physical framework of the city of Philadelphia, Penn proved himself to be a statesman of the highest order.  For these reasons among many others, William Penn should be included as an inductee to the American Heroes Hall of Fame.
Works Cited
"Penn's Holy Experiment: the Seed of a Nation." Philadelphia Yearly Meeting. 28 Mar. 2006. 27 Sept. 2007 <http://www.pym.org/exhibit/p078.html>.
Penn, William. "Frame of Government of Pennsylvania." 5 May 1682. 27 Sept. 2007 <http://www.yale.edu/lawweb/avalon/states/pa04.htm>.
Powell, Jim. "William Penn, America's First Great Champion for Liberty and Peace." The Religious Society of Friends. 27 Sept. 2007 <http://www.quaker.org/wmpenn.html>.
Samuel, Bill. "William Penn." Quaker Info. 1 Oct. 2000. 27 Sept. 2007 <http://www.quakerinfo.com/quakpenn.shtml>.
"William Penn." Wikipedia, The Free Encyclopedia. 27 Sept. 2007. Wikimedia Foundation, Inc. <http://en.wikipedia.org/wiki/William_Penn>.