Winterbourne View Essay Sample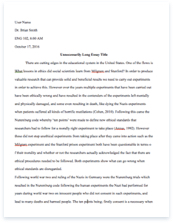 The whole doc is available only for registered users
OPEN DOC
Pages:
Word count: 692
Category: abuse
Download Essay
Get Full Essay
Get access to this section to get all the help you need with your essay and educational goals.
Get Access
Winterbourne View Essay Sample
Identify two reports on serious failures to protect individuals from abuse. Write an account that describes the unsafe practices in the reviews. The winterbourne view case if a very well known of a failure of protection from abuse. Winterbourne view is a privately owned care home by Castle Beck in Hambrook, South Gloucestershire for adults with learning disabilities and autism. The house bedded 26 service users and sadly these service users were not treated correctly. Winterbourne view was known for the abuse to the service users before it eventually got investigated. Staff that worked at Winterbourne quit their jobs because they could not deal with watching the abuse. These staff had whistle blew this abuse to CQC but it was not investigated. CQC did unexpected inspections and still did not notice the abuse. Staff used physical intervention to a excuse of abuse. They would attack and restrain service users for their own entertainment and write in the paper work they had been attacked themselves and was only using physical intervention. This how they used to cover up the fact they was abuses.
A man from the BBC called Joe Casey went into Winterbourne View as a support worker secretly recording the abuse for a television documentary called Paranorma. Joe had to go under cover as a support worker so he could get all the evidence for CQC to finally investigate and listen to the staff complaints. During the five weeks that Joe spent filming undercover he captured footage of 13 main staff abusing physically and verbally vulnerable service users. They were being repeatedly pinned down, slapped, dragged into showers while fully clothed, taunted and teased. Staff that was not included in the abuse described the abuse as torture and that they no longer could watch it. A 18 year old service user named Simone was severely verbally abused and physically by three men – aged 42, 30 and 25 and a women that was 24 years old. Simone was verbally abused and doused with cold water while fully clothed as a punishment, she would be stuck in the garden after having a freezing old shower to freeze.
Left screaming and begging for help. A 30 year old man, who was named as being the group leader of the abuse trapped Simone under a chair so she could not move and sat on the chair pressing all pressure and weight onto Simone's hands. Simone's parents told the programme that she had told them she was being abused at the hospital but they had assured her that it would not be allowed to happen again, unfortunately the abuse was hidden carefully. Secret filming caught staff verbally abusing and winding the service users up until they were attacked so they could use physical intervention to cover up the abuse. The service users were always told what they had done to deserve the abuse and they would be treated like animals, even to the point where they would not be able to sit next to a staff member.
The home was also named as very interstitial. CQC apologized for 'missing the opportunity' to act on this case and that it wouldn't happen again. The winterbourne view case had a massive impact on the publics views on care homes. A member of staff that worked of Kingswood care had been attacked by the public not long after this case came out for innocently restraining someone who was having a general behaviour. All the service users parents became very upset and distressed and thought that all care homes could be doing it and their child could be being abused. Care homes sent out letters to reassure parents that their child were being treated correctly and if they had any worries or doubt they were always welcome to check things and come to the house to make sure they are doing correctly. In the end after five weeks of the filming CQC investigated the case and 38 staff were arrested and some staff was jailed for up to 2 years to 12months and other staff were just suspended for a certain amount of time.