Early intervention for children Essay Sample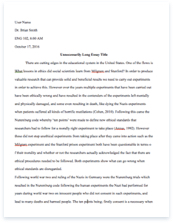 Pages: 6
Word count: 1,470
Rewriting Possibility: 99%

(excellent)

Category: childrens
Get Full Essay
Get access to this section to get all help you need with your essay and educational issues.
Try it free!
Early intervention for children who are at risk of delayed development can benefit not only the child but the whole family. As well as benefiting young children, early intervention can prevent adolescents and young adults from developing problems. Training can be provided to help families develop practices that prevent development of aggression and anti-social behaviour. Whilst a young person is growing up it is beneficial for them to have the opportunity
opportunity to gain skills and get the support they may need. Early intervention can potentially shape the future for individuals and communities, it is about taking action to reduce crime, improve health and education and increase family income. What happens early in a child's life make a difference for their whole lifetime.
The Early Intervention Foundation believe taking action to tackle potential problems needs to be done as soon as possible, as they may become more difficult to reverse:
'We want every family to develop an intergenerational cycle of positive parenting, relationships and behaviour. Early intervention is about enhancing the capabilities of every parent to provide a supportive and enriching environment for their children to grow up in. Then the next generation has the best chance to flourish with the skills to engage in positive parenting themselves'.
Research has shown that positive childhood experiences can reduce heart disease, obesity and diabetes as their physical and metal health is improved. This can lead onto children doing well at school, avoiding crime and getting a good jog in the future. The science behind early childhood states the child's brain is shaped by experiences in their environment, including interactions between friends, family and other influential adults. Serious difficulties or suffering of the child in early life (such as family violence or chronic neglect), can disrupt healthy brain development and lead to problems in the future. Behaviour is more difficult to change as the child gets older, and if they have dropped out of school, are involved in crime or have developed a serious health problem this also makes interventions less likely to be successful.
Primary care givers gain confidence in their ability to create change for their family and children. Parents are given the tools, knowledge and education; they can observe then learn new strategies to assist in the healthy development of their children. It is important to know what the desired outcome is and what they are struggling with; the focus should be on family goals and what the expectations are of the child. For example, bereavement can negatively affect a child's emotional state which in turn can affect their behaviour as they grieve. An intervention in this case could be Bernardo's Child Bereavement Service, which helps parents understand and manage difficult behaviour. Their programme gives care givers confidence to help manage challenges they may experience and allow them to feel more in control.
Child abuse can cause difficult behaviour and a lack of self confidence, Stronger Families is a children's group that can build self-esteem, help children deal with their emotions and understand that they are not to blame. Increased confidence and the ability to talk about their feelings can help a child in all aspects of development.
In a school setting, additional learning support is about giving children that extra support to enable them to reach their full potential. A specific programme or set of steps can be established to help children improve in a particular area of learning they are struggling with. It can track a child's progress which is useful for both the teaching staff and family members at home. Getting help at school could consist of behavioural interventions, academic or communication interventions and they are aimed at a particular weakness of the child. Interventions can help all ares of development such as social and emotional, cognitive or sensory or physical. The intervention should last a particular amount of time and be reviewed,
A number of specialists can assist in interventions, namely:
SENCO, who deal with children that has special educational needs. They identify special needs and offer support to those children and their families.
Youth Justice work with children who experience behavioural difficulties and could be at risk of offending.
Social workers support vulnerable children and their families.
Psychologists can support children with learning or behavioural problems, they may provide teaching staff with programmes to support the child once the child's needs have been identified.