The work of 'Body Artists' is merely a decadent corruption of Artaud's ideal Essay Sample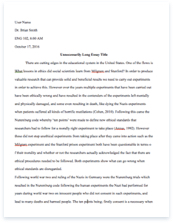 The whole doc is available only for registered users
OPEN DOC
Download Essay
Get Full Essay
Get access to this section to get all the help you need with your essay and educational goals.
Get Access
The work of 'Body Artists' is merely a decadent corruption of Artaud's ideal Essay Sample
In his essays and manifestos, collected in the Theatre and its Double, Artaud advocated a metaphysical theatre, linking spectator and spectacle. He was influenced less by literature than by myth, ritual, Oriental art, gestures of Balinese dance, and the subconscious world of dreams. Artaud felt that the theatre should give rise to numinous feelings within the audience. He always emphasised space, physicality, colour and sensual awareness over text and language in order to shake an audience to the very core of their personality.
Artaud's main aim with regards to theatre was to create what he called 'pure' or 'total' theatre. An episode taken from The South Bank Show, entitled Body Art , showed the lives of four people, each from different Western countries, who had been inspired by other cultures and used these influences within their performance art. Artaud was very interested in the American Indian Peyote religion, which is a religious movement that was created as a result of the suffering from the effects of domination by American society. He was awed by the ritualistic and symbolic aspects of the religion.
This influence could also be seen in Body Art. Fakir Musafar, 'Father of the Modern Primitives Movement', has researched and personally explored primitive body decoration and rituals. He said that
"our society has removed itself from ritual traditions, and they are a fundamental and valuable part of life. "
The intensity of the performances shown in Body Art demonstrated how strongly these people believed in what they were saying. Artaud desperately wanted tension on stage to be at its highest, however the difference between Artaud and Body Art is the use of shock.
Artaud was very ahead of his time with contemporary and uncompromising ideas. He wanted theatre to become an experience for the audience, and he wanted them to be moved by it. The people featured in Body Art agreed with Artaud's idea of theatrical experience, but their ideas differed when they discussed what it was they wanted their audience to feel. Artaud wanted them to feel utter shock and complete insecurity about what they were witnessing, whereas Body Art did not want to shock its audience. Ron Athey said that "The purpose is not to shock, but to make the audience come to terms with what they are seeing.
This is difficult for a Western audience to comprehend because they have become so accustomed to their way of life, that anything which subverts it is both shocking and confusing. Artaud and the body artists in Body Art had the same intentions, but chose to use different approaches in order to make it a reality. However, one cannot base a decision on whether or not Body Art is a corruption of Artaud's ideal solely on the intentions behind their performances. Franko was trying to convey, in Body Art , y the relationship between art and science. He said that "the divide between art and science is an entity.
The divide wasn't there years ago, but now it is. " Artists like himself are now using their performance art to try and close the gap in Western society. In "Notes sur les cultures orientales" Artaud writes that he had journeyed to Mexico in order to leave 'Old World' European civilization, which he qualifies as 'Barbaric,' for the 'New World' where he hoped to find, 'paradoxically, an ancient, primary and true culture predating Old World culture and its subsequent colonilisation of the New World. ' Artaud wanted to discover what true culture was, and similarities to this can be seen in Body Art.
Artaud, who was influenced by Freud, wanted to affect all the physical senses of the audience. For example the use of colours affect the audiences sensorial experience. Artaud liked to use the colour red, symbolic of blood. A parallel to this idea can be seen in Body Art, in the section about Franko B. Franko bled himself on stage in front of a live audience, without any speech, and he sees this as nothing other than a form of art. Similarly, Artaud saw the use of gesture and facial expressions as far more than a substitute for words.
Furthermore, Artaud made very high demands of his performers. He wanted them to have bodies that were trained like that of an athlete so that they would be able to perform whatever he asked of them, requiring stamina and determination. Hence the body artists would not be able to produce such physically demanding performances if their bodies were not trained and fully prepared. This was shown in Body Art when the artists informed the viewers that they only performed once or twice a year because of the strain it puts on their bodies.
The performance space in all of Artaud's ideals and in Body Art were all non-conventional. Artaud thought that a non-conventional theatre space would link the spectator with the spectacle. Although the body artists featured in Body Art did not mention anything about the performance space, none of them used a recognisable space, such as a proscenium arch theatre. This breaks down the barriers between the audience and the performers, and therefore allows them to engage completely, which is what Artaud desired. However, he wished to have his audience enveloped in the centre of the action, on swivel chairs.
Whilst the body artists chose a similar approach to theatre spaces as Artaud they corrupted his ideas by using them as a guide, rather than a set of rules. Artaud saw theatre as a weapon to destroy present society, but he realised that it would never be extreme enough to achieve it. He remained almost unknown to the contemporaries of his time, such as Brecht, and it wasn't until after he died that practitioners such as Peter Brook realised that "he made more sense than any of the other practitioners of his time".
Artaud seeked to return to some notion of primitivism, which can certainly be seen when viewing Body Art. The body artists all have a fascination with the inside of their bodies, and this is what permeates their work. Artaud saw the body as the carrier of thoughts, and, as in "Body Art", that it was a necessary rite of passage. However, a difference can be seen between Artaud and the body artists as Artaud said that "conditions must be found to give birth to a spectacle that can fascinate the mind. It is not just art. ", whereas the body artists firmly believe that what they are doing to themselves is pure art.
On one hand Artaud's ideal is greatly different from that of Body Art because he wanted to bring the audience out of their desensitisation to confront themselves, whereas the body artists wanted to desensitise their audiences without shocking them. Although it was not their intention the body artists do shock their audiences, because, within a Westernised society, what they were doing is seen as immoral and corrupt. However when studying Artaud's Theatre of Cruelty and Body Art it is clear that the work of the body artists is certainly inspired by Artaud, in terms of performance style.
The two show ritualistic, symbolic and shamanistic qualities throughout their work. On the other hand, their performances were not entirely dominated by Artaud's ideal. For example Artaud wanted music that would 'pierce the ears', he wanted terrifying screams, and ultimate chaos on stage, whilst still creating a highly tense atmosphere. The body artists certainly created an intense atmosphere, but it was far from chaotic. "Everything that acts is a cruelty", and both Artaud and Body Art demonstrate that theatre is a vital art form that constitutes much more than the spoken word.
Read next:
Narrative: A History of Southern Miss
Dorthea Lange
Do all the arts have features in common