Work Culture Preferences Essay Sample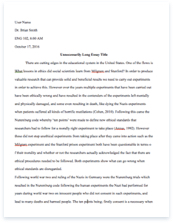 The whole doc is available only for registered users
OPEN DOC
Pages:
Word count: 450
Category: work
Get Full Essay
Get access to this section to get all help you need with your essay and educational issues.
Get Access
Work Culture Preferences Essay Sample
I believe understanding ones own values along with a company's work culture can help foster a stronger relationship with the organization in helping to achieve their long-term goals and objectives. Getting to know the culture can be discovered during the interviewing process through both the people you meet and a feeling you get when walking through the halls. I once interviewed with an organization and purposely asked the same question to each individual, which was " what is the best part of working at company XX?" I was pleasantly surprised that each employee had the same response and I knew right then I wanted to be a part of the environment. The company's cultures was what I was looking for that included a safe place for expressing ideas, opportunities for advancement and a strong R&D pipeline which meant the company was dedicated to investing in market expansion. Knowing the work culture enables the organization and its employees to put forth a well-rounded strategic plan to meet outlined objectives and goals.
A SWOT analysis is a tool an organization uses when starting to develop a strategic plan. There are two competencies or skill sets needed to conduct a SWOT analysis; external and internal analysis. The external deals with knowing what the competitors are doing today and what they will be doing in the future. Whether it involves new product development or a change in their sales force you need a culture that is dedicated to investing in specialists to understand the competitive landscape. The internal analysis looks at the company's strengths and weakness along with available resources. These competencies include the organizations assets, technology and employee skills and are what makes them unique to the competition. Other competencies could include employee attitude, best in class products in terms of innovation and differentiation, strong brand recognition and a superior sale force.
My core competencies identified through the career-building plan concluded I am teamwork centered, high powered and an expert at what I do. Teamwork is important when conducting a SWOT. To be productive you must instill a cooperative and supporting environment where everyone has a voice in order to deliver the best outcome. Being an expert in my field will enable me to contribute the to strengths and identify the weaknesses an organization may have with a particular product and strive to create an atmosphere of out of the box thinking. Lastly, because I place emphasis on the desire to grow and learn new skills my competencies align with the essential elements of a good SWOT. In conclusion I need to align myself with a fast paced, high-powered organization that prides itself of teamwork, innovation and employee excellent.