Work Life Balance Efforts in Today's Society Essay Sample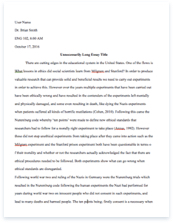 The whole doc is available only for registered users
OPEN DOC
Download Essay
Get Full Essay
Get access to this section to get all the help you need with your essay and educational goals.
Get Access
Work Life Balance Efforts in Today's Society Essay Sample
The survey is an important part of the comprehensive total rewards review that seeks to understand what is working and what, if anything, needs to change  The key objectives of the survey are:
– to understand faculty and staff preferences among important elements of total rewards and the work experience for any employer they might consider – to measure the current level of satisfaction with total rewards at SU – to benchmark the satisfaction level with normative data on key elements where data are available
– To compare and contrast results for the different segments of the SU workforce, including college/division, position/role, and various demographics such as age, length of service, and others (note – statistically reliable data were gathered for many, but not all desired segments)
875 people completed the survey including 473 staff, 354 faculty and 48 who declined to identify their work role.
The response rate was 61%. This is a strong response rate and the sample is a statistically valid representation of views of the Seattle University employee population
Thirteen elements were presented to employees to determine their preferences for total rewards from any employer or job they might consider 1. Medical Benefits – coverage for my medical needs and for my dependents 2. Other Insurance Benefits – Vision insurance, Dental insurance, Long-term care, etc. 3. Time Off – Vacation, holidays, maternity/paternity leave and other paid time off benefits 4. Income Protection – Life and Accident insurance, Sick Leave, Short-term disability, Long-term disability, etc. 5. Retirement Plan – e.g. the 10% retirement contribution made by SU on my behalf 6. Tuition Benefits Programs – e.g. tuition remission for myself and my dependents at SU as well as exchange programs at other schools
7. Base compensation that is competitive with the market
8. Pay raises that are determined by my individual performance or skills
9. Career Advancement – e.g. Faculty: Rank & Tenure, Administrator or Program
Director roles. Staff: promotion/advancement within my department and/or wider university 10. Professional Development/Self Enrichment – e.g. Faculty: opportunities to contribute to my profession via release time, scholarship, research support, etc. Staff: Opportunities to develop my knowledge and skills through campus or external programs.
11. Work-Life Balance – Being able to balance work and personal responsibilities (e.g. flexible work schedule, childcare services, Connolly center membership, etc.)
12. Collegiality among Peers and Leadership – Feeling camaraderie and mutual respect among the community