Would you have been a Federalist or an Anti-Federalist? Essay Sample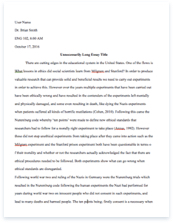 The whole doc is available only for registered users
OPEN DOC
Download Essay
A limited time offer!
Get a custom sample essay written according to your requirements urgent 3h delivery guaranteed
Order Now
Would you have been a Federalist or an Anti-Federalist? Essay Sample
Choosing federalism or Anti-federalism is difficult because both governments work for the establishment of a good nation. But according to me, I believe that any country or nation comprises of many legal boundaries which are made for the betterment of the country. American politics is the one where not only America rules but other countries also follow its footsteps. So government should be powerful and people should abide the rules and regulation of country. In this situation, federalism and Anti-federalism plays an important role in the development of a nation. Federalism is basically a written constitution that is built for the government bodies to participate for the betterment of their country. Rules and regulations pass to local citizens so that they could follow those rules and establish a better society. Any nation could only be successful if its managed and governed by a good government, who works for the citizens, who takes good initiatives for the country and who builds a nation powerful to stand as a successful state.
1 A) For the first question, I believe a political system with the political democracy runs by the government with the help of laws and policies that are made by the government is the anti-federalism side of the politics and it should be run in the same way because people can only follow the rules and policies if its customized for them. None of the citizens can perform and oblige those rules if they are not mandatory for them. It is necessary to jot down those rules and policies in order to build a law-abiding nation.
b) The point b; of the first question relates to federalism side of the government because here people have no choice to choose any political consideration. The government doesn't care about the citizens and build those policies which are not in the interest of the people and they build policies without taking interest in public and their opinion.
2 A) I support point a; because I believe, change is better for the society and for the emergencies and any change which is beneficial for the society should be undertaken by the government then and there so that citizens should not be worried about the change happening in the country and government bodies handle it with complete consideration and acceptance for the goodwill of the country.
B) I don't support point b because as I have mentioned above, change builds a nation strong and following the old school theories can not give justice to a better society. This point is about the federalism law which doesn't care about the public opinion.
3 A) Point a; support Anti-federalism side because here, we are talking about honorable and virtuous citizens where government tends to make a good and respectable country with the help of virtuous citizens.
b) I support point b, where people are free to live their lives according to their wish, the government provides a free platform where citizens have the freedom to work on their own and doesn't have boundaries and obligations to work. Freedom is necessary for every nation and sometimes, imposed rules and principles makes citizens aggravated and as a result, they stop to follow those rules. So, it's better to give freedom to the society and people have the choice to live on their own wishes and demands.
4 a) A decentralized system is far better than a centralized system. The decentralized system supports Anti-federalism side where alterations can be made with respect to work and time. All the areas of a country being managed here unlike the centralized culture. It is important to look after all the areas that need positive changes in the society.
b) I do not support point b; that caters a centralized culture. It is the Federalism side of the society because a strong power creates too much hunger and corruption among the government and that results in a devastating society because too much power and authority lead a corrupt government.
My preferences and my answers support Anti-federalism government because in 21st century people are more knowledgeable and efficient enough to understand the changes in the society. People tend to live their lives on their own and they only follow the rules and regulations if they are designed and accustomed according to their will. Public perception plays an important role in today's era because the world is moving fast and rapidly so the concept of freedom has more power and capability in the world. People like to take initiatives and risk. Today, people are more comfortable by working on their own will rather than following someone's established rules and principles.