Writesharp Inc. Essay Sample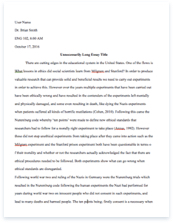 The whole doc is available only for registered users
OPEN DOC
Pages:
Word count: 421
Category: better
Get Full Essay
Get access to this section to get all help you need with your essay and educational issues.
Get Access
Writesharp Inc. Essay Sample
I.THEORETICAL FRAMEWORK
Writesharp Inc. Is thinking of customer's satisfactions through listening to what usually a customer demands in terms of how will the pencil they are producing should be. Writesharp Inc. is particular with the effects of change of the feature of their current product line.
II. STATEMENT OF THE PROBLEM
How will Writesharp Inc. improve the quality of its product that will satisfy the customers and performance of its competitor product?
III. STATEMENT OF THE OBJECTIVES
1. To know what the consumers want in a product.
2. To determine the effects of changing the features of its product. 3. To determine the cost-benefit relationship of the product innovation.
IV.AREAS OF CONSIDERATION
STRENGHTS| WEAKNESSES| OPPORTUNITIES| ThREATS|
* Easy to hold * Does not smear * Point lasts * Does not roll| * Uneasy grip * Generates dust * Point does not last * Tendency to roll down slanted desktops| * Wider market * Higher profit * More competitive product * Brand new appearance.| * Unnoticeable to typical and general pencil users. * Infringement * Market price might increase. * Added advertising cost.|
V.ALTERNATIVE COURSES OF ACTION
1. Formulation of a new lead that would lengthen the span of life of the pencil. Using the new polymer for binding the lead would reduce its dusting and absorb more moisture. 2. Substituting cedar for oak for the pencil's wood casing that would dramatically induce a newer image, enhance its hexagonality and compel for an easy-handling, thus, lessening the tendency to roll down on slanted and inclined desktops. 3. Improvement of process controls. With this, there is higher efficiency in production and overall quality of product is improved matching the quality of the leading brand.
VI.CONCLUSION AND RECOMMENDATION
Pencils are rarely tested when consumers buy it from the store. Normally, a good physical appearance would attract more consumers to buy a certain brand. Though better quality lead has the biggest potential for improvement, using a new binder would be more expensive and would lead to higher costs. Meanwhile, substituting cedar for oak would only yield marginal enhancements. The best course of action to take is the improvement of process controls. Not only it will improve efficiency of production, but also it will improve the overall quality of the product. When overall quality of product is improved, customer satisfaction is increased and there is the probability of generating higher sales. Improvement of process controls also has a long term effect because of its promise in waste reduction, thus reducing manufacturing costs by one cent.