Youth Obesity Essay Sample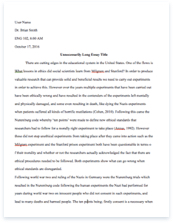 The whole doc is available only for registered users
OPEN DOC
Download Essay
Get Full Essay
Get access to this section to get all the help you need with your essay and educational goals.
Get Access
Youth Obesity Essay Sample
Childhood obesity has been an ongoing issue in America for the past several years. It has been recorded that rates of obesity in youth have tripled in the past 20 years. Today it is estimated that over 20% of American children and adolescents are overweight. This statistic alone has caught the interest of researchers and influenced them to look into the different aspects of childhood life that may be causing this issue and why it has become a trend in our young generation today. By gaining a better understanding of the complexities of youth obesity and how it may be prevented, we will be able to improve the health and well-being of today's children and tomorrow's adults and perhaps even eliminate the problem before it spreads to the next generation. Childhood obesity has become a disease we, as Americans see more often every year. With the lifestyle and food choices American's are given today it has been hard for many organizations and health agencies to get a good grip on the issue. It is a life altering disease that one will pick up as a bad habit and later find that it gets quickly out of hand. In scientific terms, obesity occurs when a person's calorie intake exceeds the amount of energy he or she burns. Some are able to prevent it before it becomes the stage of obesity, but in today's world it seems less and less are able to seize control over the battle of their weight.
In result, these adults are now influencing their children and families; allowing them to follow the same unhealthy eating patterns. Family members share not only genes, but also diet and lifestyle habits that may contribute to obesity. After continued for so long these patterns throughout families may even become genetic. Separating these lifestyle factors from genetic ones is often difficult. Still, growing evidence points to heredity as a strong determining factor of obesity. In one study of adults who were adopted as children, researchers found that the subjects' adult weights were closer to their biological parents' weights than their adoptive parents'. The environment provided by the adoptive family apparently had less influence on the development of obesity than the person's genetic makeup. This is an ongoing cycle we need to stop. Shirley Watkins, Under Secretary, U.S. Department of Agriculture, Food, Nutrition, and Consumer Services stated, "We can no longer afford to sit back and watch this epidemic. The time is now to act on behalf of our children and bring people together in a dialogue and decide how working together we can make a difference for children.
As I said, the time is now." Obesity is not just a disease that affects your image and self-esteem. There are many dangerous side effects and chronic illnesses you immediately become prone to because of the shape your body is in and the lifestyle you live. Some immediate effects of youth obesity may be risk factors for cardiovascular disease, such as high cholesterol or high blood pressure. In a population based sample of 5 to 17 year olds, 70% of obese youth had at least one risk factor for cardiovascular disease. Obese adolescents are also more likely to have prediabetes, a condition in which blood glucose levels indicate a high risk for development of diabetes. Diabetes, another serious disease that has become an increasing trend in Americans is not something you want your children to develop. It becomes a struggling battle to live with and may even turn life threatening in certain situations. In addition to prediabetes, children who are obese also are at greater risk for bone and joint problems, sleep apnea, and social and psychological problems such as stigmatization. The long term health effects that come with being obese tend to be more serious on your health and physical state.
Children and adolescents who are obese are likely to be obese as adults and are therefore more at risk for adult health problems such as heart disease, type two diabetes, stroke, several types of cancer, and osteoarthritis. One study showed that children who became obese as early as age 2 were more likely to be obese as an adult. Overweight and obesity are associated with increased risk for many types of cancer, including cancer of the breast, colon, endometrium, esophagus, kidney, pancreas, gall bladder, thyroid, ovary, cervix, and prostate, as well as multiple myeloma and Hodgkin's lymphoma. These long and short term effects are not to take likely. They happen often to overweight and obese individuals. Growing up and having your body go through the process of maturing is hard enough on the young generation. Why allow your children to go through an even more stressful life when you can easily prevent it and have them avoid all these possible issues that come along with being obese. Every parent, teacher, school board, food company, television station and celebrity can do a little to influence and help prevent childhood obesity.
The majority of our country has been putting the blame on the USDA and has been asking why they have not been trying to take control of the issue. Little do most people know is that the source of our obesity issue comes from Americans on government programs such as welfare, WIC and food stamps who buy their food based on what is offered and what they can afford. FNCS (Food, Nutrition, and Consumer Services) has the responsibility for all of the nutrition assistance programs. That would include food stamp programs, serving 9 million households, or 22 million people, of which 60 percent are children. The WIC Program serves 7.5 million people, and 80 percent of those are children. They serve 26 million school lunches every day to children in 95,000 schools across the country, 6.9 million school breakfasts across the country, 2 million summer lunches, and provide billions of pounds of commodities every day. They are also responsible for providing nutrition information to all consumers through the Dietary Guidelines and the Food Guide Pyramid. Funded with a $40 billion budget and the stewardship for nutrition education, one might ask how the FNCS is not addressing the issue of youth obesity.
While representing industry, the health care profession, physicians, program managers, researchers, producer groups, dieticians, community people, scientists, and policy representatives it is safe to say this is not only our problem and our country's problem, but as well as the FNCS' indefinitely. Youth obesity is influenced by several different factors today. The resources and information FNCS provide American school systems and families along with the genetic makeup and eating habits you may pick up from your own family are just three factors that influence youth obesity. Environmental factors also play a part in youth obesity. Environment includes lifestyle behaviors such as what a person eats and how active he or she is. Americans tend to have high-fat diets, often putting taste and convenience ahead of nutritional content when choosing meals. Most Americans also don't get enough exercise.
Dr. Youfa Wang, an associate professor at the Center for Human Nutrition at Hopkins analyzed data from nearly 16,000 high school students between the ages of 15 and 18, who took part in the Centers for Disease Control and Prevention's longitudinal Youth Risk Behavior Surveillance Survey, about their physical activity. He and his team found that in 2007, only 34.7% of teens met federal physical activity recommendations, which call for activity strenuous enough to cause heavy breathing for a total of an hour a day for five or more days a week. You don't have to spend much time with teenagers to know that the average teen would rather devote an afternoon to sitting in front of the TV, computer or Xbox than working out in a gym. In recent years, as physical education classes have progressively eliminated tenuous work outs from their curriculum, teens have had even more time to lounge, hang out or do anything, but break a sweat. Psychological factors also play a big part in youth obesity.
They may influence one's eating habits. Many people eat in response to negative emotions such as boredom, sadness, or anger. While most overweight people have no more psychological disturbance than normal weight people, about 30 percent of the people who seek treatment for serious weight problems have difficulties with binge eating. During a binge eating episode, people eat large amounts of food while feeling they can't control how much they are eating. These people may have more difficulty losing weight and keeping the weight off than people without binge eating problems. Some will need special help, such as counseling or medication, to control their binge eating before they can successfully manage their weight. Some other causes of youth obesity may be rare illnesses. Illnesses such as hypothyroidism, Cushing's syndrome, depression, and certain neurologic problems can lead to overeating. Yet, it is said rare illnesses and certain side effects of medication are only responsible for one percent of all cases of obesity. So how are we going to stop and prevent this issue? What are people doing to help and is there something we can each do to contribute? Parents can do a lot to help prevent their children from becoming obese. Things such as getting them in the habit of living a healthy lifestyle, including healthy eating and physical activity can lower the risk of becoming obese and developing related diseases.
Taking an extra 20 min in your morning to pack your children a healthy homemade lunch will make a difference alone. Use low sodium lunch meats for their sandwiches as well as try to get them use to eating lettuce and tomatoes in it. One piece of fruit will replace the position of a dessert or sweet and include multi grain or reduced fat crackers for them to snack on. Water or 100% juice, not from concentrate, should be given instead of soda or high fructose corn syrup drinks. You can also suggest or recommend to your child that he or she should join an extra-curricular sports team such as intermural soccer or baseball/ softball. This will not only increase the number of calories they burn a day, but help them with their team building skills and allow them to become more social, come out of their shell. Help them find the things that really interest and captivate them. That way if they do not enjoy the sports that are offered by the community you can look into clubs and organizations that are of their interest. This will also help them with their social skills and keep them away from sitting at home and snacking in front of the television. You as their parent are their biggest influence.
Prepare home cooked meals from scratch if you have the time instead of ordering out. Involve them in the cooking process and try new recipes. Try to include a side salad with every dinner and lessen the portion of animal protein to provide them with a sufficient amount of nutrients. Try and reduce the amount of junk food you bring home from the market and look for alternatives to your typical junk food snacks. One of America's favorite cookies is Oreos, full of fat and sugar. Bring home an alternative such as Newman's-O's, a cookie from Newman's Own Organics' cookie line, just if not more delicious than an Oreo. Leave the children at home if you must, to reduce temptation. These are all good eating habits your children can pick up on and use when they get older, as well as pass on to their children. Schools and communities can play a big role in youth obesity prevention as well. Environment for mental health in this country is too often one of blame and stigmatization, which means that people who need help often do not feel comfortable coming forward and asking for it or seeking it. So, our mental health problems tend to play out in the streets of America, or in the homes, or in the schools, when somebody brings a gun to school and shoots classmates and teachers.
Too often, though, our mental health problems play out in the wrong arenas. If that is going to change, we need to change the environment. School's need to offer more counseling services as well as disciplinary action. Children need to be able to feel comfortable in their setting no matter where they are at or what school they attend. Gym classes need to be longer and include more tenuous exercise for the children. Unless excused for a medical condition there should be no reason for a student to be lounging during a period of gym or physical education. If we are going to succeed, we need the home, the schools, the broader community, the work place, all working with us, in terms of trying to combat the problem of childhood obesity. We can do this if well all put in a helping hand. This is our next generation of leaders, our country and our families depend on them.