19th-century Reforms & Democratic Ideals Essay Sample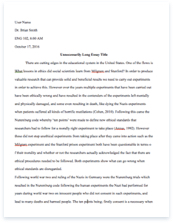 The whole doc is available only for registered users
OPEN DOC
Download Essay
A limited time offer!
Get a custom sample essay written according to your requirements urgent 3h delivery guaranteed
Order Now
19th-century Reforms & Democratic Ideals Essay Sample
Prompt: "Reform movements in the United States sought to expand democratic ideals." Assess the validity of this statement with specific reference to the years 1825-1850.
Some reform movements in America were created to expand the democratic ideals of civil rights and political participation while others were motivated by the need to reform society.
The expectation of civil rights and political participation was widely expanded by the women's rights movement and education reform. In Seneca Falls, Elizabeth Stanton demanded that the government give them a right to vote [I]. On the engraving by Patrick Reason, the slave is making an appeal to women, grouping them all together to create a common ground. [C] Whether a woman be a slave, housewife, property owner, or plantation mistress, they are all the same. Education increased political awareness and participation. In William McGuffey's Reader a boy goes to school and learns to read and figures out his "place" in society. He has been told that he is poor because God made him poor [E], but as he reads and learns more the expectation is that he will eventually be an active, educated member of the voting society. Samuel Morse warns about the mindlessness of new foreigners and urges people to not let them vote. His argument is that they are bound by a "mental servitude" to their country with no education and provide no enhancement to American politics. [D]
Although temperance reforms and utopias sought to change society, those changes were not for the purpose of expanding democratic ideals. Religion was a major factor in societal changes. The Fourth Annual Report and Charles Finney wanted to change the spiritual and moral nature of young and old people in America [A][B]. The Drunkard's Progress depicts he average casual drinker falling into ruin and eventually death [H]. The idea of temperance in theory would decrease domestic violence, and many of the issues of familial society. The Utopias, specifically Brook Farm, disregarded democratic practices and created little communal societies