Activities for "The Veldt" by Ray Bradbury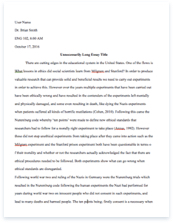 The whole doc is available only for registered users
OPEN DOC
A limited time offer! Get a custom sample essay written according to your requirements urgent 3h delivery guaranteed
Order Now
Pre-Reading: Complete the following survey on your own, without discussion. For each statement write an "A" if you agree or a "D" if you disagree.
1. Technological advancements make life better for everyone. ______ 2. It is important for adults to monitor a child's interactions with technology. ______ 3. It is dangerous to put too much faith in technology. _____ 4. Children/young adults who play computer or videogames become desensitized to real-life violence. _____
5. Technology has lead to the breakdown of families. _____
6. Those who worry about the negative effects of technology should think about the modern conveniences it brings. _____
7. Adults too often use a form of technology (T.V., movies, videogames, computer, etc.) as a babysitter for their children. _____
8. It is possible to become addicted to technology_____
Background: Essentially, the tale is an allegory that says the new technology loved by the young will kill off the older generation. The Veldt is a short story that was written by Ray Bradbury in 1950. It was originally titled "The World the Children Made." Later republished in the anthology The Illustrated Man in 1951. Bradbury was very against new technology and machinery at the time, and felt that it would lead to the end of our society. He conveys these ideas through The Veldt.
ACTIVE READING:
1. HIGHLIGHT as many examples as you can find of how technology and science are used in the Hadley family's Happy-life Home. 2. HIGHLIGHT evidence to support your group's thesis statement.
COMPREHENSION CHECK:
1. How has the Hadley family lost touch with reality and each other?
2. How would you describe George and Lydia? Peter and Wendy?
3. How do the children react/respond when their parents "turn off" the house? What is Bradbury saying about the future of society and technology's role in it?
4. What have Wendy and Peter done to their parents? Do you believe it is the technology that is responsible for the breakdown of this family or something else? Give examples to support your thoughts.
5. Do you think this story is realistic in its portrayal of the future? Why or why not? Explain giving specific examples from the story.
EXTENSION: Is there any significance to the names of the Hadley children? Explain what you have figured out!
Related Topics