Book Review – Malintzin's Choices Essay Sample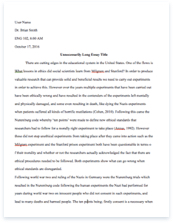 The whole doc is available only for registered users
OPEN DOC
Download Essay
A limited time offer!
Get a custom sample essay written according to your requirements urgent 3h delivery guaranteed
Order Now
Book Review – Malintzin's Choices Essay Sample
Camilla Townsend is one of the most creative writers and interpreters that have played a major role in narrating the historical accounts in an effective manner. A similar creative and well-written piece of work is Malintzin's Choices: an Indian Woman in the Conquest of Mexico that has been written ingeniously by Camilla Townsend. According to studies, she has been recognized as a true beneficiary of historical documents, especially ones having indigenous languages. In this regard, Camilla has been able to narrate the history of Mexico in a balanced manner. Some of the major works done by Camilla Townsend are historical listings of events, Nahuatl chronicles, and events related to Spanish and Mexican history.
            Intellectual practice of utilizing historical evidence can be seen in the book selected for this review paper. The writer has the ability to use evidence when needed and leave different records between the lines for the readers that are some of the creative abilities of Townsend. Story-telling ability of Townsend can be noticed easily in the magnificent work that roams around the history, and has been written in the form of a novel. Historical figure of Malintzin has been the major focus on Townsend in her carefully written work that shows enormous research efforts by the writer, in order to portray the incidents of sixteenth century involving Mexico and Spanish rulings.
Hernando Cortes and Malintzin are the major characters in this book who is a Spanish-speaking expedition leader and interpreter respectively. According to Townsend's narration, a crucial role has been played by Malintzin during an epic intermediary period of Mexican history. However, it is observed that a number of scholars and historians have regarded Malintzin as a aide or trader for the Spanish rulers, masters, and Nuhaut people; however, a different perspective of this innocent girl has been portrayed by Townsend in this book. Creative style of writing has been able to illustrate such girl in the form of slave in an efficient manner.
            Notion of Revisionism is another major content that can be observed while reading this book. Since the 1970s, such notion around the major character increased gradually, as the paradigm was deconstructed by feminists in the American region that resulted in Malintzin's role of scapegoat during the conquest. In this regard, Townsend has depicted the transition of Malintzin as a victim, survivor, and a cultural bridge according to Revisionists in the book. As earlier mentioned in the paper that effective utilization of manuscripts is a quality of Townsend, which has been shown in different sections of the book. In other words, the writer has endeavored to provide a deserving place to Malintzin in the history by detailed verification of available historical records.
Although it has been agreed by the writer that it is impracticable to write her biography in a conventional manner due to unavailability of required sources; however, a tremendous work has been done by Townsend that has given a noticeable place to Malintzin in the Mexican and Spanish history. Another quality feature of this book is that conquest events have been narrated and illustrated with consideration of Malintzin in every incident, and the role that she could have played during that time. Townsend has endeavored to provide the narrations of indigenous people who had been present at the time of Spanish seizure.
Construction of incidents, places, and people in the book has been done by Townsend in a creative manner. Moreover, little things such as household utensils, pots, mats, etc has been included in the narration as well that is another attempt to give significance to Malintzin. In addition, cultural differences have been discussed that were close to the life of slave girl. Besides Malintzin, women have been the second focus of Townsend in this book, as role of different in women in presence of brave warriors has also been narrated in this book, which brings the reader in the native society at that time.
            Lastly, the book is a recollection of historical manuscripts and published accounts of the historical events that has been represented by the exhibition of effective skills and elegance by Camilla Townsend with a revisionist perspective. It is noted that Malintzin has been surrounded by various myths for a longer period, which have been dismissed by this book of Townsend, as Malintzin has been projected with a girl of crucial personality and authority in a series of different historical and conquest occurrences.
Moreover, realities closer to humans and especially women, have been focused by Townsend along with her study on Spanish invasion of Mexico. In this regard, a creative and magnificent work has been done by Camilla Townsend that has played a major role in educated thousands of people around the globe. Conclusively, the paper has discussed some of the significant aspects of Malintzin's Choices: an Indian Woman in the Conquest of Mexico, a creative and appreciative work by Camilla Townsend. It is hoped that the paper will be beneficial for students, teachers, and professionals in better understanding of the topic.
References
            Townsend, Camilla. (2006). Malintzin's Choices: an Indian Woman in the Conquest of Mexico. University of New Mexico Press.