Changes that may come with ageing Essay Sample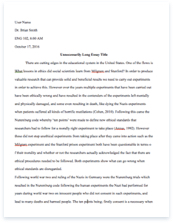 The whole doc is available only for registered users
OPEN DOC
Pages:
Word count: 2348
Category: age
Download Essay
A limited time offer!
Get a custom sample essay written according to your requirements urgent 3h delivery guaranteed
Order Now
Changes that may come with ageing Essay Sample
Changes that may come with ageing can be problems with mobility this can be due to conditions such as arthritis, osteoporosis and osteoarthritis which affects the joints and bones in the body making it harder for them to be able to move as well as they did as the joints begin to stiffen and causes the person a lot of pain. Another condition that can come with ageing is Dementia. The term Dementia describes symptoms that occur when the brain is affected by specific diseases and conditions. Causes of Dementia include disease like Alzheimer's disease, Vascular Disease, Dementia with Lewy bodies and Fronto-temporal dementia.
1.2 Explain how the experience of the ageing process is unique to each individual
The ageing process is multi-dimensional process affecting the individuals functional and health status. The changes that occur can be influenced by a variety of genetic, environmental, and cultural factors. These factors, in turn, can result in physical, psychological, and social changes.
1.3 Analyse the potential impact of factors associated with ageing on older people to include
•Physical
Degenerative changes can occur where the ability to see, hear, feel, and react may be involved. Spatial orientation, mobility, and motor coordination may decline.
•Emotional
The psychological aspect of aging is related to the person's capacity to adapt. Mood, Attitude, self-concept, and personality may all be affected. Losses in old age are many. There may be loss of former roles and status; loss of spouse, family and friends; a decline in economic security; and loss of familiar surroundings.
•Social
As elderly people become less physically able to engage in favourite hobbies, drive themselves to appointments or take care of things around the house, they often mourn their loss of independence. It is difficult to rely on others for essential care or even to ask for small favours at times, particularly of the people who once relied upon them for daily assistance.
•Cognitive
Changes may occur in perception and memory; thinking, learning, and problem solving. Older adults have a reduced processing speed, are more easily distracted, and have a reduced "working memory." Working memory is the ability to both process, and remember new information at the same time. Executive function, that is, the ability to plan, may also be diminished in older adults1
•Environmental
The quality and accessibility of the environment in which an older person lives can have a significant bearing on how active they are in society. Generally, the more accessible and age-friendly an environment is, the more active older people may be. Good health is associated with access to green areas and the time spent outdoors. Although older people may have physical difficulties, they often wish to be more active and mobile. For this reason it's important to promote safe, comfortable and accessible areas for older people.
•Financial/Economic
Loss of job through illness, redundancy or retirement can affect the financial status of the ageing individual. Also the cost of care if that person needs care on a regular basis. 1.4 Describe how a positive approach to ageing can contribute to the health & wellbeing of an individual
Positive aging consolidates the better choices we can make for the later period of our lives, and gives us the opportunity to live our old age happily productive and delightfully active. It is a positive and constructive view of growing older which accepts aging as the continuous and normal development which occurs in human life.
2.1 Describe the contributions to society made by older people
Like most people they shop, they use services (which employ people), and they pay taxes. They also volunteer; in fact, many organizations would be hard pressed to function without their older volunteers. Older people have a wealth of skills and experiences; they have lived through situations others cannot even imagine. Recent research by the ILC estimated that workers over the age of 50 contribute €2.5tr to the Eurozone economy every year, and many older people also contribute to the economy informally by caring for their grandchildren or other family members.
2.2 Explain what is meant by age discrimination
Age discrimination or Ageism is stereotyping of and discrimination against individuals or groups on the basis of their age. This can be defined as a combination of three connected elements. Among them are prejudicial attitudes towards older people, old age, and the aging process; discriminatory practices against older people; and institutional practices and policies that perpetuate stereotypes about elderly people.
2.3 Explain how societal attitudes and beliefs impact on older people
In the general public, people have their own perception of older people because influences they may have come across upon. There is a stigma that when a person is old it is an automatic assumption that they have a memory and/or physical disability. On the other hand, there are personal experiences that an individual has that generalize their opinion on the whole population of older people. One person experiences a slow driver that happens to be an old person and experiences it several times more. This one person will generalize their opinion as a fact that all old people are slow drivers because of their personal experience. The experience creates a stigma that old people are physically slow and weak. Influences are a heavy contribution to the stigma that many believe in.
2.4 Describe strategies that can be used to challenge stereotypes and discriminatory attitudes towards older people
Listed below are strategies we can use to combat ageism, both within ourselves and from others
1. See the person and not the age
Check your own prejudices and question whether you are making assumptions about your own or others' abilities based on age.
2. Seek to engage with people at least 20 years older or 20 years younger than you
Check yourself for prejudices as you chat, and dismiss these thoughts in favour of openness and a willingness to discover more about the person than their age.
3. Challenge negative stereotypes
Call out any discrimination you might come across.
4. Check your language
Do you use phrases like "back in my day" or "when I was in my prime"? Frame these expressions more positively (e.g. When I was in my 20s) rather than referring to yourself as a lesser person than when you were younger.
5. Be proud of getting older
Acknowledge the reality that older adults live well and independently.
3.1 Describe how the effects of ageing can affect the day to day life of older people
The daily living skills most affected by aging and chronic illnesses or disabilities include self-care activities that most people learn in early childhood and tend to take for granted as they mature. These include basic survival tasks such as dressing, bathing, grooming, using the toilet, moving in and out of bed or a chair, and eating. They also include activities for maintaining an independent life such as cooking, cleaning, doing the laundry, shopping, handling money, writing checks, driving, using public transportation, and using the telephone.
3.2 Describe ways of using a person centred approach to support older people to maintain health and wellbeing in day to day life
In Health and Social Care we can use a person centred approach by promoting the following values
Individuality: Each person has their own identity, needs, wishes, choices, beliefs and values. 'One size fits all' does not work when it comes to providing care and support.
Choice: Each individual should be supported to make choices about their care and support. They should be given information in a way that they can understand so they can make informed choices. When working with individuals who cannot express their wants, needs and wishes in words, you must find other ways of communicating. Additional training and supervision can help you to develop these skills.
Independence: Promoting an individual's independence means to look at what they can do for themselves and empowering them to do as much as possible for themselves. It does not mean leaving someone to cope alone but agreeing the support they need and want.
Rights: The Human Rights Act 1998 is the main legislation that sets out the rights of people in the UK. You have the right to speak your mind and be kept safe from harm, as well as the right to respect, dignity and equality. You should make sure an individual's rights are respected, not only by yourself but by other people involved in their care.
Privacy: Everyone has a right to private space and time when they need it. Privacy affects how and where care and support is given, especially when it involves personal hygiene or intimate procedures. Privacy includes not talking to anyone about the individual's private information unless they give permission and it is on a need-to-know basis to improve their care and support.
3.3 Explain the importance of social inclusion for older people
Age discrimination, sometimes alongside other forms of discrimination, can contribute to the social isolation of older people. The risk is greater for people living alone and the very elderly, and can be increased by bereavement, loss of work or poor health. Such isolation can contribute to the incidence of mental illness, particularly depression. Opportunities to participate in, and make a positive contribution to community and society, are integral to dignity. Maintaining contact with family and friends, participating in cultural and community activities and using skills all contribute to social inclusion. Involving older people at all levels of service planning and delivery is an important part of getting it right.
3.4 Outline barriers to social inclusion for older people
Reduced social participation among older people has been associated with: increased disability, depression, loneliness, cognitive impairment, and increased mortality. Other barriers that may affect an elderly person from social inclusion could be physical where the mobility is an issue, the environment is not accessible or cultural or religious beliefs restrict the person to go to certain places.
3.5 Describe ways of using a person centred approach to enable older people to make positive contributions to their community
People should be able to make choices about the lives they lead, whether this means shaping policy and strategic decision-making, or deciding how they want to live their lives. For example, almost one in 10 retired people change careers after they stopped "working," with one in 20 starting their own business. We also know that people in this age group who start their own business tend to be more successful. Older people make huge social and economic contributions in other ways as well. Nationally, nearly seven million grandparents provide regular childcare for children under 16, which allows their parents to work – and over a quarter of people over traditional retirement age are involved in volunteering? Older people are carers, artists, campaigners, politicians, entrepreneurs, innovators, volunteers, we need to value them as active citizens, and work with them to build a borough which is an even better place to live.
4.1 Explain how independence can contribute to the wellbeing of older people
Independence is a simple concept. At its most basic level, it means having full autonomy over one's own life. However, the challenges posed by the ageing process can challenge this definition, especially when it is clear that assistance is needed to perform daily tasks. When independence is removed from a person's life, the individual may feel defeated, depressed, or begin to doubt their own ability to care for themselves. Low expectations lead to reduced capabilities and can be self-fulfilling, causing deterioration in health and cognitive ability. In a worst-case-scenario, the loss of independence can lead to the loss of a will to live.
4.2 Describe how to support older people to maintain independence
Decision-making – At the heart of independence is the ability to make decisions for yourself. Older people are accustomed to deciding their own actions, and removing this sense of self-determination can lead to feelings of denial and depression.
Don't assume that a person is unable to make a decision for themselves
Encourage them to make healthy life choices by presenting them with relevant information and asking their opinion on major decisions, especially those that concern them
Choice and control can help older people maintain their existing skills
Empowerment – To facilitate the decision-making process, you will need to take steps to empower the individual.
Dedicate enough time for them to make a decision, and for the choice to be facilitated
Give them an active role in arranging engaging activities
Know how to facilitate a decision in a safe and appropriate manner
Reassure them that the choice is theirs to make
In practice – When a person's ability changes, it's easy to overlook some of the choices that feed into their sense of independence.Encourage them to do as much as they are able. If they can no longer perform a whole task, let them to do what they can before assisting with what's left
Involve them in everyday decisions, like choosing their own meals or social activities
Give them as much agency as possible in larger decisions, such as care options or adaptations to the home
Familiarise yourself with their life story, so that you can help them draw on their past experiences to inform current choices
4.3 Describe how older people can be in control of decision making about their care and support needs
Don't assume that people are not able to make decisions.
Treat people as equals, ensuring they remain in control of what happens to them.
Empower people by making sure they have access to jargon-free information about services when they want or need it.
Ensure that people are fully involved in any decision that affects their care, including personal decisions such as what to eat, what to wear and what time to go to bed.
Identify areas where people's independence is being undermined and look for ways to redress the balance.
Explain how to encourage older people to take positive risks
Be person-centred and include the views of individuals and those of families/carers which should have prominent focus in the assessment, identification and management of risk.
Focus on a person's strengths to give a positive base from which to develop plans that will support risk taking for positive outcomes.
Give consideration of capacity to make decisions and understand the consequences of specific decisions.
Be proportionate to the risk identified, potential impact and subject to on-going monitoring and review.
Use the principles of multi-agency working in proportion to risk and be aware of the impact on self and others.Link the context of historical information to current circumstances, to anticipate possible future change.