China's Tainted Baby Milk Powder Essay Sample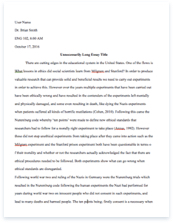 The whole doc is available only for registered users
OPEN DOC
Download Essay
A limited time offer!
Get a custom sample essay written according to your requirements urgent 3h delivery guaranteed
Order Now
China's Tainted Baby Milk Powder Essay Sample
Q1. Given strong profit growth, has there been any damage to Baidu.com's reputation? Yes, as we can see it from a whole picture obviously there has been damage to Baidu.com's reputation. Ever since the incident happened, Baidu.com has been affected by rumors saying that it accepted the screen-out payments to protect a certain number of milk manufacturing company from online searches about the tainted milk scandal. This has made the company's information appear unreliable. Even though the case of Baidu.com has not been made clear with lack of evidence, it is easy to realize that the company being paid off for not disclosing information and by advertisement placements, in a way that paid advertisements are listed pages before unpaid advertisements. If this is really how things work, any company could have paid for advertisement placements.
Q2. What would future reputational damage affect, and how could it be measured? It might not sound serious at the early stage whereby the rumor has not gone too far, but if we talk about future winded, the reputational damage that Baidu.com would have to bear aren't simple as mentioned above. The company might have to face bankruptcy if the public's trust is completely lost. The company view however can be measured in a way that the public continue to believe that the information is reliable or not. If it does, the hits to the sight would increase, or fall if it is the opposite way. Since what the rumors say is about the omission of information and advertisement placement, anyone in the public could question on the reliability of the information posted on site. Therefore, if there is any chance that the public's trust is totally lost, it would be rather impossible for Baidu.com's reputation to recover.
Q3. What steps could Baidu.com take to restore its reputation, and what challenges will it have to overcome? There is only one and also the biggest challenge that Baidu.com will have to overcome, which is the rumor of how it were said accepting payments for refraining a company's information from online searches. It would not be taken into account if Baidu.com were a small company with narrow scale, in this case, when the rumor has gone too far, it is time for Baidu.com to take action or it would be too late. All they need to do is to disclose company's financial reports to public. By making things transparent, all financial activities will be displayed and the public will see it themselves if there is any unclean transactions were made. With this action, if the company did not do anything unethical, it will be the only matter of time that the company would gain back the trust from public.
Q4. Governments throughout the world have been slow to react publicly to serious problems such as SARS, mad cow disease, and now melamine contamination. Who benefits and who loses because of these delays? Governmental follow-up has not been speedy ever since the investigation of melamine contamination was revealed. With these delays, the manufacturing companies that have been exporting milk power would make use of the time lag to clear their remaining stocks before the rumors go wild. As a result, these companies would not only earn expected profits but also be free from reputational and financial losses. The only group who suffers from these delays would be the buyers especially direct consumers. While the government takes a minute longer, we won't know how many more "killing" products would be sold and consumed, and how many more people would be "murdered".
Q5. In some cultures, a "culture of secrecy" or manipulation of the news is tolerated more than others. How can this be remedied by other governments, corporations, investors, and members of the public? A "culture of secrecy" can be remedied by the government with the creation of laws which prevent deliberating secrecy or the manipulation of the truth. Towards Corporations, secrecy or manipulation of the news can be remedied by the disclosure of all information as far as the public is concerned. The government can remedy a "culture of secrecy" by making laws that are designed to prevent the deliberate secrecy or manipulation of the truth when the public is directly affected. Corporations can remedy secrecy or manipulation of the news by disclosing all information that is concerns the public. Investors can help eradicate secrecy or manipulation of the news by expressing their disapproval to the executive board or board of director members and expressing how they as investors feel the business should be conducted. Members of the public have the most control over breaking a "culture of secrecy" or manipulation of the news. In today's technology revolution, members of the public at large have the ability to report the news on a mass scale. By the public taking advantage of being free-lance news reporters the cloak of secrecy and manipulation cannot continue to thrive and in turn will be tolerated less and less by everyone and that will ultimately change the culture's tolerance.