Cincinnati State Technical and Community College Essay Sample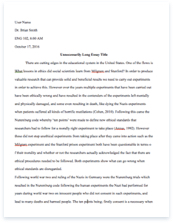 The whole doc is available only for registered users
OPEN DOC
Download Essay
A limited time offer!
Get a custom sample essay written according to your requirements urgent 3h delivery guaranteed
Order Now
Cincinnati State Technical and Community College Essay Sample
Course information: ESL level 2 is a high intermediate/advanced English as a Second Language class which prepares Limited English Proficient students for college level courses. The course integrates reading, writing, speaking, listening comprehension, and grammar as well as the writing process, organization, grammar and mechanics, and sentence structure. Students will produce three essays and several paragraphs.
The content of the course focuses on American culture and issues facing new immigrants. The course is designed for Limited English Proficient students at Cincinnati State who are enrolled in a pre-tech or degree program. In addition, the course may attract LEP people in the Cincinnati area who are not enrolled in a program at Cincinnati State but wish to improve their English skills.
Learning Outcomes:
Gain fluency in spoken English
Increase listening comprehension is both formal and informal situations
Have a basic knowledge of English grammar
Increase reading comprehension of written texts
Improve accuracy and fluency in writing English paragraphs and essays
Prerequisites: Appropriate placement on COMPASS test or successful completion of ESL Level 1.
Classroom standards:
Students are expected to report to class on time and ready to work. Students must respect the opinions of other students and instructors at all times. Please turn off all cell phones before entering the classroom.
Attendance Policy: Attendance is required. Students who miss four or more classes will have their grades lowered by one letter grade. Missing six or more classes will result in a failing grade for the term.
Plagiarism and cheating: Plagiarism and/or cheating will result in a grade of "0" for that assignment and possible failure for the course. Cincinnati State guidelines for plagiarism and cheating must be followed.
Learning Outcomes
After completing ESL Advanced Writing, students will:
• understand and use the steps in the writing process
• write clear paragraphs including topic sentence, support, and concluding sentence • write clear five paragraph essays on a variety of topics. • use standard English sentence structure in writing and speaking • gain confidence in ability to communicate in written and spoken English • understand English used in academic settings.