Computerized library management system Essay Sample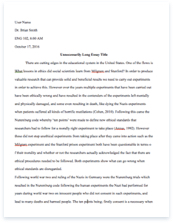 The whole doc is available only for registered users
OPEN DOC
Download Essay
A limited time offer!
Get a custom sample essay written according to your requirements urgent 3h delivery guaranteed
Order Now
Computerized library management system Essay Sample
Library automation at DLSU-Manila had undergone a gradual but steady development. It started in 1985 when it implemented the MINISIS software/Hewlett Packard 3000 hardware package. The system was able to create 11,000 bibliographic records for Filipiniana and Reference collections. The massive hardware maintenance problem led to a management decision to phase out the system in 1988. At the later part of the same year MINISIS was replaced by its micro version known as CDS-ISIS. The software with one stand-alone XT computer facility automated the indexing of articles from more than 100 locally published periodicals including newspapers, magazines, and journals. Additional databases were created as the number of computers increased. The index became searchable simultaneously by several users when the computer facilities were networked in 1992. In the same year the CD-ROM technology was introduced for information retrieval of selected indexes and abstracts.
In October 1990, the DIALOG Information Retrieval Service allowing remote access to more than 400 databases of indexes and abstracts from a broad scope of disciplines was introduced to the academic community. The dial-up ordering and the conventional delivery mode of full text articles and documents were made possible through this service. DIALOG online service ceased in 1998 and was replaced by First Search OCLC. In 1993 the University Library subscribed to the country's first online remote service, HERDIN (Health Research and Development Information Network) that provided access to about 8 databases that cover ASEAN and Asia-Pacific documents and hosted by PCHRD of DOST. The following year the INTERNET, a global information facility, became available in the university enabling the library users to avail the E-mail facility.