Contrasting the Declaration of Independance and Civil Disobedience Essay Sample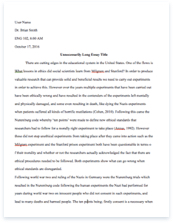 The whole doc is available only for registered users
OPEN DOC
Download Essay
A limited time offer!
Get a custom sample essay written according to your requirements urgent 3h delivery guaranteed
Order Now
Contrasting the Declaration of Independance and Civil Disobedience Essay Sample
It is ironic that Jefferson, writer of the "Declaration of Independence," died 20 years prior to Thoreau even writing "Civil Disobedience." The two author's works contain numerous parallel discussions about government corruption and the immoral act of slavery. In the "Declaration of Independence" the colonies are just beginning to rebel against Britain, the King had so much power over their lives that they couldn't do as much as buy tea and not be taxed for it. Jefferson wrote that if government doesn't grant the people their rights, or if the government gets too powerful, "it is the right of the people to alter or to abolish it, and to institute new government."
So they did, they broke away and gained freedom. In Thoreau's day the King is not a threat anymore, instead the hierarchy being criticized is the US Government. Thoreau believed and stated, "That government is best which governs not at all." By this he insinuates that governments should not be in a citizen's everyday life because frankly, if anything, the government is in the way. The whole idea of independence was so the people could have a hand in America. Thoreau wants a society shaped by American individuals, not one big government mold.
Both Jefferson's "Declaration of Independence" and Thoreau's "Civil Disobedience" show an obvious protest against slavery. Jefferson openly points his finger towards the King saying what a horrible injustice it is to take humans and sell them as property. Thoreau shows distaste in the matter too by refusing to pay taxes which would otherwise fund slavery.
On the whole it is amazing to find such similarities between documents written years apart. Jefferson's "Declaration of Independence" and Thoreau's "Civil Disobedience" express the importance of a low-key, yet functional, government. And both share the idea that a human being's integrity should be cherished and not taken away because of slavery.