Crime Causation and Diversion Paper Essay Sample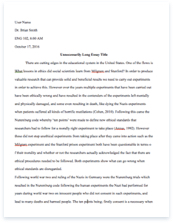 The whole doc is available only for registered users
OPEN DOC
Download Essay
A limited time offer!
Get a custom sample essay written according to your requirements urgent 3h delivery guaranteed
Order Now
Crime Causation and Diversion Paper Essay Sample
Crime Causation and Diversion Paper
Introduction:
In today's America, the problem associated with juvenile crime has reached epidemic proportions which in essence has prompted many major cities and counties to establish programs that deal specifically with juvenile crime via their probation departments. Out of the thousands that are currently active, two stand out as quintessential examples—the Lehigh County Juvenile Probation Department, located in Allentown, Pennsylvania, and the Cook County Juvenile Probation Department which serves the greater Chicago, Illinois, community. According to their respective websites, these two probation programs excel when it comes to dealing with juvenile offenders after their sentencing in court for various crimes against society. However, no matter how efficient or well-established such programs may be, there always exist the need to alter or incorporate other entities into juvenile probation programs, due to the ever-changing face of American juvenile crime. The Lehigh County Juvenile Probation Department:
The website for this outstanding program is very comprehensive and provides much information on how the department functions and the nature of its numerous juvenile services. Essentially, the Lehigh County Probation Department "has the responsibility to the community for delivering necessary and appropriate services for juveniles and families that come before the Juvenile Court" (2005, Internet), due to a great increase in juvenile crime and those that commit violent acts against society, many of whom come from dysfunctional families without sufficient parental supervision and have experience mental, physical and sexual abuse at the hands of family members. Also, a good number of these new clients/offenders have poor histories related to their schooling which has only increased the rate of juvenile crime.
In 1996, the state of Pennsylvania enacted a so-called "balanced approach" to juvenile crime and its ramifications with its Juvenile Act, designed to "provide for children programs of supervision, care, and rehabilitation" while focusing on "balanced attention to the protection of the community, the imposition of accountability for offenses committed, and the development of competencies to enable children to become responsible and productive members of society" (2005, Internet). As a result, the Lehigh County Juvenile Probation Department has created thirteen separate programs aimed at reducing juvenile crime while providing sufficient outlets and support entities for the prevention of additional offenses.
Some of these programs include the establishment of an alcohol and drug awareness program which provides offenders with much-needed information on the effects of alcohol and drugs on the human body, the legal aspects of under-age drinking and allows individuals to tell their stories about how alcohol and drugs have impacted their lives. School-Based Probation "places probation officers in the schools to supervise their clients and interact with teachers and other students" with aims to illuminate the consequences of illegal activities as a deterrent. A number of community-based counseling agencies have also been established which helps the offender to realize the consequences of his/her actions and take responsibility for these actions.
In addition, other programs serve as adjuncts to the overall system. These include grants and contractual agreements to assist young persons in the community via counseling for families and individuals; the Alpha Program, intended to "work with. . . youth when they are first referred to probation in order to help them deal more effectively with their problems and reduce recidivism;" S.P.O.R.E., short for Special Program for Offenders in Rehabilitation and Education, made up of probation officers and mental health caseworkers; Community Alternative Work Service (CAWS) which attempts to hold young offenders responsible for their offenses against society; the Interagency Agreement with Children and Youth program which focuses on placing juveniles in foster homes and group home programs; the Interagency Agreement with Mental Health/Mental Retardation Program which provides psychiatric treatment through state funding; Placement in Boot Camps and Weekend Wilderness Programs in conjunction with Youth Forestry Camps; electronic monitoring programs for those who continually violate the law; the College Mentoring Program which induces juvenile offenders to think about a college education, and finally, the Prisoners Against Drugs Program in which offenders are "taken to the Lehigh County Prison to hear the inmates discuss the reality of prison life and how drugs and alcohol paved the way for their incarceration" (2005, Internet). The Cook County Juvenile Probation Department:
This juvenile probation department of Cook County, made up of the city of Chicago and its outlying metropolitan areas, is very similar to that of Lehigh County in many ways, especially in relation to aiming for a "balanced and restorative justice" and to hold offenders accountable for their illegal conduct which, it is hoped, will help them "to develop positive life skills to enable them to become productive members of the community." But unlike Lehigh County, Cook County, on its website, provides a mission statement consisting of the aim to recognize the welfare of all children and their families based on public safety; it also is committed to "providing the guidance, structure and services needed by every child under its supervision" (2005, Internet). Thus, both of these juvenile probation departments have very similar goals, namely, to protect society from repeat offenders while providing equal and fair justice to the offenders, due to their age and, at times, negative social positions.
Eight specific objectives are also included in this mission statement—to meet the special needs of each offender; to provide services to the community via sending probation officers into homes, schools and neighborhoods; to create strong relationships between probation officers and minors; to recognize the complexities of today's world and help parents to relate to their children in positive ways; to serve the needs of the minor offender while also maintaining the needs of the community; to use flexible supervision of offenders, either at home or in detention; to strengthen family relationships, and lastly, to "instill in all children a sense of responsibility for their actions and a belief in their own innate value and potential through a combination of individualized attention and community networking" (2005, Internet).
And like Lehigh County, Cook County has developed a number of innovative programs to combat juvenile crime; some of these programs have received much recognition from judges, probation officers, police organizations and community-based help organizations created to assist juveniles in a very complex and confusing world. Eight specific programs are listed on the Cook County website—first, Station Adjustment Collaboration which makes it possible for all Youth Divisions within the Chicago Police Department to work together for delinquency prevention and intervention; the Community Liaison Program which identifies "local delinquency issues" and facilitates "community participation in a variety of programs;" the Diversion Compliance Program which interlinks the Cook County attorneys and probation officers; the Choices Program, a type of screening conference that offers advice on peer pressure related to drugs, alcohol, gang violence and the impact of one's actions on the community; the Violence Intervention Program, an educational system to inform offenders about gun violence and the victims of their offenses; the Victim Impact Panels for Minors, similar in nature to a mandatory course on the dangers of drunken driving; the Jump Start Program which gives young offenders a new head start in life after committing their crimes and serving time in jail, and finally, the Victim Advocacy Program whose goal is to "help reduce the immediate and long-term impact of being a victim while promoting the accountability of the offender" (2005, Internet). Conclusion:
The successes and failures of these two prominent programs is difficult to determine, mostly because the individual websites do not offer any statistics as to success or failure of their specific programs. However, it is clear that any juvenile probation program, no matter how intricate or complex, contains aspects for failure, due to the overall nature of juvenile crime and its impact on society. Both of these programs appear to be highly effective in eliminating or deterring juvenile crime, no doubt as a result of their national recognition for true achievement in this subject. As to improving these programs, a dose of good, old-fashioned reality in the form of harsh imprisonment and the so-called "tough love" approach would surely help to minimize juvenile crime by showing exactly how brutal and callous reality can sometimes be, especially in the life of a young offender who, in most cases, must be forced to confront his/her own mortality and have some remorse for their illegal actions against society.
References
"Court of Common Pleas—Lehigh County, Pennsylvania." (2005). Juvenile Probation Department. Internet. 2005. Accessed August 30, 2005. http://www. lccpa.org/depts/juvenilepro/juvenileprograms.html#13.
"Court Programs—Juvenile Probation & Court Services—Cook County, IL." (2005). Internet. Accessed August 30, 2005. http://www.cookcountycourt.org/services/