Describe Village Volvo's service package Essay Sample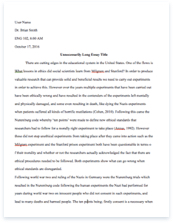 The whole doc is available only for registered users
OPEN DOC
Download Essay
A limited time offer!
Get a custom sample essay written according to your requirements urgent 3h delivery guaranteed
Order Now
Describe Village Volvo's service package Essay Sample
1. Describe Village Volvo's service package.
Supporting facility: The first aspect of Village Volvo's service package is their supporting facility. They are based in a new Butler building, which has four work bays, an office, a waiting area, and a storage room.
Facilitating goods: The facilitating goods in the service package are the cars brought in by customers for work to be done on.
Information: The information they have set is up called the custom care vehicle dossier (CCVD). This is a file of all the services done to all the vehicles so it is easy to predict what is wrong with the car. It also takes note of future problems that may arise.
Explicit Service: This service package has a few explicit services. One important one is the manager taking time to talk to the customers about their vehicles. Another one is actually fixing the vehicle.
Implicit service: An implicit service would be the worry free auto repair. Knowing the cars old parts are recycled instead of thrown out is also an implicit service. This makes customers feel good about them because they know they are not polluting.
2. How are the distinctive characteristics of a service firm illustrated by Village Volvo?
Some of the distinctive characteristics of a service firm illustrated by village Volvo are discuss below: 1. Customer Participation in the Service Process (Customer participation not only enhance the productive efficiency and service quality, but also influences the customers satisfaction to the company) In case of Village Volvo there policy states that the owner will be consulted before any work other than the agreed-upon job is done. This policy has encouraged the customers to participant in the service process.
2. Simultaneity (services that they are produced and consumed at the same time at the point of sale. And an opportunities for personal selling)
2
In case of Village Volvo buyer checks up used car during the drop-in time can be assumed as an opportunity for personal selling.
3. Perishability (service capacity cannot be stored, saved, returned, or resold once rendered to a customer.) Village Volvo does record the information in the Custom Care Vehicle Dossier (CCVD). Village Volvo maintains a continuing file on each vehicle it services for future reference.
4. Intangibility (The intangibility of services is what primarily differentiates a service from a product.) Village Volvo is regularly proving satisfying service to its customers with its experience and training with local Volvo dealer for 22 years. And these training and experience cant be a tangle proof for its outstanding service.
5. Heterogeneity (also known as variability, describes the uniqueness of service offerings.) Village Volvo does have variability in its service. They have different preferences for the customers who drop in for different purposes. They provide variant and facilitating services to its customers who leave far away from their suburb location unlike the customers who drops in for comparatively fewer hours.
6. Nontransferable Ownership Characteristics of Services (services do not involve transfer of ownership unlike products or goods) Be it a waiting area at newly build Butler building equipped with a television set, comfortable chairs, coffee, a soft-drink vending machine, magazines, and the local newspaper for its customers is considered variant and facilitating service rather then transfer of ownership of services.
3. How could Village Volvo manage its back office (i.e., repair operations) like a factory?
Village Volvo manage its back office (refers to all parts of the information system to which the final user does not have access therefore covers all internal processes within the enterprise.) in following ways:
(Recording information) Village Volvo maintains a continuing file on each vehicle it services under CCVD and The owners are considering use of the CCVD as a way of "reminding" customers that routine maintenance procedures may be due. (Management) Proper spare parts management in the warehouse. (Storage) Storage of worn-out parts and spare parts.
3
4) How can Village Volvo differentiate itself from Volvo dealers?
Custom Car Care Service:
The owners designed their services to provide clients with custom service that is unavailable at the local Volvo dealer.
Out of Warranty Volvos:
The company is able to differentiate from them because, unlike the Volvo dealer, the company will repair Volvos that are out of warranty at a reasonable cost.
Excellent Service Providers:
Village Volvo does not just give immediate assistance to customers. They are considering the possibility of offering a mini course to customers (once a month on a Saturday) to teach clients about what they can do to earn their 200,000-mile Volvo medals. They want to not only be of service to the customer and their Volvos, but to also educate them.
High Contact with Customer:
The owners are considering the use of Custom Care Vehicle Dossier (CCVD). The company maintains a file on each vehicle it has served. In this way, it can help the working mechanic in diagnosing problems with the same
vehicle, based on its history. The owners also want to use this as a way to remind customers that routine maintenance may be approaching or due. In this way, they can provide excellent customer service by updating customers on their vehicle's needs, and also letting them know that they haven't forgotten about them.