Domino: Advertising and Media Strategy Essay Sample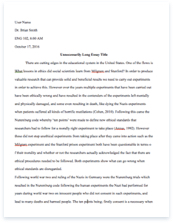 The whole doc is available only for registered users
OPEN DOC
Pages:
Word count: 768
Category: brand
Download Essay
A limited time offer!
Get a custom sample essay written according to your requirements urgent 3h delivery guaranteed
Order Now
Domino: Advertising and Media Strategy Essay Sample
1.What are the benefits for the Domino's brand for selecting this media strategy Lydia
Reaching a large audience
Attitude and personality of show differentiate brand
Differentiated Domino's by personality, not simply product or innovation Allowed Domino's to own a property
Allowed Domino's to be aired every day of the year AND at dinner time Acted almost like promotion as advertisement encouraged an immediate response given consumers would see it at dinner time and then feel like pizza Complimented target audience (18-24 year olds) whose base environment is the Internet, and who often seek answers (dinner solutions) online Brittany
The benefits for the brand in selecting this media strategy is that The Simpsons offers a huge audience, so this sponsorship enables a massive reach, in particular, with their intended target audience. The Simpsons were identified as the ideal programme for their target audience, so having these characters consuming and promoting Domino's proved to be very influential. It was also beneficial for Domino's as a study that found 67.6% of The Simpson's viewers liked to eat take-away foods and 44.3% of Pizza Hut customers chose to watch the show, so it was the perfect platform to reach and persuade their two identified target audiences. The media strategy also allowed the brand to be exposed on air every single day, and constant exposure assists in turning the audience towards the brand.
2.Taking into account Domino's brand attitude strategy and target audience, evaluate the selection of media strategy. Gab
Considering Dominos brand attitude strategy is low involvement transformational, visual content is crucial when creating a media strategy and it only requires a brief processing time, however relatively high frequency is necessary because of a generally slower brand attitude development. When applying Domino's brand attitude, TV was the perfect medium. Selecting The Simpsons as the sponsor was the ideal program as it aired every day, it was on at the right time of day, it was a great fit and the attitude and personality of the show differentiate the brand. Considering Dominos target market ('pizza eaters' aged 18-24) and the target audience of other brand loyals (customers of competitor stores, specifically pizza hut) and favourable brand switchers (occasional pizza eaters), using a relatively new approach to media selection (sponsorship) which also uses the customers relationship with the media as an input into media selection was effective. Dominos choice to sponsor a show like The Simpsons allowed reaching the mass of their target audience and establishing a positive relationship.
3.What are the possible drawbacks of this media strategy in the long term? Lydia
Committing the majority of the national advertising budget to sponsorship had its risks. Sponsorship, at the time, was a fairly new way of marketing, and so its longevity and success were hard to predict. While being aired every day on national television can be seen as quite possible, audience members might become numb to the advertising, as it's effectiveness could be lost due to over-consumption of the advertising content. Sponsorship also meant that Domino's were restricted by laws that limited what could be said in the television show's credits; Domino's 'could only make a reference to the programme and show the logo'. This meant that while they may have new and exciting news to share, laws may prohibit them from communicating this news. Domino's new online presence may also have been poorly executed. Utilising the Internet in media strategies was also quite new at the time and so (a) consumers may not understand they messages they are consuming online, or understand how to take action after consuming the marketing, and (b) Domino's may not know what the best way of marketing online would be due to the unfamiliar nature of the platform.
Brittany
The possible drawbacks of using this media strategy in the long term are that it would be very expensive to have this ongoing sponsorship, and overtime it might lose its effectiveness and the cost may start to outweigh profits. They won't need to keep communicating about their HeatWave innovation as the audience would have likely processed the message as they would be exposed to
it daily.
4.Propose alternative media strategies for the coming years
Advantages
Disadvantages
Online videos
· 75% of people watch the entire advert
· Able to gain attention
· Quick and easy info
· WOM
· Bypass adverts
· Expensive
· Unable to control when viewers see the advert
Social media
· Broaden exposure
· Inexpensive
· Improves customer service/gain customer info
· Not created as an advertising vehicle
· Criticism from followers
Mobile marketing
· Tightly target messages
· Able to control message environment
· Time of exposure
· Better able to track exposure
· Lack of standardised technology
· Privacy standards
· Expensive
· Lack of ongoing engagement