Employment Relationship Essay Sample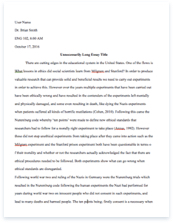 The whole doc is available only for registered users
OPEN DOC
Download Essay
A limited time offer!
Get a custom sample essay written according to your requirements urgent 3h delivery guaranteed
Order Now
Employment Relationship Essay Sample
New production process, mass productions, different organizational forms and new patterns of working in any organizational setup across the globe have challenged the traditional processes culminating into diverse patterns of Human resources and their development to meet the changes scenario in an international arena. In this global scenario, the enterprises naturally are being managed by the impact of the international forces ensuring the skills of employees, capturing the intensity of the change and meeting the expectations of the company. Obviously, the enterprises, driven by market pressures need to divert their resources for the improved quality and productivity, greater flexibility and continuous innovation which could have been made possible only by the effective Human resource Management.
This increasing significance of Human resource Management gears itself from the Company's drive from collectivism to the individualization of pay with every possibility of attainment towards goals without increasing labour costs but at the same time increasing earnings. http://www.hrmguide.co.uk/introduction_to_hrm/people-management.htm#origins) .
But there are unending complexities divulging out of the pay systems adopted by the several governments for the welfare of the employees. Now the employees does not want just the wages but much more, by the way of remuneration, compensation, reward etc that not only stimulate their inclination to be productive but satisfy their urge to be committed towards the organization.
REMUNERATION AND COMPENSATION
Remuneration to the employees are the best way to attract, retain and motivate them to add value to their existing propositions, but these remunerations must be flexible enough to meet the rapidly changing demands of an organization, while meeting current and future organizational needs. (http://www.tphumancapital.com.au, pp ; 74)
But this modern remuneration management system requires consistent methodology that can be applied to build trust and bolster a culture of competitive spirit in global markets, (Modern Job Evaluation and Remuneration Management systems, pp.3) file:///C:/Documents%20and%20Settings/adminstrator/Desktop/search.htm-site%20for%20remuneration.htm that defy the traditional method on the pretext that traditional methods rely on the position descriptions to document jobs and evaluate work value.
Secondly, traditional practice could damage the credibility of a job classification processes in new cultures and thus lower the competitiveness of the business.
The other is Compensation, which becomes an integral part of the management of the organization and contributes to the overall success of the organization. All the remaining benefits revolve around these two systems.
These strategies increases competitive performance in the marketplace by retaining key employees, increase in output and motivation and reducing cost of remuneration packages.
WORKER'S CHOICE AND ITS IMPLICATIONS ON LABOUR
But 26th May 2006, saw the tables upside down when Howard Government's plans for new industrial relations, titled, 'a plan for a modern workplace' was initiated. (Myth making at work, Bradon Ellem, Marian Baird, Rae Cooper, Russell Lansbury, http://66.102.7.104/search?q=cache:wfWyHuRjNvQJ:www.jape.org/jape_56_05_ellem.pdf+workchoices+myth+making+at+work&hl=en&ct=clnk&cd=1).
The wage mechanisms provided minimum pay rate and is set for review only annually without provision for representations by the industrial parties, and without even taking into consideration changing economic circumstances. And over and above Prime Minister in his speech to federal parliament on 26 May 2005, declare his inclination to transfer new responsibility for setting and varying minimum wages and other rates of pay in awards from the Australian Industrial Relations Commission (AIRC) to Australian Fair Pay Commission (AFPC). (Minimum Pay wage Setting and the Australian Fair Pay Commission, Mark Wooden) only because the Australia's minimum wage is relatively high as compared to most of the other developed countries, which in turn is acting as a barrier to further employment growth, particularly for those with relatively few labour market skills.
Further to add fuel to the  fire, The WorkChoices, https://www.workchoices.gov.au proposals replacing Workplace Relations Act of 1996, the first piece of national legislation introducing individual contracts (Australian Workplace Agreements (AWA)s, prohibited union activity, limited the scope of awards and encouraged, non-union agreements (known as 170LKs after the relevant section of the Act), thus limiting the rights of unions to organize, bargain on behalf of their members, limiting access to worksites, and imposing constraints on other Industrial actions and over and above unfair dismissals. (Journal of Australian Political Economy). In simple terms the Workchoices act will:
• Lead to a reduction in wages and thus reduce the standard of living.
• Worker will have to sign an agreement deducting all basic entitlements like:
o Rest and Meal breaks;
o Incentive-based pay;
o Annual leave loading;
o Allowances;
o Penalty rates and overtime; and
o Control over hours and rosters.
• They are devoid of penalty rates for working on public holidays. However, an employee can refuse a request to work on a public holiday if he/she has reasonable grounds for doing so.
• Employers have the right to dismiss staff due to operational requirements and then offer employment to the same workers under a new agreement.
• Employees will lose the extra money they currently enjoy for shift work and overtime and time off to spend with their family over the weekend.
• But, with provision of annual leave, personal leave, parental leave replacing the no-disadvantage test and agreements that will no longer undergo any formal approval process.
• The federal Government led the workers to believe that they will be protected by award conditions when making agreements.
The real ones affected are very vulnerable and low-skilled workers, with little choice but to take what is offered to them.(Department of Industrial relations, Queensland department, http://www.dir.qld.gov.au/industrial/rights/system/employees/index.htm)
In centuries, never the national labour law has seen such dramatic change as in the present Act.
Regarding women, work and family polices, this approach too is riddled with contradiction. But if Government is unable or unwilling to address the cognate issues of paid maternity leave, extended parental leave arrangements and childcare provision, the problem will keep on getting more complex and insoluble, as suggested by (Baird, 004; Bourke & Russell, 2005 in Myth, making and work). The act claims that these individual contracts may deliver flexibility for women to balance 'work and family', yet, study after study shows that this is not practically possible. For example, only 10 per cent of enterprise agreements and 7 per cent of AWAs agreements refer to paid maternity leave (Baird, 2005, myth at work). And it is the lower paid even in the female dominated industries. It is, also absolutely unclear how the proposed changes would address the problems.
These proposals not only led to shortfall of labour forces but they are also likely to add to the disincentives for women to participate in paid work and does nothing concrete to facilitate women's access to full-time employment (Baird & Todd, 2005).This situation is still there since 1996, and has seen no progress at the national scale in dealing with the problems of lower pay, fewer entitlements and greater job insecurity which characterize female employment.
In fact in 2004, women were earning an average of $20.00 per hour as compared to their male counterparts who were earning $25.10. This gap under individual agreements increased from 12.7 per cent in 2002 to 20.3 per cent in 2004. While men's average hourly rates had increased from $23.70 to $25.10, women's had actually decreased from $20.70 to $20.00 (Baird & Todd, 2005). Against this drop back, what the women can expect from the said law.
Government even claims that employee has a bargaining power that may give them economic benefits, but this also proved to be just an eye wash, as the case of Spotlight which too following the AWA cashed out overtime, penalty rates, meal allowances and paid rest breaks paid to its workers in exchange for two cents an hour extra ie $14.28 an hour to $14.30, and due to this. The Sydney Morning Herald reported the case of a woman working at the Coffs Harbour Spotlight store for two years and took four weeks' unpaid leave for a caravan holiday with her husband, as a result Spotlight considered her four weeks leave the equivalent to the termination and offered her the new AWA when she returns, with a pay cut of about $90 a week.
This case led a regulatory vacuum to rise (Bray & Waring, 2005, myth of workchoices), which needs to be filled by the bargaining and the role unions and tribunals play. But this whole concept of Bargaining is proving as a misnomer, jut belittling the rights of workers, unilaterally being developed by employers, neither there is any provision in the act which enforces the employer to bargain in good faith keeping the employees interest in mind.
Though this bargaining involves workers to negotiate their terms and conditions on a more equal footing, yet there are no legal provision to direct employers to respect the wishes of their employees to bargain collectively, and with two loop holes like 'take-it-or-leave-it AWAs' and 'AWALockouts'. Employers have got all the powers and rights to prevent their employees from working according to their own terms. ( Journal of Australian Political Economy No 56; myth making at work).
Another case that came to highlight (Australian business.com, work place relations) were the employees of Triangle Cables (Aust) Pty Ltd ("Triangle") dismissed on 28 March 2006, immediately after the new changes to the Federal unfair dismissal laws came into operation. The National Union of Workers though alleged that Triangle employed more than 100 employees and lodged a claim against Triangle claiming that their dismissals were unlawful, yet on enquiry it was found that Triangle had 88 employees and casual employees, thus they cannot claim according to the Act. If this continues then naturally instead of employment rate to increase, which Government is claiming will start reducing.
With a highly developed and sophisticated economy, and enjoying 14 years of uninterrupted economic growth and Prime Minister John Howard becoming the second longest-serving prime minister after Sir Robert Menzies in Australian history when his conservative coalition achieved victory in the October 2004 general election, but now this government is coming under heavy criticism. Kevin Rudd, MP, Shadow Minister for Foreign Affairs, Trade and International Security, House of Representatives, Canberra on 9th November 2005, (c Productivity, Competitiveness and Australia's trade performance, Workplace Relations Amendment Work Choices Bill 2005) speaks voluminously on the affects of the bill.
By pointing out the Honourable Prime Minister's declaration about the Workplace Relations reforms in May of this year, "…our future living standards will rely largely on the productivity of our workers and their workplaces and only through this (reform) will the full potential for productivity gains in the Australian economy be realized."
He said, advancing these claims Government has not advanced any cogent body of evidence. Further retorting to the claims of The honourable Prime Minister, he said that, "Australia's level of productivity could diminish further if these new laws are followed." This would lead to significant disruption in the workforce and/or a reduction in investment in skills and technology as employers will always seek to increase productivity by cutting wage costs rather than investing in new plant and equipment and upgrading the skills of their workforce.
In fact, Since 1919 Australia has been a founding member of International Labour Organization(ILO) which is the global tripartite agency for setting and monitoring basic minimum workplace standards known as International Labour Standards, and infact in June 2005, Howard Government was also successfully elected to the Governing Body of the International Labour Organization representing the Asia Pacific region and at that time ILO Minister Andrews claimed that:
"Australia has much to offer ILO members and we look forward to greater engagement with the ILO, both as a Governing Body member and representative of our close neighbours" But paradoxically by passing Workers Choice, Australia has side stepped from the key ILO conventions (Productivity, Competitiveness and Australia's Trade, html file of tp://www.kevinrudd.com/_dbase_upl/c01_file_25.pdf. , pp. 7)
In 1980s, Human Resource Management, Human Resource Development and Industrial Relations had extended beyond for increase productivity and International Competitive Advantage. The Workplace Relations Act 1996 placed Industrial Relations in center stage for Increasing Australia's level of productivity, it is now having enormous impact on workplace relationships and working conditions, on information and communication technology. However human resource management practices and organizational culture are difficult to copy and represent a truly unique competitive advantage. Managers began to believe that the most important organizational resource is human, and if humans are not motivated the whole economy can be shattered.
In early 1983, prices and Incomes Accord was reached between the Australian Labour Party and Australian Council of Trade Unions, (Robert.F. Elliot. pp.112). This Accord was a response to the wage explosion of the preceding years, which followed the ending of the regular indexation of award wages in 1981 and the imposition of a wage freeze by the industrial tribunals. There were the two stages of the Accord. The first stage extended to all workers covered by each award and second stage wage increase was awarded for restructuring and efficiency. These issues led to the focused attention on the behaviour of the different enterprises, which was the first step leading to the proposals for enterprise bargaining and was scrutinized by the Australian Industrial Relations Commission (AIRC) to determine whether they were in the public interest?
At that time the form of dispute settlement and wage determination for conciliation and Arbitration. More then 80 percent of workforce was covered by Awards of arbitral tribunals, which set out the terms and conditions of employment, with little bit of bargaining (Richard, Michael Piore p.60, and Thomas A Kocha, p.60; Employment Relations in Changing World economy).
All the acts are passed scavenging the past experiences, revealing the present circumstances, perceiving the future only for the welfare of Workers, therefore according to me to take away all the benefits just for monetary gains is not only unjustified but also not in the larger interests of the work force.
BIBILOGRAHY -HARVARD STYLE
1. Alan P, Thomas Learning, 'Human Resource Management in a Business Context'.
2. 'Bradon, Marian Baird, Rae Cooper, Russell Lnsbury, 'Myth making at work' http://66.102.7.104/search?q=cache:wfWyHuRjNvQJ:www.jape.org/jape_56_05_ellem.pdf+workchoices+myth+making+at+work&hl=en&ct=clnk&cd=1)
3. Department of Industrial relations, Queenzland department,'19 December 2005. http://www.dir.qld.gov.au/industrial/rights/system/employees/index.htm
4. Author, Francesco Sofo; (April 1, 2000),pp. 68; Strategic Choice 'Human Resource Development: Perspectives, Roles and Practice Choices'.,( Allen & Unwin) pp. 68.
5. International Labour Organization, 'Human Resource Development in the Public Service in the context of Structural Adjustment' and transition.
6. Keith A Bender, Robert. F.Elliott, ' Decentralized Pay setting: A Study of the Outcomes of a collective Bargaining Reform in the Civil
7. Lycos meet You There', The minimum wage and bargaining.
8. International Labour Organization, 1999, Human Resource Implications of Globalization and Restructuring in Commerce
9. Ronald J. Burke and Cary L Cooper; pp.253; The Human Resources Revolution: ''Why putting People first Matters".
10. Richard Locke, Michael Piore, and Thomas A Kocha, pp. 60, ' Employment Relations in Changing World economy."
BIBILOGRAHY – APA STYLE
1 Author, Price Alan, Thomas Learning, 2nd edition, 'Human Resource Management in a Business Context'.
2. Author, Bradon, Marian Baird, Rae Cooper, Russell Lnsbury, 'Myth making at work' http://66.102.7.104/search?q=cache:wfWyHuRjNvQJ:www.jape.org/jape_56_05_ellem.pdf+workchoices+myth+making+at+work&hl=en&ct=clnk&cd=1) Retrieved html version of le http://www.jape.org/jape_56_05_ellem.pdf.
3. Department of Industrial relations, Queensland department,'19 December 2005. New Federal Workplace law- What Does it mean Queeszlandhttp://www.dir.qld.gov.au/industrial/rights/system/employees/index.htm
4. Author, Francesco Sofo; pp. 68; April 1 2000, Strategic Choice 'Human Resource Development: Perspectives, Roles and Practice Choices', (Allen & Unwin).
5. International Labour Organization, 'Human Resource Development in the Public Service in the context of Structural Adjustment' and transition. Geneva, 14-18 December 1998.
6. Author, Bender, A K , Robert, F.Elliott, ' (September, 1997), Decentralized Pay setting: A Study of the Outcomes of a collective Bargaining Reform in the Civil service.'
7. Lycos meet You There', The minimum wage and bargaining.
8. International Labour Organization, 1999, Human Resource Implications of Globalization and Restructuring in Commerce.
9. Author, Burke J. and Cary L Cooper; (Eds.) (9 June, 2006), pp.253; The Human Resources Revolution: 'Why putting People first Matters', Elsevier.
10. Author, Locke Richard, Piore Michael, Kocha A Thomas, (Eds), (Nov 1, 1995) pp. 60, 'Employment Relations in Changing World economy, MIT Press