Ethical Dilemma: Dual Relationships Essay Sample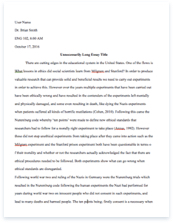 The whole doc is available only for registered users
OPEN DOC
Download Essay
A limited time offer!
Get a custom sample essay written according to your requirements urgent 3h delivery guaranteed
Order Now
Ethical Dilemma: Dual Relationships Essay Sample
Mary has been seeing her counselor for some months now to work on commitment issues. She has been dating Robert on and off again for the past year. Robert has asked her to marry him and she has said yes. Mary feels ready to take this step due to the progress she has made with her counselor. Mary has invited her counselor to her wedding. Should he attend? Is it a breach of ethics to attend a social function given by a client?
These types of questions have been asked by counselors and therapists for years. Where does one draw the line in a helping relationship? According to the AAMFT code of ethics, section 1.3, therapists are aware of their influential position and avoid exploiting the trust of the client (AAMFT, 2001). Therapists must make every effort to avoid multiple relationships that damage professional judgment or exploit the client. This paper will look at the nature of dual relationships, how they conflict with personal values and how best to solve these types of situations.
Dual relationships are best defined as the professional assuming two different roles with a client (Pearson & Piazza, 1997). Both of these roles can be professional, as in a counselor and teacher or they can be professional and personal, counselor and business partner. Two factors are used to determine a dual relationship. First, is the advantage of power of one person over another. Second,the professional relationship is established before, during or after the personal relationship.
Most of the research done on dual relationships focuses on the advantage of power. Counselors hold a position of trust and it is expected that they will put the best interests of the client first. The position of power is what makes it possible to exploit the client. Dual relationships are not always necessary for exploitation to occur. Any role where one person has power over another has the potential for abuse. A counselor personal values should help prevent them from entering into a dual relationship that will cause harm to the client. One's personal beliefs act as a guideline in both the professional and personal areas of their life. For instance, if one values, or morals, include the fact that extramarital sex is wrong, then this should prevent the married therapist from entering into a sexual relationship with a client. Regardless of the fact that this practice violates the ethics code for the profession.
As a counselor, my personal values, would prevent me from dating or sleeping with the client. Not just because the code of ethics says this is wrong, but because I believe this would cause harm to the client and our working relationship. My values would also prevent me from going to lunch or dinner with a client or entering into any kind of business relationship with one. Engaging in these types of activities with a client moves the professional relationship into a personal one and could damage all of the work that has been done. The main goal of any therapist is to put the needs of the client first.
One of the best ways for a therapist to help their clients is to keep the relationship professional. To be aware of the nature of dual relationships and to refrain from engaging in a personal relationship with the client. Sometimes this is difficult to do. When living in a rural, or small, community it cannot always be avoided. There is the very good chance that a counselor will come into contact with their clients outside of the clinical setting. If the outside relationship should become too close then the best thing to do would be to refer the client to a colleague. Another solution is to set boundaries.
Both the therapist and the client should be aware of what the boundaries are. Some boundaries include, but are not limited to, no socializing with the client, no gifts to be exchanged, no goods or services accepted as payment for the sessions and not counseling friends or relatives (Kitchener, 1988). The relationship between counselor and client is very intense and personal and without clear boundaries it is very easy for this relationship to shift from a professional one to a personal one. Dual relationships in any helping profession are hard to avoid. It is up to the therapist to remain professional and look out for the best needs of the client. The counselors personal values and their professional code of ethics will help them to set boundaries with the client. Once the boundaries have been established they should not be crossed or violated as this harms both parties. Should Mary's counselor attend her wedding? As a professional, no he should not.
References:
AAMFT Code of Ethics (2001) American Association for Marriage and Family Therapy.Retrieved July 26, 2009 from http://www.aamft.org/resources/LRM_Plan/Ethics/ethicscode2001.asp Kitchner, K. (1988, December). Dual Role Relationships: What Makes Them so Problematic?. Journal of Counseling & Development, 67(4), 217. Retrieved July 27, 2009, from Academic Search Complete database. Pearson, B. & Piazza, N. (1997) Classification of dual relationships in the helping professions. Counselor Education & Supervision; Dec97, Vol. 37 Issue 2, p89. Retrieved July 26, 2009, from MasterFILE Premier