Experiential Marketing Essay Sample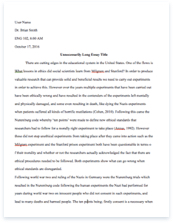 The whole doc is available only for registered users
OPEN DOC
Download Essay
A limited time offer!
Get a custom sample essay written according to your requirements urgent 3h delivery guaranteed
Order Now
Experiential Marketing Essay Sample
2.Marketing
a)With reference to the readings below and your own literature research, outline and critically assess the idea of 'Experience marketing' and discuss how it might impact on the way which we market into the future.(70 marks)
Experiential marketing is everywhere. In a spectrum of industries, companies have moved away from traditional marketing and moved toward experiential marketing. Building on Arnould and Price's well-known "River Magic"(1993) paper on extraordinary experiences, marketers strive to engage consumers in a memorable way, offering them 'extraordinary' experiences to boost the desirability of their products. According to marketers, experiences provide consumers a way to engage physically, mentally, emotionally, socially and spiritually (Ames 1910) in the consumption of the product or service, making the experience with the product memorable and thus, worthy of purchase.
Why is Experiential Marketing Important?
There are four main causes for the emergence of experiential marketing. Firstly, all companies use traditional media to advertise their products. Thus, because of this abuse of traditional media, a different strategy is necessary for one company to be able to stand out from its competitors (Schmitt 1999). Secondly, it has become difficult for companies to compete for a fixed market share and at the same time, differentiate their products solely on mere product or brand characteristics.
Thirdly, consumers are now more keen on marketing communications that are relevant for them as an individual and recognize their need for novelty items (Schmitt 1999). Fourthly, there is a growing need amongst consumers to be a part of the experiential aspects of consumption (Holbrook 2000; Holbrook and Hirschman 1981). This results in a less rational and more hands-on decision-making consumer (a total opposite to what traditional marketing assumes). This pivot in consumer nature calls for a different marketing approach.
For researchers in consumer behavior, an experience is above all a personal occurrence. It often holds an important emotional significance – an emotional 'stimulus' – to the consumer. This may lead to a deep, inbred feeling in the individual that the experience with the product was 'extraordinary' (Arnould and Price, 1993). Based on sociological research in consumer behavior, experience is a central element for today's modern consumer. Consumers these days look for sense: "for the post-modern consumer, consumption is not a mere act of devouring, destroying, or using things. It is also not the end of the economic cycle, but an act of production of experiences and selves or self-images"(Vezina in Caru and Cova, 1999). As a consequence, a key concept has developed along with experience – immersion: the post-modern consumer is said to take pleasure "in being immersed" in the products they consume (Arnould and Price, 1993).
Indeed, there is the recognition of a "growing quest" on the part of the contemporary consumers for immersion into varied experiences. This is slowly evolving to become conceptualized as "embodied experiences" (Brakus, Schmitt, Zarantonello 2009). The root of this so-called experiential consumption is in the growth of services, for which the good that is purchased is an experience rather than a material object.
These factors, in short, led to the experiential approach in the study of consumption. The experiential approach now highlights the importance of variables that had previously been neglected: "the roles of emotions in behavior; the fact that consumers are feelers as well as thinkers and doers; the significance of symbolism in consumption; the consumer's need for fun and pleasure; the roles of consumers, beyond the act of purchase, in product usage as well as brand choice, and so forth" (Vezina in Caru and Cova, 1999). This clearly shows the evolution of marketing, from traditional methods that presuppose the decision-making ability of consumers to newly evolved experiential marketing that takes into account all the possible variable factors that could influence and affect the consumer's decision making process. Experiential Marketing
* Consumer experience
* Connectivity
* Differentiation of Products
* Individual need for novelty items
* Consumer experience
* Connectivity
* Differentiation of Products
* Individual need for novelty items
Figure 1: Schmitt's Characteristics of Experiential Marketing
The Issues of Traditional Marketing
It is very important to analyze Schmitt's attitude towards traditional marketing. In particular, Schmitt takes issue with the 'features and benefits' approach of traditional marketing. In this traditional model, consumers are thought to go through a decision-making process, where each characteristic of a particular product or service is seen to produce certain benefits. Traditional marketing assumes that all the pros and cons of the product are assessed by the potential consumer(either consciously or unconsciously). However, according to Schmitt, this is too limited a way of viewing the purchase decision, with excessive emphasis on the rational and logical elements of the decision, and not enough for the emotional and irrational aspects involved in the purchase.
Schmitt's Framework for Experiential Marketing
The framework that Schmitt proposes is based upon two elements: strategic experience modules (which he calls SEMs), which are different types of experiences, and ExPros (short for experience producers) which are the various agencies that deliver these experiences. Experience marketing is the discipline of creating products and services that consider all elements of this framework. Schmitt identifies five different types of experiences or 'strategic experience modules' (SEMs). These are – to sense, to feel, to think, to act and to relate. These five different types of experiences (SEMs) are conveyed to customers through experience providers (ExPros), which are vehicles such as: communications, product presence, spatial environments, websites and company representatives.
Interaction of SEMs with ExPros generates what Schmitt calls the 'Experiential Grid': a comprehensive framework for considering all the ways in which experiences can be induced on the part of an actual or potential customer.
Figure 2: Schmitt's experiential grid
Accessed on 19 November 2012.
As a result, we have two marketing paradigms. Traditional marketing involves the rational, analytical point of view of the consumer, commodity and competitor. This standpoint, however, does not have the strong psychological base that helps us understand consumer condition, his reaction to products and surrounding competitors. A lot of researchers recognize that a consumer is a living person with an empirical experience and that they need a stimulant to be enticed to buy a product. This is when experiential marketing (using SEMs and ExPros) undermines traditional marketing strategies.
Experiential Marketing and the Future
Experiential marketing or engagement is the future. It can create mass brand evangelism, as exemplified by huge consumer brands like Apple and Nike. There is one important factor to consider: the changing generations. The new generation – generation Y, as we call it – is largely Information Technology- Savvy. It is not through mass media but through new media that companies should attract consumers through. Experience has become the 'preferred currency', utilized by brands which create meaningful platforms for engagement with their target audiences and innovative campaigns that stand out from the crowd.
Live brand experiences are generating brand advocacy, word of mouth and, in some cases, every marketers dream: brand evangelism. To prepare for the future, companies should use the age of new media as leverage to promote their products. Facebook and Twitter is just the beginning. New forms of communication such as Instagram, hashtags, Tumblr and new age blogs like Thought Catalogue would take the level of experience marketing one step into the future.
b) Select a company that you believe has adopted an 'experience marketing' approach and critically assess its marketing activities. (30 Marks)
Heineken: Conquering Vietnam
Heineken has launched one of the best, world-renowned experiential marketing movements in the world. After the immensely successful 2010 Heineken Countdown Party, expectations were high for the brand to outdo itself in the 2011 Heineken Countdown Party. With parties now being hosted in both Saigon and Ho Chu Minh City, the crowds would be three times of 2010. As such, Heineken had to impress and awe three times the number of people.
With the 2011 Countdown, Heineken successfully created a national phenomenon, praised by the Government and People's Committee for bringing this international cultural experience for all Vietnamese, expats and visitors to enjoy. The brand now has the approval from the Government and People's Committee to organize this event annually throughout Vietnam. Going forward, Heineken will use New Year's Eve as its "strategic marketing platform for the next ten years" (PMAA 2011).
As a result, the 2011 Countdown effectively exemplified experiential marketing and what a huge success it could lead to for companies. It also created brand exclusivity around the festive celebrations for Heineken, and firmly "reinforced brand ownership over the New Year's Eve celebration in Vietnam" (PMAA 2011). By immersing its customers in its product, Heineken has not only won Vietnam's brand loyalty, it has also allowed the Vietnamese to taste, feel, enjoy and experience the joy and celebration Heineken can bring to them. In the picture below, the Vietnamese are seen celebrating their New Year's Eve wearing Heineken hats and drinking Heineken beer. In that way, the beer is associated with the joys of the New Year Festivities. Simply put, Heineken = New Year's Eve Celebration.
Source: PMAA 2011
Accessed 20 November 2012
Heineken created one of the biggest moments for its consumers and achieved its brand ambition of "It can only be Heineken" through the use of experiential marketing.
Heineken's Marketing Strategies
Heineken has learned from other successful consumer brands such as Apple, and has combined traditional and new media, and exploited consumer and technological trends with their "mass customized" products and integrated media campaigns. Apple, for example, has used a combination of engagement through Apple Stores, transaction through iTunes, exposure through Think media ad campaigns, and interaction through Apple.Com to develop multiple points of communication with its customers. Doing so has helped drive image, customer loyalty, and commercial success for Apple.
Likewise, Heineken has also built a holistic marketing strategy around the themes of interaction, exposure, engagement, and relationships. In combination with traditional thematic marketing communications channels such as TV sports and activation channels such as events, new customer connection points are being developed to support the reinforcement and unique positioning of the Heineken brand.
Heineken the City: The most outstanding example of experiential marketing is Heineken's City in Amsterdam. Heineken and Cisco IBSG collaborated is a six-building brand experience store in 2008. Heineken acquired a prime location in the center of the Dutch capital to build a state-of-the-art promotional store where visitors can interact and engage with non-branded products and services within the adjacent markets of travel, entertainment, fashion, and retail (Smilansky 2009). Personalized collectibles, merchandise, and fashion items are available to visitors of the City. Customers can also design customized Heineken beer labels to commemorate birthdays, weddings, or other occasions. Moreover, customers can buy tickets to concerts and for package tours to Heineken-sponsored events. Computer screens promote the events throughout the store.
Heineken the City uses new media and a multi-dimensional media that clearly displays the Heineken "way of life" and offers branded products and services to its customers. Amsterdam's Heineken the City pilot store is the "first of an international rollout", with other stores planned for "London and Milan" (Smilansky 2009) and its holistic marketing strategy definitely 'rolls in' the customers.
Conclusion
In an era where competition is stiff, it is brands that place an experiential marketing methodology at the heart of their marketing communications strategy that can possibly differentiate themselves and stay on the top of business profit margins. Heineken the City is merely one of the examples of the holistic marketing strategy and innovation that companies will employ in the future.
Works Cited:
Primary Sources
Arnould, Eric J. and Linda L. Price (1993), "River Magic: Extra- ordinary Experience and the Extended Service," Journal of Consumer Research, 24–45.
Bernd Schmitt (1999): Experiential Marketing, Journal of Marketing Management, 15:1-3, 53-67. Accessed 19 November 2012. http://www.tandfonline.com/doi/abs/10.1362/026725799784870496
Secondary Sources
Brakus, J.J, Schmitt, B.H., Zarantonello, L, "Brand Experience: What Is It? How Is It Measured? Does It Affect Loyalty?" American Marketing
Association, Journal of Marketing Vol. 73 (May 2009), 52–68. Accessed 20 November 2012. Article URL: http://bear.warrington.ufl.edu/weitz/mar7786/Articles/brakus%20ettal%202009%20brand%20experience.pdf
Carù, A., Cova, B., "Revisiting Consumption Experience: A More Humble but Complete View of the Concept" Marketing Theory 2003. Pp. 267-286. Accessed 20 November 2012 Article URL: http://iag_puc_2007.msimoes.dyndns.org:10080/textos/Marketing/ADM2824/leituras/267%20experience%20cova.pdf
Fournier, S., Dobscha, S. and Mick, D.G. (1998) 'Preventing the Premature Death of Relationship Marketing', Harvard Business Review pp. 42–51.
Grundey, D. (2003), "Experiental Marketing vs. Traditional Marketing: Creating Rational and Emotional Liaisons with Consumers", The Romanian Economic Journal, Year XI, no. 29. Accessed 20 November 2012. Article URL: http://www.rejournal.eu/portals/0/arhiva/je%2029/je%2029%20grundey.pdf
Holbrook B. M. and Hirshman C. E. (1982). "The Experiential Aspects of Consumption: Consumer Fantasies, Feeling and Fun", Journal of Consumer Research. Vol.9, September, pp.132-140
Hollis M. (1994). The Philosophy of Social Science. Cambridge, Cam- bridge University Press pp 67-72.
Promotion Marketing Awards of Asia, Best Event or Experiential Marketing Campaign, Heineken Countdown to 2011 Party. Accessed 20 November 2012. Article URL: http://www.pmaa-awards.net/documents/08%20Event%20or%20Experiential%20Marketing.pdf
Smilansky, Shaz. "Why experiential? The future is engagement."