Gender Equality Essay Sample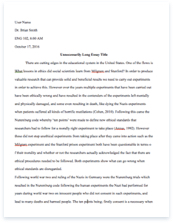 The whole doc is available only for registered users
OPEN DOC
Pages:
Word count: 691
Category: violence
Download Essay
A limited time offer!
Get a custom sample essay written according to your requirements urgent 3h delivery guaranteed
Order Now
Gender Equality Essay Sample
Rape. It isn't taken lightly in the United States. But outside the U.S., rape is in the same category as property theft. A woman who lived in Norway with her husband had been raped more violently than ever, one night in their 15 year marriage. She left behind the man she once loved, her identity as a wife, and her entire life. Norway competes with its neighbors for the title of most gender-equal country in the world. Yet nobody seems to notice that gender equality in Norway and many other countries, stops at the bedroom door. "One in 10 Norwegian women over the age of 15 has been raped, according to the country's largest shelter organization, the Secretariat of the Shelter Movement. But at least 80 percent of the cases are never brought to official attention and only 10 percent of those that are end in a conviction, the Justice Ministry says."
According to one of the general managers of the Shelter Movement, the safest place for women is outside their homes and on the streets because most of the rapes are happening in their homes. Norway is one of 127 countries in the world that do not explicitly criminalize rape within marriage. Within a marriage or not, it is still a crime that people should be taking action on. Although Norway and other Scandinavian countries had removed the exemption for husbands from rape legislation in the 1960s and 1970s,preconceptions about sexuality in marriage still live on. The reason so few women go to the police is because it takes a lot to come forward, and often, you get little in return.
Some people are trying to change the way the system treats this type of crime. The minister of justice and police, Knut Storberget, has made it a priority to stop violence against women. "This is not just a female issue.." The foundation of Norway dealing with rape cases is substantial. The majority of rape victims, specifically from spousal abuse, wont come to the hospital for a rape kit exam. "As many as 60 percent of those who do choose not to involve the police." There are several cases where evidence of forced sexual intercourse is excluded from the case because the ones working on it, like police and prosecutors, didn't believe that it would make a difference in court and they decide to focus on the nonsexual violence. Also the women that are being sexually abused don't favor talking about and reliving their experience. From the beginning of time, men have always been dominant. But that changes every so often as women gain in status, earn more money, and take their rightful place in society. That is when some men resort to physical strength and violence.
The article states that "the best antidote to this type of violence is gender equality across the board." It also says that "the more independent women are from men and the more equal in terms of pay, status, education and everything else, the more likely are we to clamp down in this type of crime." Yes women should get more education and be more equal to men in terms of everything. But that won't stop some creep from going out and raping somebody. Or that won't stop the man you married and the man who impressed your parents from exploding and beating and raping you. Not all men are horrible and women should be able to make themselves more independent. Yet the more you make or even the more education you have, can't stop a women from getting hurt. To help prevent this, countries like Norway need to take action. Its not so simple putting away horrible people, but it can be done. They need to make these cases a priority. The 80 percent of cases that aren't brought to official attention, need to be brought to official attention. The 60 percent of women who choose not to involve the police, need to involve the police. Nothing will change if nobody is being told. When nobody does anything about, men will still look at women as being unequal.