Green Day: "Boulevard of Broken Dreams" Essay Sample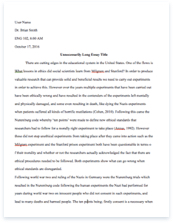 The whole doc is available only for registered users
OPEN DOC
Download Essay
A limited time offer!
Get a custom sample essay written according to your requirements urgent 3h delivery guaranteed
Order Now
Green Day: "Boulevard of Broken Dreams" Essay Sample
Green Day is a California based pop-punk band consisting of Billie Joe Armstrong, Mike Dirnt, and Tre Cool. At the age of fourteen, Armstrong and Dirnt decided to form a punk rock band, and at first they called themselves Sweet Children. By early 1989, however, they added drummer Al Sobrante to their band and decided to change their band name to Green Day. After independently releasing their first EP, which was well received by the locals, the group signed with the local independent label Lookout. Later that year, they released their first album 1,039/Smoothed Out Slappy Hour. Shortly after its release, the band replaced Al Sobrante with Tre Cool as the band's permanent drummer. They released another album, Kerplunk, which became an instant underground success.
This led to their signing with major record label Reprise. Their first major album debut, Dookie, was released in the spring of 1994. Dookie became a major hit thanks to the support of MTV. Dookie's successor albums were not as successful as it was. Green Day's next major hit album would not be produced until 2004 when they released their eighth album American Idiot. Boulevard of broken dreams, one of the many songs on this album, had the most success as it won six Grammy Awards. In this song, Armstrong uses diction, figurative language, and repetition to reveal his loneliness when his dream failed.
Throughout the song, Billie Joe Armstrong uses diction to show his lonely feelings caused by his crushed dream. His dream is to be with someone who will care about him, but this dream of his is "broken" since he has not found that person. In this song he refers to walking on an "empty" street, and just like that street his heart is devoid of any other human love. He is also comparing this street to his life, and likewise his life is also barren of affection. He feels "lonely" because of the fact that he has been searching for that someone but to no avail. So being fed up, sometimes he relinquishes his search and just "wish[es]" that someone will come to him and help his dream come true. Thus, through diction, he portrays his feelings of dismay caused by his futile dream.
Along with diction, Armstrong uses figurative language to depict his condition because of his crushed dream. In his mind he is walking down a lane that brings back memories. But throughout this journey he feels shunned because his "shadow is the only one that walks beside" him. Even when revisiting his past, he cannot remember anyone who cherishes him. As he is traveling back in time, he realizes that "the city sleeps" but he is awake. Reflecting back on his memories, he becomes aloof with the world around him. Not only that but he loses his sleep worrying about how he is ostracized by everyone. In that moment, the only thing he can ponder about is his heart because for him it is "the only thing that's beating." (http://www.azlyrics.com/lyrics/greenday/boulevardofbrokendreams.html) It seems like he is counting down his heartbeat until it stops, and along with it his suffering. By usage of such figurative language, Armstrong shares his sufferings caused by his loneliness with the listeners.
Through repetition of certain phrases, Armstrong further emphasizes his loneliness. Throughout the song he repeats that he "walk[s] alone," and by doing so he stresses that he has not found anyone in this world who is compatible with him. His expectation of discovering his significant other has become bleak. He articulates his feelings about being alone long enough and he wishes that "someone out there will find" him. The more he reiterates this, the more it seems like he is in despair. He just wants to give up his aspiration and wait for that person to come to him instead of him running around trying to find her. But he knows that he cannot take this risk. Even with his hard labor, he has been unable to find that someone, and if he gives up now then there is no hope of finding that person. So he still seeks for that someone and "till then [he] walks alone." (http://www.azlyrics.com/lyrics/greenday/boulevardofbrokendreams.html) Therefore by means of iteration, Armstrong exhibits his desolateness.
Many singers use songs to express their emotions. Armstrong does the same thing here in the song "Boulevard of Broken Dreams." He conveys his loneliness caused by shattered dreams to the listeners through diction, figurative language, and repetition. By using such literary devices, he captures the attention of the listeners and tells them his story. He wants someone to love him and caress him when he feels lonely. That someone is still not with him and he will keep on looking until he meets that person.
Throughout the history of mankind, a form of entertainment has always been in existence. Around the time when Rome existed, gladiator fights were considered to be entertaining; nowadays TV, videogames, reading books can all be called entertainment. It mainly depends on what a person likes to do; therefore entertainment changes according to the view of a person. Entertainment is basically something a person does to pass time that is enjoyable to him. Entertainment has been an immense part of our daily lives without it presenting much trouble.
Works Cited:
http://www.azlyrics.com/lyrics/greenday/boulevardofbrokendreams.html
http://www.vh1.com/artists/az/green_day/bio.jhtml