Haier Taking a Chinese company global Essay Sample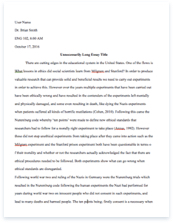 The whole doc is available only for registered users
OPEN DOC
Download Essay
A limited time offer!
Get a custom sample essay written according to your requirements urgent 3h delivery guaranteed
Order Now
Haier Taking a Chinese company global Essay Sample
For external analysis, China experienced growing economic development from late 1980s, which means demand outstripped supply in home appliance industry. Besides, China entered the WTO in 2001. Although Haier was faced with international competence, it also created more opportunities to infuse advanced technology and designs. For internal analysis, Haier was dedicated to gain competitive advantages in domestic market. To start with, good relationship with government is a good point. Specifically, Haier was a collective enterprise whose ultimate authority was municipal government. It can enjoy the tax benefit at the beginning stage of development. Besides, Haier provided differentiated white goods. Haier is famous for its high-quality products with excellent brand reputation. In comparison with multinationals brand, Haier's products are closer to Chinese needs and design. Continuous innovation was also taken into consideration to meet customer needs. Even though national and foreign competence was severe, Haier insisted single-brand approach.
Haier, unlikely most other Chinese manufactures whose aim is only to export and earn foreign currency, became the pilot of OEM products. Its differentiated products served as protective factors that ensured continued profits. Moreover, diversification is another important element to be successful. From 1992 to 1998, Haier expand through merging with and acquiring other companies to enrich its product lines, such as refrigerator, freezer, air conditioner, and television. Equipped with Haier own management and quality control strategy, the newly expanded factories and subsidiaries maximize profit. Additionally, operational restructure and management change are of vital importance. In order to improve its own key competitive ability, Haier restructured the existing facilities into 7 product divisions in 1998 and improved significantly the company's feedback speed from the market, reducing operating costs and increasing competitiveness. Confronted with revenue slowing down in domestic market, Haier transferred target customers from urban to rural households.
In this way, Haier achieved greater efficiency and position to compete with others. Meanwhile, Haier implemented coercive tactics to get poorly performing workers attention to focus on the quality of products. Last but not least, Haier's market advantages are main strengths for success inside China. Innovative and rapid market response, superior after- sales service and efficient retail and distribution channels are crucial for competing against others. In terms of high market responsiveness, the business strategy is to meet local demand at home and abroad with innovative models. Haier pioneered after-sale service concept in China. It owns 5500 independent strong contractor network and national hotline to satisfy customers.
Haier provided free repair and replacement within warranty periods as well. Speaking of retail channels, Haier set up network of individual specialized shops, private retail chains, licensed dealers and online sales to maximize market share. For distribution channels, Haier Logistics, a JIT concept organization, was built up for all product line to reduce transportation costs and enable speedy delivery. It is an advantage over multinationals, since establishing a logistics network in China is complicated. Overall, the differentiated product, good management, operational restructure, and market advantage are all crucial element for Haier's success. In fact, until 2004, Haier ranked number one company by Street Journal and was Chinese largest home appliance manufacture.
The answer is definitely yes.
Based on previous development and performance in domestic market, Haier needed expand globally and continued to grow. Through contract manufacturer, joint venture, and foreign direct investment, Haier started to enter into global market, Haier America, Haier Europe and Haier India built up step by step. In order to establish own brand overseas, Haier made three international strategies. Focus on difficult markets first, begin with niche products and staff with locals. In terms of niche products, Haier firstly entered with compact refrigerators designed for students and offices in developed country. As a result, the niche products brought in high margin and earned impressive market share. It is beneficial to develop relationship with retailers, such as Wal-Mart and Best Buy. Once Haier were successful in the niche products, they gradually launched regular and high-end products to global market such as standard refrigerators, washing machines and air conditioner.
Besides, the focus on niche markets enabled Haier to avoid head-on competition from bigger manufacturer. The separate market position strategy can protect Haier from competition at the beginning of globally expansion. There is another concern raised from niche products. Though people may buy a compact refrigerator from Haier, they will not choose other home appliances from Haier. However, Haier still had other strategies and advantages to make up low-recognition of brand. Firstly, Haier tried to be localized. Specifically, Haier not only made FDI, but recruited local experienced people who were familiar with home appliance industry operation as well. In addition to, Haier integrate its own culture with local cultures and gather local capital and intelligence together to operate and manage company.
The local team were easy to set up network with large chain retailers and distribution channels. In this way, it was able to attract more local customers under the brand of Haier. Moreover, Haier took advantage of its international division. 62 distributors, 30000 retailers, 59000 sales agents, and 12000 service personnel can ensure meet customers' satisfaction and respond in time. Eventually, product differentiation and high speed response could increase brand recognition and sales. Haier was willing to pay attention to details and quickly test and modify products in accordance with consumers' need. These will leverage the success in niche market to become a dominant brand in high-end white goods.