Health Care Utilization Paper Essay Sample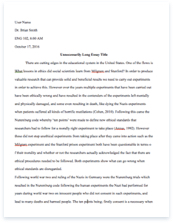 The whole doc is available only for registered users
OPEN DOC
Pages:
Word count: 1329
Category: health
Get Full Essay
Get access to this section to get all help you need with your essay and educational issues.
Get Access
Health Care Utilization Paper Essay Sample
The Affordable Care Act was signed into law March 23, 2010 by President Barack Obama; however, the constitutionality of the law remained in question. In a controversial 5-to-4 ruling, The U.S. Supreme Court upheld the law on June 28, 2012. The ACA is thought by some as the United States health care rescue, and as its downfall by others. It is estimated that the ACA will provide new services to 64 million Americans, providing health care coverage to 32 million previously uninsured. In addition to providing new health insurance coverage, the ACA implemented several components that can expand access to health care. One policy change will allow single adults, who are in school to remain on their parents' insurance until they are 26. Another policy prevents denying children health insurance due to pre-existing conditions, this same protection will be provided to adults beginning in 2014. Rural communities are now expected to have greater access to health care as a result of increased payments for physicians willing to relocate. Additionally, the National Health Service Corps expanded to provide more health care providers to underserved areas. Community health centers are also expanding to provide care to those with little or no income.
As an incentive the government is also offering tax credits to small business owners in order to make health coverage more affordable for their employees. One aspect of the ACA covers preventative care services without out-of pocket expenses through co-payment, co-insurance, or deductibles. The aim is to decrease health care cost through prevention, early treatment, and detection. Examples include mammograms, colonoscopies, cervical cancer screening, HIV testing, well woman visits, obesity screening and counseling, and immunizations (U.S. Department of Health and Human Services, 2010). If the American public has access to these services it may be possible to avoid the costly tests and treatments that these conditions require. The aim of the ACA is to provide affordable health care to all Americans, but it still leaves some issues unaddressed that will impact the access to health care. Covino (n.d.), "Though the intentions of the legislation are good, the Affordable Care Act does little to improve the actual health care delivery system" (para.1, page 2). According to the American Medical Association, we are facing an increasing Physician shortage.
As of 2010 we faced a shortfall of 13,700 physicians, the estimate is that number will increase to 62,900 by 2015, 91,500 by 2020, and 130,600 by 2025 (Krupa, n.d.), with primary care taking the largest impact. Health Care coverage will be of no benefit if there are no doctors to treat the patients. An example of this occurred in 2002 when Thailand's' "30 Bhat Scheme" added (CNN n.d.) "14 million people to the country's health care system, resulting in long waits and subpar service" (Your health is covered, but who is going to treat you?) Several factors contribute to the physician shortage. Many physicians are reaching the age of retirement, the Association of American Medical Colleges estimates nearly 15 million physicians will be eligible for Medicare in the coming years (CNN n.d.). The increasing cost of malpractice insurance also deters many from pursuing a career in medicine, and is forcing some doctors to retire. Also contributing to the physician shortage is a lack of spots in residency programs.
"In 2011, more than 7,000 were left with degrees that said "M.D." but no place to continue their education, according to the National Residency Matching Program" (CNN n.d). A bill currently before Senate would increase residency programs by 15% nationwide, but that is not enough to meet the shortage. Nor will it be in effect in time to accommodate the 32 additional Americans being added to the health care system. The physicians currently in practice will deal with overworked conditions and job burnout, with many potentially giving up medicine, and broadening the shortage. One idea has been to lower the minimum standards required for foreign educated physicians to obtain American licensure. Opponents to this idea cite the potential for decreased quality of patient care. An additional downfall of the ACA is the decrease in reimbursement payments. Physicians are no longer reimbursed on a fee-for-service basis; they must now deal with bundled payments and capitation, leading many physicians to refuse to take Medicare and Medicaid patients (Barnes, n.d.). According to O'Shea M.D. ( n.d.), "being nominally "covered" in a public health insurance program is of little value if prohibitively low reimbursement rates and administrative hassles prevent physicians from accepting you as a patient" (Obama's Health Care Plan: Pros and Cons Debate).
The bottom line is that the ACA coverage does little good if we do not have the infrastructure to support it. Utilization of health care as a result of the ACA is yet to be fully determined. The addition of health care providers in some underserved areas may result in greater utilization. Long drives, fuel costs, or transportation issues may have prohibited these groups of people from seeking health care previously. Also, the provision of free diagnostic testing such as mammography may be utilized by people who declined these services due to prohibitive out-of-pocket costs. Conversely, difficulty finding a provider, long waits for appointments, and decreased quality of patient care may lead to patient frustration. Patients who feel that it takes too long to be seen, or that seeing a physician is a hassle, may not utilize their access health care despite coverage. The full impact of the ACA on health care utilization will likely take years to see, as full implementation of all the Acts provisions are not yet in place. According the Physicians for National Health Program (Brown, 2011), the United States remains the only industrialized country without a national health insurance plan (What is Universal Health Care?).
The ACA is thought by some to be Americas' first step towards a national health insurance plan or Universal Health Care System. Universal Health Care System refers to equal governmental provision of required medical care for all citizens through a single program, and eliminates the need for health insurance programs. Additionally, the determination of "required" varies from nation to nation. Typically a UHCS is funded primarily through taxation of the people. Like a UHCS, the ACA takes steps to try to ensure that all American people can obtain affordable health care. Low income families can receive coverage through Medicare and Medicaid. Effective 2014 individuals who not eligible for insurance through an employer may purchase low cost State-based Health Insurance. As additional incentive, small business owners are being offered tax credits to help offset the cost of providing health insurance to employees.
Though the ACA provides more governmental support for health care costs, it falls short of being a UHCS because it does not eliminate health insurance programs, it does not provide medical services without cost, nor does it guarantee equal health care for all citizens. I am grateful to be able to provide health insurance my family, but this is a recent development. Prior to July my family spent 5 years without medical coverage because the prohibitive cost through my previous employer. Prior to changing jobs the only type of medical provision my family had was through my Flexible Spending Account which was not enough to meet our health care needs. The Affordable Care Act aims to provide access to affordable health care for all Americans. It is not likely to be an instant cure for the American health care crisis, there are still several issues that need to be resolved, but it does provide measures that will make health care less cost prohibitive, and therefore more accessible.
References
Barnes, J. (n.d.).The Atlantic. Retrieved fromhttp://www.theatlantic.com/health/archive/2012/05/moving-away-from-fee-for- service/256755/
Brown, A. (2011). Physicians for a National Health Program. Retrieved from http://ww.pnhp.org/news/2011/march/what-is-universal-healthcare?key=0
CNN Health. Retrieved from http://www.cnn.com/2012/06/29/health/doctor-shortage affordable-care-act/index.html
Covino, F. (n.d.). ctpost.com. Retrieved from http://www.ctpost.com/news/article/Hospitals-see- pros-and-cons-to-health-care-law-3690390.php
Krupa, C. (n.d.). . Retrieved from
http://www.ama-assn.org/amednews/2010/10/11/prsb1011.htm
O'Shea, MD, J. S. (n.d.). The Survival Doctor. Retrieved from http://www.thesurvivaldoctor.com/2012/08/27/obamas-health-care-plan-pros-and-cons-debate/