Homelessness Essay Sample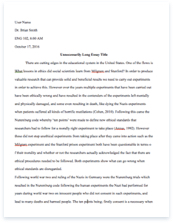 The whole doc is available only for registered users
OPEN DOC
Get Full Essay
Get access to this section to get all help you need with your essay and educational issues.
Get Access
Homelessness Essay Sample
As a Drama group, we were presented with the theme of "homelessness/Runaways" and in response to this we set out to work towards completing a devised thematic piece to be presented to a relatively large audience on one night only. The money we raised was to be given to the charity "shelter". Dramatic Techniques As a starter activity we decided to get physically involved with the issue and work with body language exploring general people's attitudes to homelessness.
We acted out where half the class were wealthy business men, keeping an upright frame and a callous and hasty attitude having no time for those on the streets where as the other members of the group played the role of "Big Issue" workers, pleading for the attention of the business men; using kinesics to reflect upon their lugubrious emotions and showing how they would feel rejection and depression as they are treated as if they are invisible. Outline
After this the drama group split into three smaller groups, we started to discuss our personal feelings upon the issue itself, we talked about different controversies that can lead to a person becoming homeless and started to research the subject in order to get inspiration and a suitable insight into the minds of homeless people along with the traumatic situations they are presented with. We wanted to promote understanding of the issues that face young people living on the streets every day.
We then decided that to enhance our drama scenes and our personal sympathies with homeless people we should listen to some music related to the issue. We believed that it could give the class a different approach to the task and create different atmospheres that could be used to later improve our drama sketches for the audience to experience more powerfully the feelings we are trying to get across to them. We listened to songs such as "Another Day in Paradise" written by Phil Collins and "Philadelphia" by Bruce Springstine.
These songs in particular helped us to get more involved in the emotional side of the matter. After this we thought about repeating an activity much like our starter activity of using physical drama. We used the same characters and walked around the room keeping in role and acting out what we believe the reactions between the business men and the homeless people would be according to the scene created in our minds after listening to the powerful song lyrics.
The mood of the songs really helped us to understand the intensity of life on the streets and the sadness the music created helped our physicality and we adapted our movement to reflect the agonizing mood. Dramatic Knowledge After this we were given homework of purchasing a "Big Issue" magazine over the weekend; we together read through the relevant articles and sections for information, we particularly focused on the runaways section, this helped us with our characterisation. We learned about real homeless people and their struggles which brought the issue to a point were it was more realistic and shocking.
Having the magazine for reference also helped us complete our 'role-on-the-wall' sheets, role-on-the-wall is a simple printed outline of a person; we are given the sheet along with the task of writing in things about our character such as their history, family situation, their aims in life, their likes and dislikes their tendency's, personalities, feelings, dreams and their regrets. Role-on-the-wall helps by stimulating our minds in to the exploration of our character and gives us a visual reference to the role we are playing. Once we had completed our role-on-the-wall we tried hot seating.
During hot seating each member of the group took their turn at being on the 'hot-seat' a person in the hot seat is cross-examined by the others in the group through way of asking questions, throughout the task the person being hot-seated has to stay in character. This really helped me personally as it made me feel considerably closer to my character to the point of even feeling like I knew her! After the exercise I felt as if my acting was more realistic and I had become more convincing therefore my character was much more lifelike.
Once we had done this pre-performance work we had to start the brain storming to get ideas for what situation we were going to act in the performance, in our groups we all shared our ideas, through these Ideas we started to devise a plot. As we came up with new thoughts the piece was adjusted several times; yet the final plot turned out to be a combination of all our ideas imported into one runaway story. We took turns at being different characters in our play and then we settled for who we thought suited each role best. I played a homeless girl named Mary; Mary recalls her life in the form a narrative piece talking to the audience.
Whilst I being the 'homeless Mary' told the story of my ordeal it was acted out on stage. Lisa, who was another girl in the group played the part of Mary too she was acting out my life as I was telling it to the audience. Dana-le the third girl in our group played the part of Mary's mother. Sarah, our fourth girl played two roles her first as Mary's friend and second as a drug dealer. Finally Matthew the only boy in our group played the part of the evil addict boyfriend Adam. We felt our roles were very well suited and that we had the potential to make our performance very powerful.
Our intensions when setting out to create our drama sketches were to raise awareness of the plight of homeless people and to raise money to help them. We researched our charity and studied the intensity and seriousness of the case we were looking to help. Once we had grasped the dramatic issues this gave us an even bigger drive to be successful. When rehearsals started we focused on the feelings we wanted to give the audience and the impression we would like them to get two of the main themes we came up with were to shock the audience and make them feel sympathetic towards homeless people.
We wanted to stop the people from pre-judging the homeless when they are unaware of their backgrounds. We had discovered that most of the people that were homeless had been placed in this situation through no fault of their own. Most were getting away from danger or forced out of their homes and left in pieces. Outline of Plot Our plot involves a gullible and timid girl called Mary she is seventeen and living on the streets she tells the story of how she got where she is. She used to live with her mother her mother loved her dearly yet they were growing apart.
One night Mary is at her friend Emma's house and following in Emma's sisters footsteps the pair try their chances at getting in a club! They succeed and everything at first is fine, this is until Emma scurries off! Mary is left alone, soon she bumps into a drunken 25 year old man named Adam. He buys her drinks and takes her up on to the balcony where they are alone; he tells her she is beautiful and he likes her; he then kisses her and she is besotted by him. She has never had any attention from the opposite sex before and everything he says to her is like magic.
She falls in love with Adam and he takes her back to his house; a scruffy apartment twenty minutes from her own house. He seduces her and she stops over the night. In the early hours of the morning she walks home still in a drunken state, her mother is waiting up for her worried sick not knowing where she has been. Eventually Mary tells her and her mother is understandably distressed she orders Mary never to see Adam again. Yet Mary defies her mother, skipping school to visit Adam. Time goes by and she has been seeing him for almost a year. He tells her he has had problems with his rent and has to move away, he would like her to go with him.
She is scared of loosing Adam yet to frightened to tell her mother, she runs away. She moves into a run down apartment with Adam and soon she sees he isn't the man she thought he was. He orders her about and forces her to work long hours to satisfy his drug addiction. Yet she thinks Adam loves her and won't allow herself to believe what is happening. She starts feeling sick regularly and getting easily worn out she at first puts it down to stress but then decides she needs to take a pregnancy test. It's positive! She is at first panic-stricken but then becomes joyous as she thinks of starting a family with Adam whom she adores dearly.
The next day is when she tells Adam the news, his reaction isn't at all what she imagined he became violent throwing her on the floor and kicking her in the stomach he tells her she is a stupid little kid and she means nothing to him; he throws her out on the street and she is there pregnant with a child begging for money from passers by. This is the end of Mary's story and at this point her old friend approaches her and forces her to come home telling her that her mother hasn't stopped loving her and just wants her back. Mary is taken to her mother and the story is ended with Mary's mother holding Mary in her arms.
Costume For our production there would be two people playing Mary as explained. I was Mary when she was on the street and Lisa was Mary before she became homeless. We had to look into costume quite deeply and figure out a simple way to show that we were the same person at different stages in life. Here are the ideas we decided to use in our final performance… As you can see the costumes were not very detailed, we were on a relatively tight budget though and so we felt that these costumes gave us the best look and weren't too costly. On the left is 'homeless Mary' and on the right is Mary before she became homeless.
The costumes are the same yet there have been alterations on the homeless costume to make it look more worn and to show the difference in class between the two. Also I believe that the stage makeup we used reveals the difference in age between the two; homeless Mary has a pale and drained complexion which along with the dirty effect contributes to an older and more worn look apposed to Lisa's healthy and young complexion. Homeless Mary wears this costume throughout the production where as the past Mary changes her costume to this after the party scene where she meets Adam.
Lisa and I have different coloured hair so to make the performance more realistic Lisa was given a dark wig where as I just back combed my hair to give a disorderly and slovenly effect. This effect was reinforced through the rips in the homeless Mary's clothing and the dirty effect made by talcum powder on the clothing. In addition I would carry with me a tattered blanket that acted as a safety barrier from the perspective of Mary as well as some warmth! We also got different effects with the stage makeup we used.
For Mary before becoming homeless a darker more healthy shade of foundation was used where as when she became homeless a pale and sickly colour was used to show she was drained and starving, also black powder was used on her face, neck and arms to make her look dirty and to show the lack of hygiene she had gained through living on the streets. This all added to our performance as a whole and being in costume made me personally feel more in role and ready for the performance as it gave me more confidence and I felt as if I had actually become my character.