How to behave Essay Sample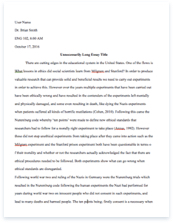 The whole doc is available only for registered users
OPEN DOC
Download Essay
A limited time offer!
Get a custom sample essay written according to your requirements urgent 3h delivery guaranteed
Order Now
How to behave Essay Sample
We should get to class on time before the bell rings and when we get into the classroom we should sit down in our seats calmly and quietly without playing around and goofing off. Always do what the teacher tells you during class time. We should always listen closely to the substitute's instructions when they tell you to do an assignment, when they tell you to be quiet, to start or stop working, to line up, or do anything else. If you listen the first time, you won't have to ask later. Another thing we should do when we get a sub and you're not here is raise your hand if you want to speak. If you have a question, or you have something you want to say, don't just shout it out. Raise your hand, wait to be called on, and then speak when you have been given permission. We should remain quiet during class unless we are called on to be able to ask a question or something else like that. We should never just call out answers or questions during class because we could disrupt others.
We should not play around during class because it will also annoy other people and people won't like it and we can get a referral. We should also treat others in the class with respect both fellow students and the teacher. This includes not touching other people or their belongings, and not throwing items or name-calling. When we do the work, it should be quiet and calm. You should always be prepared in class and not always having to ask people to use their pencils, pens, markers, highlighters etc. You should not disrupt the teacher or other people in the classroom. As soon as you do not understand something you should not be afraid and you should put up your hands and ask for extra help. Stay in your seat during class. Raise your hand and ask your teacher for permission if you need to leave your seat for any reason. Once given permission to leave your seat, exit your seat or the classroom quietly causing as little disruption as possible.