Human Rights Essay Sample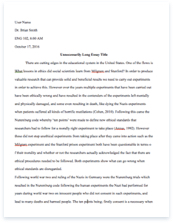 The whole doc is available only for registered users
OPEN DOC
Download Essay
Get Full Essay
Get access to this section to get all the help you need with your essay and educational goals.
Get Access
Human Rights Essay Sample
Three to five sentences long
Explain how the resolution of the plot indicates the author's point of view. Show what human rights issues took place in the conflict and how the author used the resolution to generate a reaction in the reader. Use proper spelling and grammar.
Response Paragraph 2
Three to five sentences long
Explain how the diction and characterization indicate the author's point of view about a human rights issue. . Provide specific examples from the novel.
Use proper spelling and grammar.
Paragraph 1
What was happening was people in hiroshima where living there normal casual lives. They would talk about how life was going and there current events at the moment, then all of a sudden the bomb would hit about 3 and a half miles away from there current destination. It would explain in detail how things where collapsing, there was blood everywhere, children where crying. Plus it did this more than once, it explained different situations of people doing different things and then the bomb would drop and it would explained what happened to there lives as a result.
Paragraph 2
The use of diction and characterization was very detailed and interesting. It would explain who was involved with a certain situation and what there motives. This happpened to mutiple characters. For example, one character would be living their life taking care of their kids, then bam, the bomb exploded, then it would go in to detail and talk about things falling apart, people where crying etc. Then! It would explain somebody elses life story and there situation. "The tremendous flash of light cut across the sky, Both he and Mr. Matsuo reacted in terror- and both had time to react (for they were 3,500 yards, or two miles, from the centre of the explosion). Mr Matsuo dashed up the front steps into the house and dived among the bedrolls and buried himself there." This was one witness of the explosion in the story, and there was about 2 or 3 more other witnesses whos life situation was explained.