In what sense are virtual communities real? Essay Sample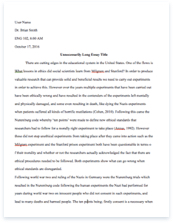 The whole doc is available only for registered users
OPEN DOC
Download Essay
A limited time offer!
Get a custom sample essay written according to your requirements urgent 3h delivery guaranteed
Order Now
In what sense are virtual communities real? Essay Sample
A virtual community is a network of people who interact through various forms of media, and allow users to obtain support, advice, friendship and sometimes merely just interaction with others. In a world where the internet is becoming ever more important, and social networking sites such as Facebook and Twitter are now a part of many people's every day lives, there is a strong sense that online, virtual communities are becoming ever more important, perhaps more so than real-life communities. This rise in the virtual communities has led to an intense debate – somewhat ironically, on the internet – as to whether these communities are, or even can be, real. The debates are amongst a wide variety of people, from sociologists and scholars to ordinary people, many of whom are involved in these virtual communities themselves, and there is a huge divide in the opinions shown.
Perhaps the strongest of these arguments is that real communities have real people, yet virtual communities do not have virtual people. On this basis, in this essay I will argue that virtual communities are real communities because they involve real people, yet I will also explore the other debates, such as virtual communities lack the human communication required to form a true sense of community.
Virtual communities have emerged in many different forms on the internet from the variety of categories of websites now available. Amongst the most popular are social networking sites such as Facebook and Twitter, dating websites and online gaming communities, where chat rooms and online 'friends' can be accessed at the click of a button. Many people now feel more inclined to confide in these online friends – many of whom they have never had more than an online conversation with – than their own friends and family, which evokes many questions as to the mindset virtual communities create amongst their participants. Rheingold, in his book The Virtual Community, suggests that logging onto online forums and chat rooms and checking emails is 'similar to the feeling of peeking into the cafe, the pub, the common room, to see who's there, and whether you want to stay around for a chat'. In this, Rheingold attributes the rising popularity of online communities to the feelings of friendship and community that people used to obtain from regular social places and events now being obtained virtually, and therefore the hunger people have for a sense of community as they struggle with the 'disappearance of informal public meeting places in their lives.'
In the modern-day world, technology is becoming ever more important and present in people's everyday lives, and so it is therefore not surprising that virtual communities are emerging from this technology influx. The place of "idle talk and banter with acquaintances and friends," is often where a persons feeling of involvement in a community is achieved and experienced. Cafes, parks, and pubs once provided this environment, but in the age of large-scale shopping centres, drive-thru restaurants, shrinking public spaces, and residential isolation, this sense of wanting to be a part of a community is left unfulfilled. Oldenburg argues that modernity has created a culture in which the home and the workplace remain as the only two places people actively interact with others, and believes that it should not be surprising then that millions of people throughout the world turn to the Internet to re-create and re-establish the sense of community which has now been lost in technology age of today. In this argument, Oldenburg supports the view that virtual communities are real communities in the sense that they are the only communities many people nowadays know and are a part of.
Virtual communities provide many advantages to their users and allow many people to engage in communication and interaction with others that they would otherwise not have. They allow almost instant information exchange, provide support and advice for people who have no-one else to turn to and can give people the chance to interact with thousands of others across the world which they otherwise would not be able to. However, in this way, it can be argued that virtual communities cannot be real communities in the original sense of the word. The traditional definition of community is of a geographically circumscribed entity, therefore neighbourhoods, villages etc.
Virtual communities are, in most cases, dispersed geographically, and therefore are not communities under the original definition. This is a view shared by Calhoun. He argues that the modern phenomenon of virtual communities is based on indirect social relationships in which communication with others in more imagined than real, and he believes that a true community requires direct, active relationships amongst it's members – 'there is a great deal of difference between social groups formed out of direct relationships among their members and [..] and not necessarily linked by any dense, multiplex, or systematic web of interpersonal relationships.'
One criticism of virtual communities is that they are unable to produce substantial and genuine personal relationships, and according to some researchers, they are more likely to produce social isolation than connectivity. It has also been claimed that because interaction that takes place online may lack the intimacy and the self disclosure of more traditional, active interaction, it is unable to produce real social groups and communities as would be produced in face-to-face meetings. These arguments suggest that virtual communities can therefore never be real communities because a real community has to have active interaction between it's members for the friendships and relationships to be true.
In contrary to these opinions, various studies have been conducted into people's perceptions of the relationships formed in virtual communities which suggest that to the people who use them at least, virtual communities are definitely real. In his study of the members of twenty four different newsgroups, Parks found that more than sixty percent of his subjects said they had formed a personal relationship with someone they first contacted through a newsgroup – today's equivalent being a chat room or message boards. He furthermore concludes that these relationships then build over time and often are continued through the use of other communication techniques such as the telephone, and often lead to face-to-face encounters which would then evoke the feelings of community Calhoun believes are necessary.
There is a general consensus amongst many scholars that the emergence of virtual communities comes from the need to re-create the sense of community which one can argue has steadily declined in real terms over the years. A recent newspaper article wrote that a staggering seventy percent of people nowadays do not know the names of their neighbours, and so it can be argued that if this is the case, so-called real communities of neighbourhoods are not in fact real at all for the large majority of people.10 It can therefore be seen that whilst virtual communities do not have the face-to-face interaction to develop relationships between people, neither do the so-called 'real' communities these days, and so virtual communities are as real, if not more so, than their true life counterparts, as people are much more open and willing to interact these days with their online associates.
To conclude, the debate of whether virtual communites are real is one which has much scope to it and is still very much ongoing. There are a wide range of opinions, from those who believe that virtual communities are just that – virtual, and therefore cannot be considered to be real, to those who believe that virtual communities are indeed more real than even true life ones. In my opinion, the latter has more weight. Virtual communities involve real people who have real discussions about real topics and issues, and whilst some may not understand the support and interaction one can obtain from online friends, it cannot be denied that they are indeed real. Many people find comfort, support, friendship and advice through virtual communities, and these are things which spill over into a person's real life, and so in that sense at least, virtual communities are indeed real.