Individual Oral Presentation Evaluation Sheet Essay Sample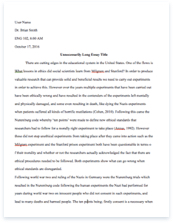 The whole doc is available only for registered users
OPEN DOC
Download Essay
A limited time offer!
Get a custom sample essay written according to your requirements urgent 3h delivery guaranteed
Order Now
Individual Oral Presentation Evaluation Sheet Essay Sample
Content
The introduction should contain an overview of the topic. 8 / 10
A clear thesis (statement of the main points) should be presented. 10 / 10
The presentation should contain main points.
The main points should address a general audience. 10 / 10
There shouldn't be excessive terminology.
Specific technical items should be explained.
The presentation should provide a general overview (overall).
The conclusion should emphasize why the listener would be
interested in the information (or what he/she should do with the
information as a general audience). 10 / 10
Comments:
Mr. Gore started his presentation by showing a series of colorful images of the earth taken in space.  Through those pictures, he made the audience appreciate the beauty of the planet where we live.  However, Mr. Gore's introduction to his presentation was quite long.  He engaged about 15 minutes or so in presenting how beautiful our planet and our immediate surroundings used to be.  But in his long introduction, Mr. Gore failed to present an overview of what his whole presentation will be all about.
Then again, Mr. Gore still deserves commendation for his creative manner of introducing his presentation.  His approach was to set the mood of his audience first, thereby setting the stage for his arguments.  Then he presented his main points one by one, each having its own share of extensive yet easy to comprehend explanations.
Moreover, in each argument he presented, Mr. Gore also discussed the possible counter-arguments his critics would say.  He refuted those counter-arguments by referring back to his introductory statements where many theories about the earth, which we've always believed in, were established to be untrue.  This way, Mr. Gore made his arguments appear more sound and acceptable to the audience.
In his conclusion, Mr. Gore raised again his key points of argument then discussed with the audience what they can do, as individuals, to help prevent global warming.  He itemized simple actions that each individual can do, and emphasized that their collaborative efforts will greatly contribute in solving a global problem.
Visual Aid
The aid should relate to some relatively important point in the
presentation and should clarify/illustrate that point. 10 / 10
The audience should be able to clearly see the visual aid, which should
not be distracting in color, size, etc. 10 / 10
The visual aid should be well organized so that it can be easily
understood during a short period of time. 10 / 10
Comments:
For his visual aid, Mr. Gore used Keynote, a powerful Apple presentation software.  Through this software, he showed pictures and graphs, and even short cartoon videos, to make his presentation more interesting.  He got rid of the usual PowerPoint presentation templates where titles and bullets are the standard features — which most of the time appear boring.
Mr. Gore's visual aid was projected in a wide screen, hence, making it visible to the whole audience.  At both sides of the wide screen were smaller screens which Mr. Gore used in pointing specific data that need emphasis.
Mr. Gore compared past and present pictures of different places from different countries in many parts of his presentation.  By doing so, he was able to establish that global warming is indeed a global concern.  It is happening not only in the United States but in the other parts of the world as well.  The changes in conditions of the earth's atmosphere have caused dramatic changes in the environment, all of which are detrimental, as proved by the pictures shown by Mr. Gore.
His visual aid was very useful also in presenting statistical data, through graphs and charts, which were important factors in confirming his arguments.  In many presentations, dealing with numbers makes the discussion a little less interesting.  But Mr. Gore presented his statistical data in a very interesting manner by using simple graphs and charts that are easy to understand and interpret.  He then followed his presentation of data with an application of statistics to the real situation, making his audience realize the significance of those numbers in their lives.
In one instance, Mr. Gore even climbed up a mechanical lift to be able to reach the height of his line graph where the direct correlation of CO2 emission and earth temperature is presented.  He did this to emphasize that if the present environmental condition with respect to CO2 emissions does not change, the level of CO2 emissions will go up really high, and, consequently, the earth temperature will also go up.  With this discussion, the audience may have realized that if Mr. Gore's assumptions do happen, it will be difficult for humans to survive.
Another attention-catcher is the presentation of cartoon videos as part of Mr. Gore's visual aid.  They were funny and entertaining thus making his points more memorable.
Presentation Quality
The speaker maintains eye contact with the audience, and gestures
are used to support the information being presented. 10 / 10
The speaker maintains an appearance of (relative) confidence and
speaks clearly with few fillers (um, ah).  10 / 10
The speaker fields questions in a way that encourages the audience
to seek further feedback (rather than answering questions in a degrading
way). 10 / 10
Comments:
In his oral presentation, which took about an hour, Mr. Gore did not use a script or any cue cards.  The only thing in his hand was the remote control of the projector.  He had a good memory of his data and visual aids and went through with his discussion spontaneously.  Thus, he was able to look across his audience most of the time, except when he had to refer to his visual aid for some emphases.
Mr. Gore's hand gestures were also appropriate to his points of discussions.  The gestures were wide and defined that the audience seated at the back of the room can see them clearly.  Throughout the presentation, Mr. Gore discussed his arguments in such a way that one would think he was just talking with someone using his usual day-to-day conversation attitude.  He did not make the presentation very formal, but rather relaxed in spite of the fact that what he presented was an urgent issue.
Mr. Gore was very fluent in his discussion.  There were only few fillers but these were used for emphasis, not for lack of words.  He posed questions, particularly those that he assumed might be asked by his critics, that can make the audience rethink about his positions.  But with much enthusiasm, he answered those questions in the same way that he presented his arguments.  He used statistical data as well as actual situations to refute other claims.
Overall, Mr. Gore displayed confidence of himself and of the topic he discussed, which can make an audience consider, or perhaps actually believe, the truth of his claims.