Inventory Control Automated Office System Essay Sample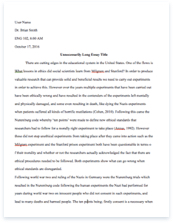 The whole doc is available only for registered users
OPEN DOC
Download Essay
A limited time offer!
Get a custom sample essay written according to your requirements urgent 3h delivery guaranteed
Order Now
Inventory Control Automated Office System Essay Sample
ICAOS is an Automated Office System using an Oracle Database and front end application. The ICAOS will coincide with the current timekeeping system by using existing employee numbers, and assigning an employee number to each step of the inventory's trip through the warehouse. For example, when the product is received, put away, restocked, picked, and shipped, an employee number will be assigned for each action. This will allow for efficiency, and accuracy accountability tracking for the warehouse as a whole as well as for their individual employees. Reports will be generated showing the amount of material moved by each employee, and the employees will also have a record of their own individual performance. This will help with performance reviews, as well as show where problem areas or bottlenecks occur. .
Key System Benefits
* Efficiency, accuracy and accountability tracking
* Complete control of inventory at every step of the process * Report generation for management
* Employee evaluations simplified
* Bottlenecks identified easily
Existing System
The existing inventory system is in COBALT, and the current inventory will be transformed into a Windows based environment, and then transferred to the new system, which will include a barcode for each product SKU number. A translator program will be used for the transition, and it will make a copy of each product number, and its warehouse locations. For example product number YT5009876 in location 8.06.269.16.04 will be transferred for COBALT to Windows along with the product description. The new system will automatically assign a bar code for that number.
Interrelations/Interdependencies with other Systems
The ICAOS will work with the current timekeeping system in order to generate efficiency reports for the management and staff. The information from the timekeeping system such as employee number, hours worked, etc. will be accessed by the ICAOS in order to calculate the productivity of each employee.
System Organizational Environment
The system organizational environment is a warehouse in which each product will be given a label, and a barcode, and then it can be scanned and tracked as it moves through the warehouse. Warehouse management will take the input of the warehouse workers, and compile reports showing available inventory, locations, and employee and or shift efficiencies. Stakeholders:
* Financial Officers
* Vice Presidents
* CEO
* IT Management Team
* Warehouse Management Team
Users:
Supervisors and data entry personnel will be using the system, and ensuring the system is updated properly, while middle and upper management will be using the tracking features to track the product and employee performance. This system will serve all levels of management because it will provide better inventory control, as well as accountability and productivity analysis.
Functional Description
System Functions
The Inventory Control Automated Office System (ICAOS) will allow warehouse employees to scan product UPC's and move product from receiving dock, to storage location, to pick location, and finally to an order for shipping. All of these actions will be recorded with the employee number assigned to the action. This will provide management and supervisors with accountability tracking for all products, employees, and shipments. The reports generated by the management will be able to show inventory movement by employee, product history, customer history, or overall shipping. System Boundaries
The ICAOS will be on a dedicated server, and the input functions will be accessed by warehouse personnel and management. The reporting and tracking functions will be accessed by supervisors and management only via a pass code. External Interfaces
The ICAOS will interface with the current online ordering system, and will generate orders within the system. Once the order is downloaded into the system, it can be accessed by management or supervisors, and scanned for input by employees. The bills of lading also function the same way on the receiving end. The current ordering system allows vendors to send shipment contents electronically, and they can be accessed for input by employees by scanning the bill of lading. Internal Interfaces
The ICAOS will also interface with the current KRONOS time keeping system. This will allow for efficiency tracking and report generation that can tell the number of items received, moved, or shipped per hour by employee. System Relationship With Organizational Mission
The warehouse mission is to provide the right product at the right time at the right price. This system will allow the managers and supervisors to not only ensure that each and every employee is dedicated to that mission, but it will allow them to track the products in inventory, and forecast needs more accurately, so as to provide the customer with excellent customer service. Having a clear and accurate inventory, along with proper stock reorder forecasting and procedures will allow the warehouse to become more professional and efficient and provide ample product for the customers to order based on inventory histories, and trends. System Decision Support
The ICAOS will help to support all aspects of management decisions from forecasting, to human resources, to company objectives. The ICAOS will help decision makers better understand inventory trends, customer trends, employee efficiencies, and overall warehouse accuracy. Information Processing (Input/output)
>Input- The input into the system will come from 3 areas: 1) Input by warehouse employee or management
2) Input by download from ordering system
3) Input by download from vendor bills of lading
>Output- The output will be either reports generated by management, order information which will be sent to the ordering system, or printed output in the form of printed order forms, or bills of lading. >Definitions:
Input- Any information about a product such as movement, description, etc. Output- Any information that is sent to an end-user including reports, order receipts, bills of lading, or printed forms. Ordering system- The system currently used by customers to place orders online, and used by vendors to send shipment information. Customers- Any outside entity which requests product from the warehouse.
Vendors- Any outside entity which supplies products to the warehouse.
Warehouse Employee- Any non-management employee of the warehouse.
Management- Any employee who is in a supervisory role in the warehouse or office.
Time Keeping System- The current KRONOS system which keeps a record of employee timesheets and employee records.
Case Tools
Visual Analyst software will be used to show the flow of information throughout the system.