Kudler Fine Foods Essay Sample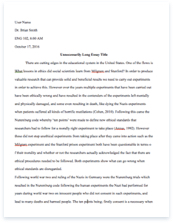 The whole doc is available only for registered users
OPEN DOC
Get Full Essay
Get access to this section to get all help you need with your essay and educational issues.
Get Access
Kudler Fine Foods Essay Sample
Kudler Fine Foods is known for their customer service, treating their customers with courtesy, friendly manner and offering a delightful and pleasing shopping experience to each customer is imperative. This is why Kudler Fine Foods has helpful and knowledgeable staff. This essay will discuss two job positions within Kudler Fine Foods, the general functions of performance management systems, job evaluation methods for each position, compensation plans, and the importance of employee benefit plans.
Cashier
The role of the cashier is very important. That individual is responsible for the money coming in from purchases sold and money going out for the change to give to customers. They need to know basic math skills, record keeping, know how to use an electronic scanner, know how to balance outa cash drawer among other Initial role of the cashier is to operate the cash register to itemize and total the customer's purchases in the store the cashier must have excellent customer service and math skills. (Kudler Fine Foods, 2013)
Store manager
The role of the store manager requires a little more knowledge about Kudler Fine Foods and more responsibility. The store managers supervise the assistant store manager, all the various department managers in the Kudler Fine Foods and the cashiers, baggers, stockers and clerks. The store manager is the one who is in charge, oversees promotion activity, and displays in the store, inventory, and answer customer complaints in charge of everything with Kudler fine Foods. The store manager prepares the work schedules and coordinates the daily work schedules for the staff, manages the store budgets and operating guidelines, The store manager must answer customers complaints The store manager must have an excellent knowledge in gourmet foods and understand it. They much have a prior retail experience in management role in order to achieve the role of store manager for Kudler Fine Foods. (Kudler Fine Foods, 2013)
Benefits
The benefits that are offered though Kudler Fine Foods are important and beneficial for every job title through the company. Employees have families and themselves they need to take care of so they can have their 100% focus at work. Full-time employees are eligible for different benefits that Kudler Fine Foods have to offer.
Worker's compensation Insurance is extremely important to have for employees. Kudler Fine Foods provides worker's comp to their employees and it does not cost a dime. Their program covers injuries and/ or illnesses that may happen during the course of employment that may require medical, surgical, or hospital treatment. Employees are required to tell their supervisor immediately if a work-related injury or illness was to happen even if it is a minor injury. (Kudler Fine Foods, 2013)
KFF gives time off for six major holidays. This is a benefit for employees to spend time with their family. KFF recognizes that employees have families and personal lives. KFF offers vacation time off with pay to their full-time employees. The amount of vacation an employee would receive would depend on how long they have worked for the company. When the employee is first hired that employee is entitled to 5 vacation days a year, after 5 years of service to the company that employee is entitled to 10 vacation days a year and after 10 years of service that employee is entitled to 15 vacation days each year. (Kudler Fine Foods, 2013) KFF provides a 401 (k) savings plan for their employees so they can plan for their future and the future of their families. This benefit will help employees save for their future and their retirement years.
General function of performance management systems
The performance management system "is an assessment of an employee, process, equipment or other factor to gauge progress toward predetermined goals" (businessdictionary.com, 2015). The performance management systems three purposes are feedback, development, and documentation. It is an essential component used by many organizations today to evaluate their employee's progress on the job. "A key piece of this process is the performance appraisal. Performance appraisals take the part of the evaluation instrument that conveys to employees how well they have progressed toward achieving their goals" (DeCenzo, & Robbins, P. 245, 2013). This is a way that an employee can get feedback on their job performance; discuss accomplishments, expectations, and any development opportunities. At this time, managers or supervisors can review and set goals for each employee and take any documentation if needed.
A performance management system, such as performance appraisal, is an excellent evaluation system that I would recommend Kudler Fine Foods to use. Performance appraisal seeks to motivate employees to maximum performance by evaluating the employee's effort on the job. Appraisals help staff members improve their performance especially when they can be rewarded or recognized by reaching his or her goals or for a job well done. Employees at Kudler Fine Foods will be motivated to better performance when it is tied to compensation.
Two job evaluation methods for each of the two positions
Job evaluation is a way of knowing the value of a job as it relates to the organization. It is also knowing how to establish the pay structure for jobs within the organization. There are several evaluation methods Kudler Fine Foods can use the ordering method and the classification method when evaluating jobs for the organization. The Ordering Method consist of ranking employees from the top, starting with President of the company and going downward ending with the bagger/cashier person on the bottom. The ordering method also rank jobs based on the value or merit to the company. Kudler Fine Foods ranking method rank salaries from $100,000 to $24,500. The ordering method is simplest of the three, it is identifying the worth of the job, as well as persons skill set. Of course the Classification Method, which is also known as the grouping method, base jobs off of preset job grades.
With Kudler Fine Foods, jobs are listed in two categories such as officials and managers, technicians and professionals. The second category consist of the baggers, the cashiers and the stockers. Some of the advantages to ordering or ranking is that the process is simple and there are not many jobs to evaluate. The disadvantage of ordering and ranking for Kudler Fine Foods will be administering the jobs as the company continues to expand. Employees can also complain about the ordering/ranking, which is a disadvantage. As Kudler grows and new jobs are added, to the ordering and ranking, the company would have to do evaluations over again on the same jobs. As Kudler add new jobs to their complement, an evaluation will have to be done on those jobs. When it comes to the classification method job evaluations must have tiered structure for the jobs. A job description as well as a classification assigned to the job.
The disadvantage with the classification method is that often time job descriptions can fit into more than one category. When this happens, it allows room for discrimination so Kudler will have to be careful when using this method. At the end of the day if Kudler wants to be competitive with their salaries and attract the best employees to continue to grow the business. In order for that to happen, Kudler must continue to evaluate jobs using the job classification, job ranking and point ranking in order to recruit the best for the company. It is also important for lower level employees to continue to work on their skills and have dialogue with management to discuss their career path within the organization and focus on the areas that is pay driven based on their competency level.
Conclusion
Kudler Fine Foods are highly selective in acquiring their employees. This is why it is essential for Kudler Fine Foods to have a strong system in place. Such as performance management systems, job evaluation methods, compensation plans, and employee benefit plans are essential ways to motivate employees, maximize performance, and achieving goals. This will help Kudler Fine Foods in retaining and attracting high-quality employees and at the same time, Kudler Fine Foods will be able to accomplish their mission.
References
DeCenzo, D., & Robbins, S. (2013). Fundamentals of human resource management (11th ed.). Hoboken, NJ: John Wiley & Sons.
Performance management. (2015). Retrieved from http://www.businessdictionary.com/definition/performance-management.html#ixzz3VfMUULS9 Kudler Fine Foods. (2013). Retrieved from https://ecampus.phoenix.edu/secure/aapd/CIST/VOP/Business/Kudler2/intranet/policies-procedures.asp