Leadership Self-Assessment: Readiness Essay Sample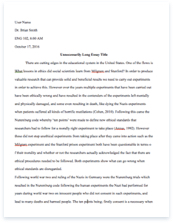 The whole doc is available only for registered users
OPEN DOC
Download Essay
A limited time offer!
Get a custom sample essay written according to your requirements urgent 3h delivery guaranteed
Order Now
Leadership Self-Assessment: Readiness Essay Sample
Interpretation 60-89: Moderate readiness for a leadership role. I see myself being able take up challenging role as a leader. I will be ready to implement important decisions with the help of other team members, and I will see myself as a team player. Skill Development In order to improve on my leadership skills, I must overcome challenging roles, and also learn from it. I will also learn from experienced supervisors. I will also take up the leading roles in leadership assignment, most especially when it comes to group work. Leadership Self-Assessment: Task Orientation (p.115)
Interpretation This shows that I have a high task orientation ethics. I am able to get my job done in the way I am supposed to. I follow the rules and guide lines to make sure I am in compliance. I also use the skills and knowledge learnt in MBA classes to get my job done Skill Development I need to learn how to an attentive listener, pay attention to group members contribution, sometimes during group deliberation, I tend to make my own suggestion paramount, but I later realized that more attentions needs to be given team members.. I have to work constantly with a team to develop my skills in decision-making. I will have to improve my skills promoting skills and values in order to improve on organization's efficiency. Leadership Self-Assessment: Style (p.125)
Interpretation This shows I am a participative leader, I always try to put in my best to get the job done in a timely manner. Furthermore, I am very open to suggestions. Skill Development I will need to learn more skills to be a participative leader, I am a very shy person, but I am trying to build my self-confidence. I have a tendency for making my decision paramount without considering others, which is why I have to listen and evaluate other people's suggestion. I will also love to handle more challenging roles to boost my confidence, and to make me more effective. Even I might be skeptical about challenging roles, I feel much better working with team.
Skilled
Creativity
Evidence Self-Confidence is always a part of Jeff Bezos, he has the ability to deliver his passion to the public or the consumers, he is also ready to make decisions, and take risk as well. He took the risk of starting amazon with $50,000, though he made a loss that year, but he was confident about the success in the future. Jeff has shown that he skillful enough to make Amazon a successful company; he had always shown signs in scientific interest and computers. Dynamic
Creativity by Jeff Bezos has kept Amazon moving forward, he invented the kindle fire which made a lot of sales and Amazon's fire phone, which was introduced June 18,2014. Improvement Recommendation I think Jeff should involve more experts in technological decision because, Kindle Fire product need improvement. His leadership should involve other members in decision making. Task-Related Personality Traits of Jeff Bezos (p. 46)
List Traits Passion
Flexibility and Adaptability
Emotional Intelligence
Evidence At a very young age Jeff has a passion for technology and computers, he is having strong passion for entrepreneurship, and ready to take risk as a matter of fact, his company has succeeded with risky ventures. He followed his passion by starting Amazon in his garage in 1994. One of his passion to develop and sell premium products at non premium prices. Jeff brought in flexibility to his business, anything in the world could be found on amazon because his leadership style is detailed, he is more concerned about what the consumer wants, and he follows it up. His emotional intelligence has led Amazon to greater heights, he is able to manage the company financially, and he has feeling for the customers and his employees as well. He has a great relationship management, he is able to relate well in terms of what the consumer wants, Jeff is obsessed with customer needs.
He is a philanthropist, he acknowledges CSR Improvement Recommendation I think Jeff Bezos should be more flexible and pay more attention to his employees, I know he has great passion for his ideas, I think Amazon would be stronger financially if he allows the vision and ideas of his employee to be shared as well. Furthermore, Bezos's Kindle Fire innovation will need more improvement to be able to compete with other tablets in the market, even though Jeff Bezo's passion is just a tablet that is not as sophisticated like the IPAD and the Windows tablet, I think suggestions from other employees or experts in technology could bring in new ideas that would improve their existing product like the Kindle fire, accepting other ideas would lead to increase in profits, and he could be compared to leaders like Steve Jobs.
Sources:
A. DuBrin, Leadership: Research Findings, Practice, and Skills, 7th ed., Pearson B. Stone (2013) Amazon's Jeff Bezos Talks New Kindles and What He's Doing Next http://www.businessweek.com/articles/2013-09-25/amazons-jeff-bezos-talks-new-kindles-and-what-hes-doing-next B.Stone (2013). Retrieved from http://www.businessweek.com/articles/2013-10-10/jeff-bezos-and-the-age-of-amazon-excerpt-from-the-everything-store-by-brad-stoneSchaefer, S (2014) Forbes magazine.: Amazon Under Fire: What Happens When Sales Growth Isn't Enough? Retrieved from http://www.forbes.com/sites/steveschaefer/2014/07/25/amazon-under-fire-what-happens-when-sales-growth-isnt-enough/ The wall Street Journal. (2014, July 26) Retrieved from http://topics.wsj.com/person/b/jeff-bezos/698PART 3: STYLE ANALYSIS OF JEFF BEZOS
Style Entrepreneur leadership
Evidence Jeff Bezos is one of the most successful entrepreneurs in the world. That is why he is one of the few billionaires in the world. Amazon was his concept, he was a pioneer for ecommerce, and he turned it to multi-billion dollar industry. Most of the ideas where based on his own choices, he started Amazon from his garage, he made the decision to buy Washington Post, he invented Kindle fire a portable tablet. I see him as a visionary leader, he conveys his decision making to his employees, I have never heard of employees introducing their own invention to Amazon Int, he demands a lot from his employees to meet up with his expectation. He is a micromanager, he makes most decisions. He personally allowed other retailers to sell their products on Amazon by so doing his company earns commission from each sale. After the invention of Kindle fire, he stills talks about his aspirations and future plans. Rationale for style He is a visionary person, ready to take risk. As an entrepreneur he must do his best for his business to survive. Find himself in a competitive market will make him a very proactive leader, most decision making will be done by him. Contingency Approach of Jeff Bezos (Chp. 5)
Does he have a contingency approach to leadership Jeff Bezos do have a contingency approach to leadership because he is task oriented and for the most part he fully controls Amazon. Furthermore he aligns his employees to his own vision. Evidence Jeff Bezos's style depends on what is going on within the organization. Jeff is seen as a task oriented leader, he is focused on the task that is meant to be performed in order to meet certain goals, which is one of the reasons why he is one of the most successful entrepreneur in the world. For example the recent release of Amazon fire phone, shows he is task oriented, he made his workers to put in relentless effort in order to release the phone this year. He was given an award by USA Today as Person of the Quarter. Further looking at his style of leadership, he is in full control, and performing very well in his business. This style of leadership is highly favorable for an entrepreneur.
Sources:
B.Stone (2013) retrieved from http://www.businessweek.com/articles/2013-09-25/amazons-jeff-bezos-talks-new-kindles-and-what-hes-doing-next. D. Marco (2013) USA Today Tech person of the
quarter: Jeff Bezos. Retrieved from http://www.usatoday.com/story/tech/2014/06/30/usa-today-tech-person-of-the-quarter-jeff-bezos-amazon/11550511/ Ted (2013) Jeff Bezos: Online Commerce Pioneer". Retrieved from http://www.ted.com/speakers/jeff_bezos? The wall Street Journal. (2014, July 26) Retrieved from http://topics.wsj.com/person/b/jeff-bezos/698 PART4: LEADER ACTIONS THAT FOSTER TEAMWORK
Leadership Case A (p. 296)
Evaluate the level of teamwork. According to the case, the manager realizes that there is no coordination in this team; team effort is low in the area of communication. Furthermore, the relationship between Calvin and the group members is very low. The low level of participation among these groups will lead loss of profit. Calvin needs to look for a better way coordinating the efforts of the team in order to have a successful insurance company. Recommended actions for improving teamwork based on Table 9-1. A unique way of working with different groups should be established by a leader. Every team should be treated the same in order to make them more committed to the company's goal A leader should play the major role of a team players, this behavior will reciprocate between leader and members of the group. A leader should put in extra efforts in motivating the employees, Calvin must develop a quality relationship with the group members. The leadership exchange model emphasizes on communication, the leader must make sure there is constant flow of information among group member, because communication will put the organization in a safety zone, and mistakes are prevented as well. A lead must be able to transform his team members in a positive. Calvin should inspire the team members more, and tell them the importance of having a group and how successful they could be if they are well coordinated together. Leadership Case B (p.297)
Evaluate the level of teamwork. Teamwork was not effective at the initial stage because the team members are not place in the area of expertise, and they don't have enough training to perform the current task. Recommended actions for improving teamwork based Table 9.1. I think there should be development team training, during this training employees tend to know their strong and weak points. They are able to know which areas to improve. A leader should be ready to motivate followers and gears them towards positive actions. Leaders should make use of their position to delegates duties, group members are aware of high ranks, so they comply to instructions given to them in regards to their duty.