Learning Team Reflection Essay Sample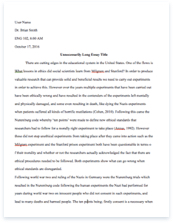 The whole doc is available only for registered users
OPEN DOC
Download Essay
A limited time offer!
Get a custom sample essay written according to your requirements urgent 3h delivery guaranteed
Order Now
Learning Team Reflection Essay Sample
Businesses small and large all face the challenge of ensuring they comply with both state and federal employment laws and regulations. Factors such as number of employees with in an organization, as well as where the organization is located effect the laws they must abide by. It is important these laws be well researched to ensure that the organization is not faulted for non-compliance. (Cascio, 2013) In the case of Clapton Commercial Construction, we must keep in mind that this organization is located in Detroit Michigan and planning to expand to Arizona. This means that the organization is already familiar with compliance with Federal Employment Laws, and Michigan specific regulations. As they expand to Arizona, they will need to familiarize themselves with new and different laws and ensure that they comply with them for their locations in Arizona. Clapton Commercial Construction currently has 650 employees and is planning to grow and additional 20% with their expansion, bringing them to nearly 800 employees. Focusing on Regional/State Employment Legislations
Right-to-Work
The state of Arizona is a 'right-to-work" state. This means that employees cannot be required to be part of or join a union to retain or obtain employment. This provision to the Arizona constitution also ensures that employees not represented in the union receive all the equivalent contractual benefits of a union member. (Arizona State Senate, 2013) At-Will Employment
Employment, in the state of Arizona, can be terminated by either employer or employee with out proving a reason or notification. The exception to this rule is if the employment agreement or written contract states otherwise. This written contract can be drafted and signed by employer and employee or may be found in the employee handbook. At will employment limits the employees leverage for wrongful termination, narrowing the scope or wrongful acts to the following. Examples of justified cases of wrongful termination under At-will employment include employer breeches contract, termination is an act of retaliation or employer/termination violates public policy. (Arizona State Senate, 2013) Arizona Senate Bill 1070
Arizona is a border state, and employers with in the state must be familiar with immigration laws and how they affect their ability to employ personnel. Senate Bill (SB) 1070 states, "an employer shall not knowingly employ an unauthorized alien." (Arizona Senate Bill 1070, 2010) This also includes contracting, or subcontracting with illegal or unauthorized aliens as well as working with, or contracting work to other companies that employ unauthorized aliens. Compliance with SB 1070 also mandates that employers complete verification of status, and retain this on file for term of employment, or a maximum of 3 years. Strategy
To ensure compliance with the laws above, it is important that Clapton Commercial Company work closely with their Human Resources advisor. Hiring strategies should be implemented as not only must they comply with the above listed Arizona Employment Laws but also Federal laws and regulations. Equal Employment Opportunity policy states that employees cannot be discriminated against based on race, religion, national origin, age, sex and physical disability. Clapton Commercial Company must ensure that they exclude candidates based on job related qualifications and criteria.
In Arizona, the employment criteria must be based on the employee's ability to complete the job responsibilities. It is imperative that employees not be selected based on their affiliation with or involvement in a union, as this cannot be a requirement or criteria for eligibility for hire.
Clapton Commercial Company is an organization that may benefit from providing employees with a contract upon hire. This will ensure that employees are familiar with the expectations for the employees and how they decide to terminate their employment. Including this information in the employee's new hire paperwork can help to be sure that timely notice is given when an employee decides to leave the organization. (Arizona State Senate, 2013) To avoid any issues with immigration laws or regulations Clapton Commercial Company must be familiar with Arizona Senate Bill 1070, specifically sections 23-212, 23-214. Their hiring process must now include the collection of document proving that an employee is eligible to work in the state of Arizona. This includes "E-Verifying," or using the free web based service offered by the federal Department of Homeland Security, to check that potential employees are authorized to work. Once an employer has certified that the employee is authorized to work, this documentation should be retained for the term of employment, or 3 years. (Arizona Senate Bill 1070, 2010) Conclusion
As Clapton Commercial Company begins their journey into the state of Arizona, the above mentioned laws should be noted. Adherence to these laws can prevent them from the repercussions of non-compliance, and ensure legal success as they begin to set their roots and grow their business in this new territory.
Reference:
Arizona State Legislature, (2010). Support our law enforcement and safe neighborhoods act (SB 1070). Phoenix: Retrieved from Arizona Legislature website: http://www.azleg.gov/legtext/49leg/2r/bills/sb1070s.pdf
Arizona Senate Research Staff (2013) Labor Employment Laws. Phoenix: Retrieved from http://www.azleg.gov/briefs/Senate/LABOR%20EMPLOYMENT%20LAWS.pdf
Cascio, W. F. (2013). Managing Human Resources: Productivity, Quality of Work Life, Profits (9th ed.) Boston, MA: McGraw-Hill/Irwin