Marketing Plan Outline Modle Essay Sample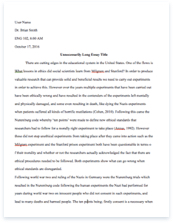 The whole doc is available only for registered users
OPEN DOC
Pages:
Word count: 3657
Category: market
Download Essay
A limited time offer!
Get a custom sample essay written according to your requirements urgent 3h delivery guaranteed
Order Now
Marketing Plan Outline Modle Essay Sample
1. Situation Analysis
This first paragraph is a summary paragraph, addressing the key points that describe your current situation.
1. Product (or Service) Offering
List and describe the product(s)/service(s) your company offers. For each business offering, cover the main points including what the product is, what sorts of customers make purchases, and why. Normally a marketing plan is not written for people outside the company, so you don't need to describe the product/service as if you were developing sales literature or collaterals.
Example:
Willamette offers very high quality office furniture designed to effectively incorporate computer machinery into the executive office or home office. The key to the line is an ergonomically effective desk that still looks like an executive desk and looks very good in a high-end office, but is intended to accommodate the personal computer. Each piece is available in either oak or cherry. 1. The main product line is the Willamette computer desk in several versions. This desk is an elegant piece of office furniture designed to look good in either an executive office or a home office. At the same time, it is ideal for real use of the computer. The two critical elements of ergonomics — keyboard height and angle, and monitor height and angle — are completely adjustable. Cable runs and shelving add to the utility of the executive desk, without sacrificing elegance. 2. Complementary pieces are available to fill out the office suite, including file cabinets, printer stands, and bookcases. 3. Custom designs can also be created to fit exact measurements.
2. Market Summary
This section is a simple summary about your market. Assume that these few paragraphs might be the only part of the analysis that somebody reads, so you need it to concisely summarize the rest of this section.
Example:
(Source: Mintel Reports Dining Out Review: Volume II – Casual/Family Restaurants – US – July 2004)
This report examines full-service family and casual restaurants in the US. Full service restaurants are defined as establishments where food is ordered at the table and is paid for at the end of the meal. The report focuses on chains with systemwide sales exceeding $10 million annually. As a result of the focus on large chains, the report primarily covers family and casual chains. Independent restaurants are discussed only in relation to chain restaurants when applicable.
The family and casual restaurant market is comprised of the following segments:
•family or midscale restaurants
•bar and grill restaurants
•steak and seafood restaurants
•Italian and ethnic restaurants
In spite of numerous negative drivers, family and casual restaurants experienced growth of 5-6% from 2001 to 2003. Negative drivers included higher unemployment, slower economic growth, increased dieting, increased competition from limited service restaurants, and decreased tourism and
business travel.
The resilience of the industry is attributed to greater time pressures in many households, which prevent people from taking the time to cook at home; and a cultural trend toward eating more meals out in general. The question is not whether chains will continue to grow, but which types of chains will be most successful.
Not all sectors of the market are performing equally, as family/midscale restaurants show only limited growth. This appears to be due to shifting availability of disposable income, with higher income households favoring casual restaurants, while traditional middle class households are more likely to trade down to quick-service restaurants. Increased interest in adventurous and gourmet cuisine is likely to impact theme restaurants in the future, as the menus and prices of these casual chains most resemble family/midscale restaurants.
The casual chains in the best position to see strong long-term growth are casual and fine dining bar/grills, steak houses, and Italian restaurants. A number of factors will contribute to rapid growth among successful chains, such as including health-oriented items on the menu for diet-conscious diners. Successful chains will be higher-ticket chains that pay heed to the importance of decor for those dining in, while simultaneously offering rapid takeout or delivery as an alternative to the dine-in experience.
1. Market Demographics – Consider information about market age, gender, nationality, education, household composition, occupation and income for consumer markets. Look at size of company, type of business, geographic location, etc. for business markets. Are there common demographic factors that describe the people you expect to be potential clients?
Example (B2C):
The average income of this predominantly female group is $40,000 and more. Most have attended college, are between the ages of 35 and 50, and have children at or out of the home.
Example (B2B):
We focus our marketing on three types of target consumers:
1. Corporate Executives: The Bureau of Labor Statistics (http://stats.bls.gov) reports there are 14.4 million executive, administrative, and managerial employees in the United States, and that number is growing at 1.6% per year. We estimate the top 1% of that number, 144,000, as our market, and we expect the number to continue to grow at 1.6% annually.
2. Small Business Owners and Executives: According to the most recent data available from the Small Business Administration (SBA), there are between 13 and 16 million small businesses (500 employees or fewer) in the United States. That includes about 5.5 million employers and 11 million self-employed people. We take the top 1% of 15 million, to make our potential market of 150,000. We estimate growth at 2.5%, a composite of different sources.
3. Home Offices: According to a story in Home Office Computing magazine, there are 36 million home offices in the United States. That means a home office is in 27% of the households in the country. The U.S. census reports that in 1997 there were 16 million households in this country with incomes of more than $100,000 per year. The 27% of those that have home offices are our potential market. That is 4.4 million households (of 132 million total). Our market is the top 10% of those, 440,000, which we estimate is growing at 5% per year.
4. Other: We will also sell to some buyers outside the United States and outside of these targeted market segments. We estimate 100,000 other potential customers, with a growth of 5% per year.
2. Market Geographics – This factor addresses where your customers are physically located. A landscape architect may serve those people within a specific climate or region. If you are marketing your services over the Internet, your client's physical location may be irrelevant.
3. Market Psychographics – Psychographics categorize people on the basis of their lifestyle or personality attributes. For example, the lifestyles and personality attributes of people in a large metropolitan city are going to be quite different from those of a small agricultural-based community. Consider the general lifestyles or personalities that best describe your market.
4. Market Behaviors – Buyers can also be analyzed based on their knowledge, attitude, use, or response to a product. These behavioral variables may include the occasions that stimulate a purchase, the benefits they realize, the status of the user, their usage rate, their loyalty, the buyer-readiness stage, and their attitude toward the service you offer.
5. Market Needs – Your marketing efforts will always profit from focusing on the benefits you are providing your customers, rather than the benefits you are realizing. It isn't how you sell the product; but rather, what customer needs you are satisfying.
6. Market Trends – Market trends could involve changes in demographics, changes in customer needs, a new sense of style or fashion, or other factors that may influence purchase behavior of your market.
Example: A construction business might note the trend toward remodeling older homes instead of buying new homes. Another trend could be movement toward more rooms in larger houses, despite smaller families, because of home offices, media rooms and exercise rooms.
7. Market Growth – Cite growth rates in terms that fit the available information and your industry. Determine if growth is best expressed in the number of potential customers, projected dollar sales, projects completed, tax reporting hours, yards to landscape, or whatever best fits your business and your audience.
3. Competition
Describe your major competitors in terms of the factors that most influence revenues. This may include their size, the market share they command, their comparative product quality, their growth, available capital and resources, image, marketing strategy, target markets, and any attributes you consider important. The best way to analyze competition's impact on your product's success is to use your research on competitors to understand and show their strengths, weaknesses, and competitive advantage.
4. SWOT Analysis
Strengths and weaknesses describe factors internal to the company that may affect the competitiveness and success of the brand or company. These factors should be things that the company has some level of control over (e.g., management, financial performance, distribution, core competencies, marketing budget and effectiveness).
|STRENGTHS: |WEAKNESSES: | |Strengths are facts about staff, managers, business products or |Weaknesses are facts about staff, managers, business products or | |processes that are positive and better than the competition. |processes that indicate something needs to be improved. Examples. | |Examples. |The company spends approximately half of what competitors do on | |Brand sales are increasing by 20%. |advertising and promotion. | |The company has over 25 years in the business, more experience than |Company sales have declined by 15% for the past two years. | |any other competitor.
Opportunities and Threats describe the broad macro environment trends that may affect your ability to generate revenue. This considers the demographic, economic, technological, political/legal, and social/cultural changes that impact the potential market worth in the future.
|OPPORTUNITIES: |THREATS: | |Opportunities are facts about something positive going on outside of |Threats are facts about something potentially negative going on | |the business (e.g., consumer trends, new technology) from which the |outside of the business from which the company might be harmed | |company could benefit. |A major competitor plans to relocate to the city. | |A local manufacturer is looking to partner with a marketing company. |A new computer virus has been released that destroys the databases of | |The government announces new incentives for companies doing business in|large companies. Europe.
5. Financial Objectives
Examples of financial objectives for a company in 2007 might be: increase profits by 10%, sales by 10%, or contribution margin by 5%, or gross margin by 10%. Financial objectives might also be holding spending to a specific level, as a percent of sales.
6. Marketing Objectives
Think about sales, market share, market positioning, image, awareness, customer satisfaction/retention, and related objectives. A financial objective might be to increase 2007 profits by 10%. The associated marketing objective to attain the profit goal might be to increase market share by 3% and increase customer retention to 70%.
7. Marketing Strategy
Use this section to define your overall marketing strategy. A strategy shows how you will focus your resources. A cohesive marketing strategy should integrate the target market, and positioning with all of the elements of the marketing mix. Your statement or discussion here should clearly depict the basic framework for how you will accomplish your objectives.
Examples:
• Create a company identify, not an array of different brands. • Focus on small business needs which are not currently being served by the competition. • Build longer-term relationships with business customers through superior service and customization for their specific needs. • Change to everyday low pricing rather than frequent sale prices or discounts that reduce loyalty and perceived value for your brand.
1. Target Markets
In this topic you should introduce the strategy behind your market segmentation and your choice of target market(s). You should provide as complete a profile of the target market as possible (demographics, psychographics, geographics, market behavior). Explain why you believe the business should focus on these specific target market groups (e.g., size, growth, unmet needs).
For example, an accounting firm might focus on certain business types whose needs match the firm's expertise. Some fast food restaurants focus on families with children under driving age. A graphic design firm might specialize in small or medium businesses that need Internet websites.
2. Positioning
The positioning section should specify what image for the brand or company you want to create in consumer's minds. This image should relate to the company's ability to meet the target market's needs better than the competition. The section should specify the target market, that market's most important market need, how your product meets that need, what is the main competition, how your product is better than the competition, and how your company can sustain this advantage.
Consider this framework:
For [target market description], X (brand name) is the brand of (category or frame of reference) that (key benefit for the target market) because of (reason to believe this brand is better than the competition – specific features, attributes convincingly show the product's superiority in delivering the benefit).
Example:
The positioning statement for the original Business Plan Pro, in 1994, was: "For the businessperson who is starting a new company, launching new products or seeking funding or partners, Business Plan Pro is software that produces professional business plans quickly and easily, because it offers specific guidelines and insights in developing a real business plan, with real insights, rather than simple cookie-cutter, fill-in-the-blank templates."
3. Marketing Mix
Product, price, place, promotion, and service are all standard components of the marketing mix.
1. Product
Use this section to provide detail on the specific features, attributes, and benefits that the brand provides. You should show how these elements are consistent with what you have stated as your target market, the target market's needs and behaviors, and your positioning.
Example:
Our product emphasizes the benefits of our unique combination of technological expertise, ergonomics, and fine furniture craftsmanship. We need to sell pride of ownership and workmanship, and prestige. That has to come out in our packaging, finishing, shipping, and collaterals.
Product marketing's most important challenge is the problem of assembly and packaging. We know we have the best product when we deliver it locally. That is not necessarily so when we send it in boxes to be assembled. We have to make sure that the assembly is truly easy. This section should then go on to specify the attributes and features that will deliver this sense of pride and ownership, what type of packaging, etc. is needed, and how you will improve delivery service outside of the local area. This section should be specific on the specific attributes, features, and benefits that the product will deliver. If it is an existing product and you feel that improvements or changes need to be made for your target market and positioning, you should provide specific guidance on what those changes should be.
2. Service
This topic is intended for product companies that use service as a part of their marketing mix. What are the key elements of service? What do customers expect? What needs to be done to provide the desired level of service? Examples:
customer support,, installation services, training
3. Price
Use this topic to provide detail on product pricing, and to relate pricing to strategy. Your value proposition, for example, will normally include implications about relative pricing. Therefore, you should check whether your detailed product-by-product pricing matches the implied pricing in the value proposition as well as how it compares to the competition.
4. Promotion
Think of promotion in a broader sense than simply sales promotion. Think of how you spread the word about your business to your future customers; including the whole range of advertising, public relations, events, direct marketing and personal selling. This section should specify what that message should be, what promotional elements should be used to spread the message to the target market, and within the promotional elements what specific media, promotions, events, etc. will be most effective in reaching the target market.
5. Channels of Distribution
If it is relevant for your business, then explain your distribution strategy. Should the company go direct or indirect? What intermediaries should be used? Where should the product be placed if retail is used? What incentives need to be offered to achieve the desired distribution? If direct, how will you reach buyers for your product and ensure timely, accurate delivery?
4. Marketing Research
This topic should explain what market research you recommend that the company conduct prior to implementing your recommendations. These might include customer surveys, market surveys, market forecast reports, market share reports, trends, etc.
8. Financials
For each of the elements of this section, you should document your assumptions, the sources for you information on costs or sales, and any other information that can help management assess the validity of your estimates. You should also provide a discussion of the results across the financial measures, clearly stating the expected financial performance and its ability to achieve financial goals. Detailed financial calculations and assumptions should be placed in the appendix and referenced in the text. Easy-to-follow graphics or tables should be used in the text to highlight the key numbers. For each analysis, you may want to use a sensitivity analysis to show conservative, expected, and aggressive levels (or low, medium, and high) depending on factors that may occur in the market or funding of the brand.
1. Break-even Analysis
The classic break-even is a measure of risk, comparing fixed costs to variable costs.
2. Sales Forecast
You should provide a table and/or chart that shows your sales projections for the next 3 years. This section should explain your assumptions: for example, What is the growth rate used? Why are you projecting your sales at this level? Why not less or more? What are the main driving forces behind the sales forecast? How does it relate to your market analysis, your main target segments, your sales strategy and marketing strategy? Is your sales forecast believable? Why or why not?
3. Expense Forecast
What is your total expense budget? How fast are you proposing to increase (or decrease) your sales and marketing expenditures? Why? How are the larger portions of the marketing expenses being spent, and why are you choosing to spend your resources in this way?
4. Contribution Margin
This section should discuss the bottom line from your sales and expense forecasts. You should show the contribution margin in a summary table or graph with projects for at least 3 years.
9. Controls
This section of your plan provides a way of checking to see that your programs are supporting your tactics and strategies and are consistent with the key objectives of your marketing plan. Reviewing your results throughout the year will enable you to have the opportunity to evaluate and modify your marketing plan as necessary. Think about what you need to monitor and how frequently you should evaluate these results. This initial section should state specifically how you will measure progress toward your financial and marketing objectives.
1. Implementation
This section should provide a schedule of critical dates in the implementation of your plan. You should include key steps that must occur prior to launching or repositioning the brand (e.g., product modifications, establishing a distribution network, training a sales staff or service support staff, etc.). It should also specify when you will deploy your specific promotional elements. The schedule should have a logical flow (e.g., distribution is established before advertising is started). You should also think about the best date to launch your initiative if there seasonality or other issues might affect timing. In addition to the schedule, you should provide a brief explanation of why you have established this specific timing schedule.
2. Marketing Budget
You should provide a specific marketing budget that outlines the specific elements, frequency and key costs of your proposed promotional plan. Sources for estimates should be documented. If there are other capital expenses that are a part of your initiative (e.g., product changes) that are not discussed in the expenses section, you should include them here (although as a separate budget, not a part of the marketing budget.
3. Contingency Planning
What will you do if things do not work out? Explain what happens if things go wrong. What factors are most likely to cause trouble? What trouble could they cause? How are you going to react? What is your contingency plan?
10. List of References
1. Since research should form the basis for your conclusions and recommendations, you should be sure to cite your sources as footnotes in the slide handout and in your marketing plan. A complete reference list should be included in the marketing plan before the Appendix. The reference list should be numbered and in alphabetical order. Note that authors, dates, titles, journals, pages are required for articles or parts of books. For web pages, the full web page URL for the citation, title on the page, date updated (or if necessary date that you accessed the page) and information on authors as available should be provided. For retail, personal interview, or survey summaries, the date(s), place/person/title/type of respondents, and total sample for surveys should be provided. Examples of the appropriate format are provided below.
Examples of the Format for Footnotes and the List of References
Book
Clegg, Brian. Capturing customers' hearts: leave the competition to chase their pockets. Pearson Education: London, England. 2000. pp. 14-15.
Article
Petersen, Melody. "A Study Says Less Return of Marketing in Medicine." The New York Times. December 12, 2002. p. C3.
Web Site
KeepsKidsHealthy.com. "Getting Kids to Take Their Medicine." http://www.findarticles.com/medicine_cabinet/ kids_taking_medicine.html. March 16, 2004.
Store Visit
Personal visit (Group member's name). Ralph's, Marina del Rey. January 2, 2007.
Personal Interview
Personal interview (Group member's name). Cross, Donald W., M.D., Waco Cardiology Associates. Has practiced for ten years in San Antonio and Waco, TX. December 31, 2006.
Survey
Survey on purchase interest and pricing for new product. December 10-15, 2006. 100 interviews at The Grove Mall, Los Angeles.